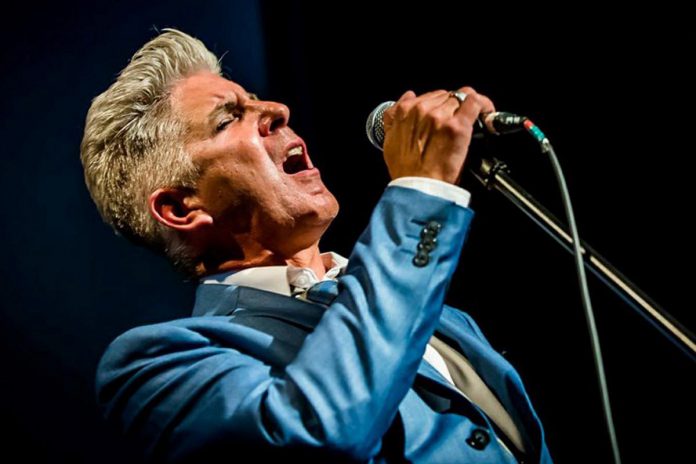 Over the years since he graduated from Adam Scott Collegiate in Peterborough, Michael Bell has worn many hats: singer and musician, tabloid publisher, political candidate, and probably a few things we don't even know about.
That noted, Bell's reverence for the late musician David Bowie, a man who pivoted numerous times over his own lifetime, is not only understandable but also a staunch prerequisite for what has kept him busy most recently.
Now in his fifth year of fronting The Bowie Lives, his stunning tribute to the music and many personas of the late glam rock-pop singer, Bell and company will perform in Del Crary Park on Saturday, July 30th as Peterborough Musicfest's milestone 35th season continues.
As always, admission to the 8 p.m. concert is free.
Advertisement - story continues below
"The thing about David Bowie that was super clever is how he reinvented himself," noted Bell in a January 2020 interview with kawarthaNOW.
"He (Bowie) comes out of Berlin and he's working with Brian Eno, so he picks up a whole generation of new fans. In the 1980s, he reinvents himself by picking up Nile Rogers, who's producing all of the top dance stuff of the day. He then reinvents himself again in the 1990s with Nine Inch Nails. A lesson I've taken away from his life is find good people, let them do their thing and fit in to what they're on about."
Debuting in 2017, The Bowie Lives is a sequential presentation of Bowie's extensive catalogue, ranging from his early hits, such as "Ziggy Stardust" and "Suffragette City," through the 1980s and 1990s when songs such as "Fame," "Golden Years," "China Girl," "Modern Love," and "Let's Dance" dominated music charts around the globe.
VIDEO: "The Bowie Lives" promo video

Born David Robert Jones in Brixton, England in 1947, Bowie embarked on a musical career in 1963. He exploded to a huge following with the 1972 release of the single "Space Oddity" and never looked back, selling an estimated 140 million albums worldwide on the strength of 11 number one charting albums.
In addition, Bowie was an actor in several films and stage productions, his first major film role being his critically acclaimed portrayal of an alien from a dying planet in the 1976 film The Man Who Fell To Earth. In 1996, his diversified and game-changing sound earned him induction in the Rock and Roll Hall of Fame.
Bowie died of liver cancer in January 2016, shocking millions of his fans around the globe — one of them being Bell.
Advertisement - story continues below
A Peterborough resident since moving to the city at a young age, Bell's passion for music flourished in his teens.
With Adam Scott pals John Crown, Rick Kemp, and Alex Stangl, he formed and fronted New Wave/punk band Strobic Axe in 1980. One of Bell's cherished memories of that time was performing with Strobic Axe in a very different Del Crary Park.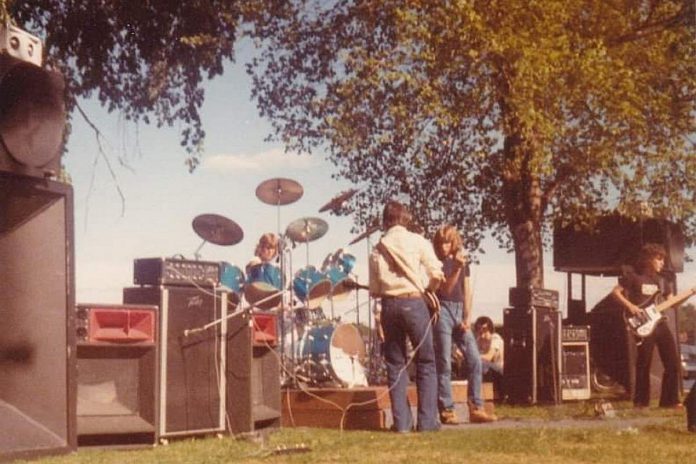 Bell eventually found himself in Toronto, first performing as one half of a folk music duo before fronting club bands Trixie Goes Hollywood and Eye Eye — the latter winning the highly-touted Q107 Homegrown Contest in 1984. What followed was his first go-round doing the Bowie thing.
"The (Bowie) show in the 1980s was a bit of weirdo show," recalled Bell during his 2020 chat with kawarthaNOW. "My heart wasn't really into doing the show. It was the idea of my agent. I had just won the Q107 thing and then it was like 'OK, what are we going to do in the midst of waiting for a record deal?' The tribute thing was just starting to happen in a big way. My agent was booking a lot of stuff, so I went with it."
VIDEO: "Heroes" performed by The Bowie Lives

In the early '90s, Bell — who in his own words, "hung up his Ziggy" — came back to Peterborough, got married, and founded The Wire Megazine, a monthly tabloid that broached political and social issues as well as focused on city's arts scene. In addition, he stood for federal election twice, both times under the Green Party banner, first in Haliburton-Kawartha Lakes-Brock and then in Peterborough-Kawartha.
Despite these diversions, Bell's first love — music — was never not on his radar. He released five CDs as NumberOneWorld, enjoying success on Internet music listings. He also mentored and promoted a number of music acts. Soon enough, Bowie — and more specifically the production of a fitting tribute — was again lurking in his mind.
"I knew people loved Bowie, but the question was 'Am I going to be able to have a band that's capable of doing this?'," he recalled, adding "There's a reason there aren't a lot of Bowie tributes."
Advertisement - story continues below
"There's an even bigger reason why a lot of the Bowie tributes just focus on the Ziggy period. The material is a lot easier to play. But once you get into stuff like Young Americans and Ashes To Ashes, there's a lot of stuff going on. When I put the show together the first time in the 1980s, my problem was I wasn't connected enough. I didn't know where to look for players."
Enter musical Michael Beauclerc, who helped Bell gather stellar players.
"We got together for a couple of rehearsals in Peterborough. It was 'Here's the YouTube channel, here's the arrangements … learn them.'"
VIDEO: "Young Americans" and "The Jean Genie" performed by The Bowie Lives

Upon the staging of the first few shows, critical acclaim followed, including a five-star rating from Richard Crouse, the host of CTV's PopLife, who deemed Bell and Beauclerc's creation "unbelievable … by far the best and coolest Bowie tribute I've ever seen."
"Doing Bowie has really pushed me," Bell says. "I've got big chops. On a good day, I've got a full three-octave range. I'm singing stronger now than I've ever sung. I don't want to sound flippant, but it's effortless for me."
"As we've grown the show, rather than a tribute, I'm calling it a Bowie spectacular. It's a happening. It's an immersive experience. The multimedia offering has an educational bent to it. The show itself is chronological. It's a progression. People watching the show will recognize the progression of fashion, the progression of the music, and the progression of the sound."
Ahead for Bell in 2022, besides more performance bookings, is the release of a documentary film titled Being David Bowie. For more information on The Bowie Lives, visit www.thebowielives.com.
Advertisement - story continues below
Peterborough Musicfest is presenting 16 free-admission concerts during its milestone 35th anniversary season, each staged Wednesday and Saturday nights at Del Crary Park in downtown Peterborough.
Overseen by general manager Tracey Randall and staff, a board of directors, and numerous volunteers, Peterborough Musicfest's stated mission remains "to provide diverse, affordable live music to enrich cultural and economic prosperity in our community."
For more information on this concert or the entire 2022 season, visit www.ptbomusicfest.ca or phone the Peterborough Musicfest office at 705-755-1111.