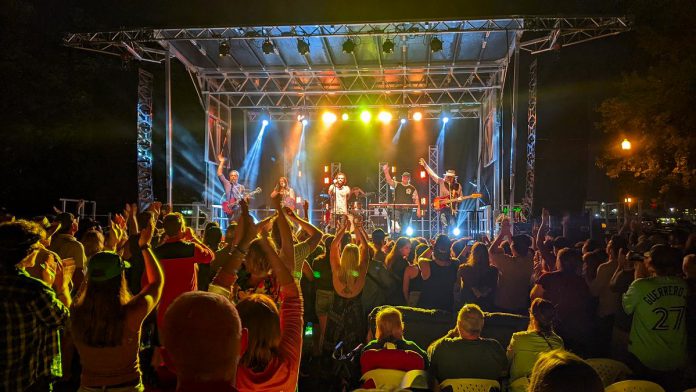 Juno award-winning rockers The Strumbellas played to a packed Del Crary Park on Wednesday night (August 10), as Peterborough Musicfest's 35th season winds down to a close with three concerts left to go.
With four of the band's members — lead vocalist Simon Ward, lead guitarist Jon Hembrey, bassist Darryl James, and drummer Jeremy Drury — hailing from Lindsay, and with both Ward and keyboardist Dave Ritter having attended Trent University, there was a strong local connection. At least one busload of fans from Lindsay travelled to Peterborough to attend the concert.
Although Ward did not perform on Wednesday night, having stepped away from touring with the band earlier this year to take care of his mental health, new lead vocalist Jimmy Chauveau sang many of the band's most familiar songs written by Ward, including "Salvation," "Greatest Enemy" (the band's latest single), "We Were Young," "The Sheriff," "In This Life," "We Don't Know," and the band's breakthrough hit "Spirits."
Advertisement - story continues below
As the crowd warmed up and the sun set, Chauveau encouraged attendees to dance — which many did, not only to The Strumbellas' most upbeat tunes but also to a surprising choice for one of the band's two encores: a cover of Shania Twain's "That Don't Impress Me Much."
At one point during the set, Chauveau encouraged the crowd to set their phones on flashlight mode, resulting in a sea of lights against the backdrop of an almost-full moon rising above the park,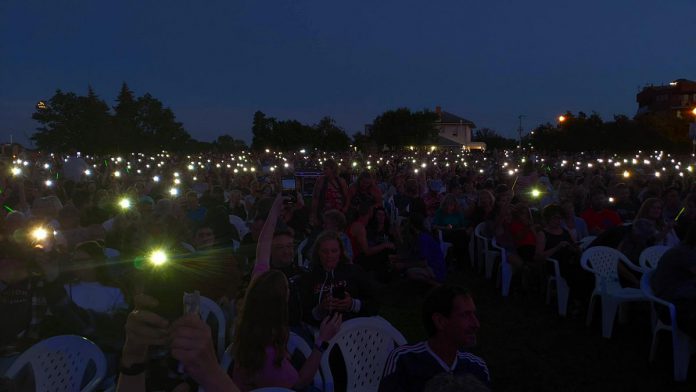 Both Ritter and James gave shout-outs to their moms, with James — whose mother has been unable to attend recent shows — asking the willing crowd to shout "We miss you Bonnie!" while he recorded it.
VIDEO: "Spirits" by The Strumbellas at Peterborough Musicfest

Advertisement - story continues below
Peterborough Msuicfest, Canada's longest-running free-admission summer music festival, has presented 13 concerts on Wednesday and Saturday nights so far during its milestone 35th anniversary season.
Three concerts remain: Chicago tribute band Chicago Transit on Saturday (August 13), Eagles tribute band Hotel California on Wednesday (August 17), and country artists Shawn Austin and Elyse Saunders on Saturday (August 20).