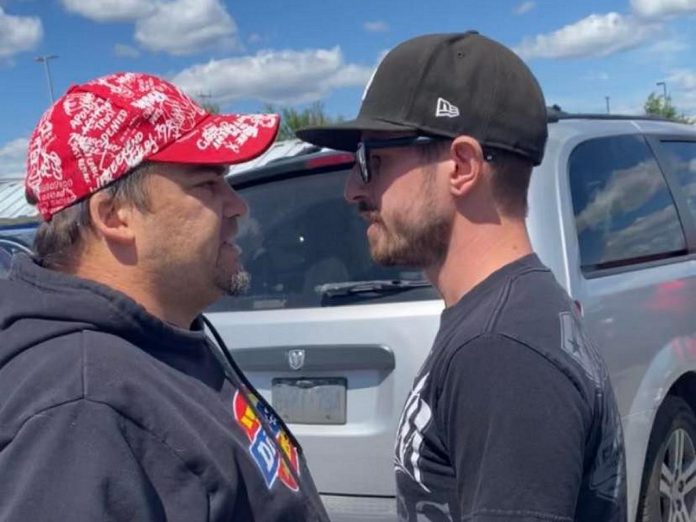 Peterborough police are investigating after a Bowmanville man and his pregnant girlfriend were threatened by another man, who showed them a gun during a dispute in the parking lot of Loblaw's Real Canadian Superstore at Lansdowne and High streets in Peterborough.
The incident happened at around 1 p.m. on Saturday (August 13), after Hunter Jones and his girlfriend — who is nine months pregnant — pulled into a parking spot designated for expecting mothers or parents with young children.
"This man started yelling out of his van's window at me, 'I don't see no kids, come closer to my van'," Jones wrote on social media. "He approached me saying 'You don't know where I'm from, I'll fuck you up'."
Advertisement - content continues below
After Jones' girlfriend also got out of the car, the man continued to threaten the couple, displaying his "prison tattoo" according to Jones.
"He than continued to open the glove box to show me his concealed weapon," writes Jones, who reported the incident to Peterborough police.
Jones' girlfriend captured part of the incident on video, when the man can be heard telling Jones "I know what your licence plate is … I'll find out where the fuck you live," as he walks to his minivan, which had plate number BVMY794 according to Jones.
Here is the video of the man with the weapon. Who got in my face with threats and intimidation. Plate number and all. He cowered back when my pregnant girlfriend began filming. pic.twitter.com/kvHOV1zm7D

— Hunter Jones (@HDNJ) August 14, 2022
Anyone with information is asked to call the Peterborough Police Crime Line at 705-876-1122 x555 or Crime Stoppers at 1-800-222-8477 or online at www.stopcrimehere.ca.