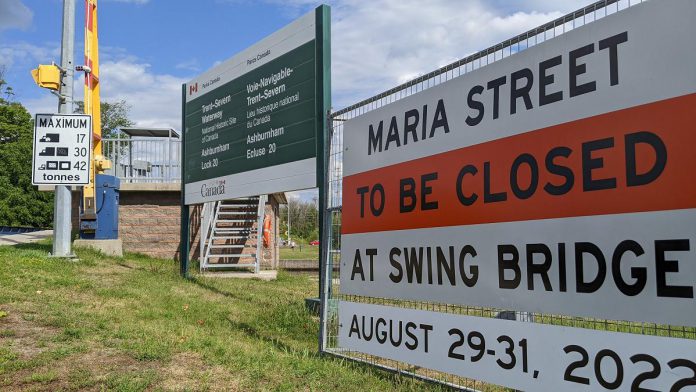 Parks Canada is temporarily closing the Maria Street Swing Bridge in Peterborough's East City to vehicles and pedestrians during the day for three days beginning Monday (August 29).
The swing bridge is located at Lock 20 between Armour Road and Ashburnham Drive and is a common route to East City and downtown Peterborough.
The bridge will be closed between 9 a.m. and 3:30 p.m. from August 29 to 31. It will remain open at other hours and boat traffic along the canal will not be affected by the closure.
Advertisement - content continues below
Parks Canada says the closure is necessary to complete repair work to ensure the continued safe and reliable operation of the bridge.
When the bridge is closed, detour signage will direct motorists to alternate crossings at Parkhill Road East (via the Warsaw Road Swing Bridge) and Lansdowne Street. Drivers are being asked to follow the detours to limit traffic on quieter residential streets.
Trucks greater than five tons are advised to avoid both the Hunter Street crossing on Ashburnham Drive under the Peterborough Lift Lock, and the Macfarlane Street Bridge crossing further north on Ashburnham Drive, due to clearance and load limitations.