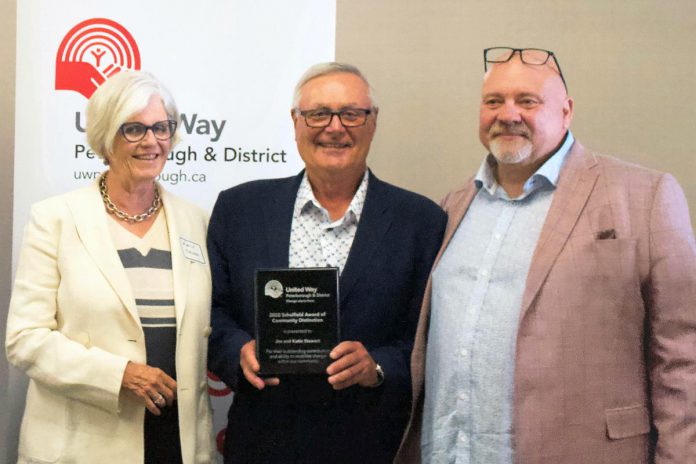 Peterborough County residents Jim and Katie Stewart have been awarded the United Way of Peterborough & District's 2022 Scholfield Award of Community Distinction.
The United Way made the announcement on Tuesday night (August 23) at a reception following the organization's annual general meeting.
The award — named after the first recipients of the award in 2004, long-time philanthropists Paul and Ina Scholfield — was established to recognize an individual or organization who, through their excellent leadership or outstanding contribution, has demonstrated the ability to mobilize positive change within the community. With the exception of the first two years of the pandemic, nominations for the award are accepted annually.
Advertisement - content continues below
Tweet this quote
"We were delighted to have received several wonderful nominations, and although each nomination reflected very worthy individuals and groups who have done much for our community, there was one nomination which stood out — the nomination of Jim and Katie Stewart," says Anne Ondercin, the United Way's director of philanthropy, in a media release.
Katie and Jim Stewart were nominated by Anne Marshall of Elmhirst's Resort, who submitted "an incredibly heartfelt nomination package" containing 12 signed letters of support and further endorsements by 30 community leaders.
"Since becoming residents of our township over 15 years ago, Jim and Katie have embodied the true spirit of community involvement and volunteerism," reads one of the letters of support. "They have willingly donated their time, expertise and quite often financial support to many important regional charities, not-for profit groups and facilities."
"The Stewarts' contribution to our region is immeasurable, but what I believe is truly impressive is at no time have they wanted any attention for these contributions; in fact they prefer to remain anonymous whenever possible. I think people who give of themselves while wanting nothing in return are true volunteers and exactly why they are deserving recipients of the Scholfield Award of Distinction."
Advertisement - content continues below
According to a media release, the Stewarts have contributed their time and leadership to several community organizations including Hospice Peterborough, the New Canadians Centre, The Canadian Canoe Museum, The Mount, and The Peterborough Canoe and Kayak Club, as well as dedicating time and expertise to many other humanitarian projects and initiatives.
The Stewarts join previous recipients of the award including Marion Burton, Faith Dickinson, Stephen Kylie, Marie Bongard, Sharon Courts, Paul Lafond, People First, John Martyn, Bill Strode, Roy Brady, Survivors Abreast, John McNutt, Special Olympics – Peterborough, and Carol's Place.