Award-winning performance poet Charlie Petch aims to teach you how to "Be Brave Onstage" at a week-long residency at The Theatre On King in downtown Peterborough/Nogojiwanong, with a series of workshops beginning September 5 and culminating with a performance of their new work combined with an open mic on September 9 and 10.
A self-described disabled/queer/transmasculine multidisciplinary artist, Petch is a former Trent University student and Peterborough resident now based in Toronto. A touring performer, as well as a mentor and workshop facilitator, Petch was the 2017 Poet of Honour for the speakNORTH national festival, winner of the Golden Beret lifetime achievement in spoken word with The League of Canadian Poets (2020), and is the founder of Hot Damn it's a Queer Slam.
Most recently, Petch won the 2022 ReLit Award for poetry for their debut collection Why I Was Late, which Montreal-based journalist and author Justin Ling described as his favourite book of 2021 in The Walrus.
Advertisement - content continues below
Petch's "Be Brave Onstage" workshop series runs from 5:30 to 7:30 p.m. from Monday to Wednesday (September 5 to 7):
The "How To Shine Onstage" workshop will provide tips for page readers, students, performers, and slam poets, and includes a microphone workshop.
The "Solo Show" workshop will explore how to build a show including scripting, lighting, sound, tech, and how to tour the show.
The "Hosting" workshop will cover how to use banter and inclusive language, how to work with a microphone, and how to work with sound and light.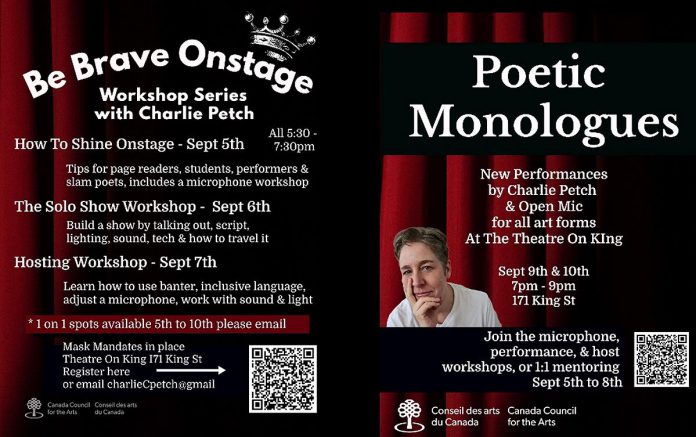 For workshop participants, Petch will also be holding one-on-one follow-up sessions, by appointment only.
On Friday and Saturday (September 8 and 9) from 7 to 9 p.m., Petch will perform new works from their upcoming manuscript "Poetic Monologues," and each evening will include by an open mic for performers of all art forms, whether they've attended a workshop or not.
Each workshop is $15 in advance or pay what you can at the door, as is the "Poetic Monologues" performance and open mic.
Advertisement - content continues below
To purchase tickets or reserve your spot, visit eventbrite.com/cc/967999 or email charliecpetch@gmail.com.
Mask mandates are in place at The Theatre On King, and proof of double vaccination is required.