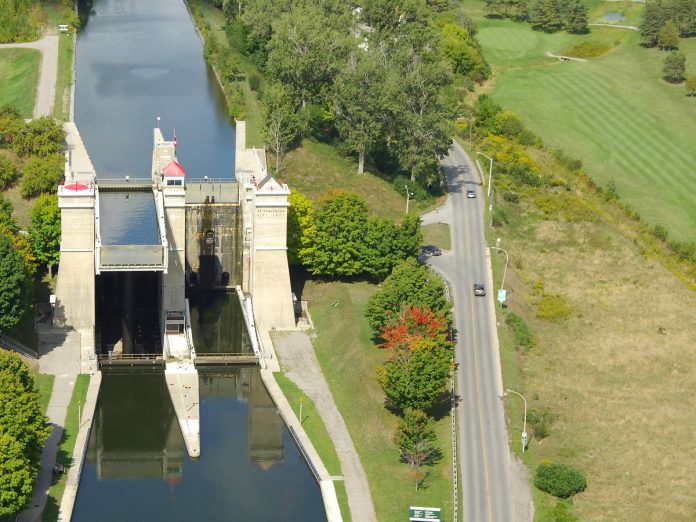 The City of Peterborough is inviting input from residents on preliminary options to realign Ashburnham Drive between Maniece Avenue and McFarlane Street and to replace the existing McFarlane Street bridge crossing of the Trent-Severn Waterway north of the Peterborough Lift Lock.
Realigning Ashburnham Drive and replacing the McFarlane Street bridge are two recommended projects of the Eastside Transportation Study, which assessed transportation infrastructure needs and priorities associated with development planned east of the Trent-Severn Waterway and growth within the east portion of the city over the next 30 years. Peterborough city council reviewed the study's recommendations in March 2022.
According to the Eastside Transportation Study, Ashburnham Drive near the Peterborough Lift Lock at Hunter Street is frequented by visitors but does not have sidewalks or dedicated cycling infrastructure, and parking is limited to a gravel shoulder. North of the Lift Lock, the roadway is located on a berm that forms the east bank of the Trent Canal, resulting in poor sight lines and creating challenges to make physical improvements including sidewalks, cycling infrastructure, transit stops, and pedestrian access.
Advertisement - content continues below
As for the McFarlane Street bridge, it is limited to one lane and does not have a cycling lane, posting potential safety concerns for cyclists who often use the bridge.
The three preliminary options for realigning Ashburnham Drive involve shifting the roadway east or further east between Maniece Avenue and McFarlane Street, or shifting the roadway east between Hunter Street and McFarlane Street and reconstructing Ashburnham Drive from Maniece Avenue to Hunter Street.
The five preliminary options for replacing the McFarlane Street bridge include constructing a new two-lane bridge that can accommodate both vehicles and cyclists and pedestrians, or retaining the existing bridge for cyclists and pedestrians only and constructing a new two-lane bridge for vehicular use only either north or south of the existing bridge.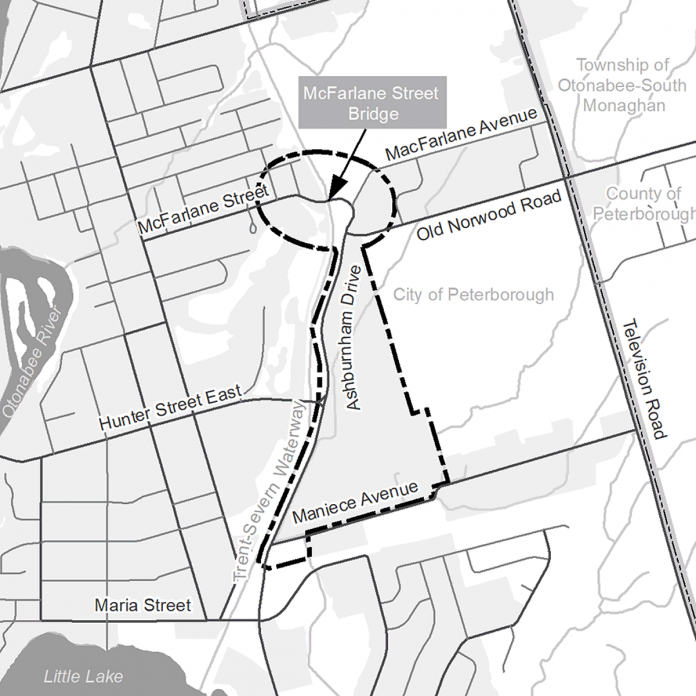 Members of the public can review information about the preliminary options at connectptbo.ca/ashburnhamea, where a recorded presentation and a PDF copy of the slides in the presentation is available until September 30.
In addition, a live virtual presentation will take place from 1 to 2:30 p.m. and from 6:30 to 8 p.m. on Friday, September 23rd. The same presentation will be shared in both the afternoon and evening sessions followed by a question and answer period. To register for the virtual presentation, visit connectptbo.ca/ashburnhamea.
Interested residents who are unable to register online can call Jenn Robinson at 905-944-6232. Residents who wish to have their name added to the study's mailing list or would like more information about the study can email ashburnhamEA@peterborough.ca.