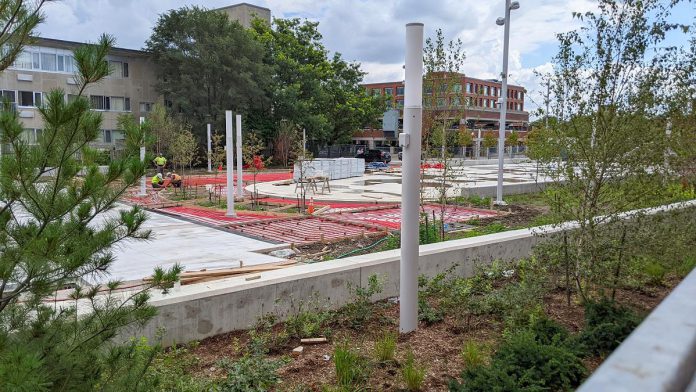 Peterborough city council has endorsed selling the naming rights to the new urban park on Charlotte Street to PepsiCo Canada, which would name the park the Quaker Foods Urban Park.
In exchange for the naming rights, the city would receive $240,000 over 15 years, along with inflationary increases on annual payments.
Councillors voted to endorse the item without discussion during the general committee meeting on Monday (September 12).
Advertisement - content continues below
The urban park, located near the intersection of Charlotte and Aylmer streets in downtown Peterborough, was first conceived in the city's May 2009 Central Area Master Plan with an initial design concept created in 2013.
Consultation, planning, and design work on the project began in 2016, with demolition work at the site beginning in late 2017 followed by construction in early 2021.
The park will include a refrigerated outdoor skating rink, a stage for musical and performance events, green space, washrooms and change rooms, and space for the Wednesday Downtown Farmers' Market that was originally held in the former Louis Street parking lot. The park is also the location of the UN Peacekeepers Monument, which was unveiled in July.
The original $6.5-million price tag of the project has increased to more than $7.4 million due to additional costs. Construction was originally scheduled to be completed in July, but work is continuing. The city has not announced a new completion date.
In a September 12th staff report to council, the city's chief administrative officer Sandra Clancy says sponsorship as a potential revenue-generating opportunity was a consideration throughout the planning and development of the park, and that PepsiCo Canada ULC, through its local Quaker brand presence, was identified "as a strong strategic fit for the sponsorship opportunity."
PepsiCo, which produces Quaker-branded products including oatmeal at its Hunter Street plant, has been celebrating 120 years of production in Peterborough.
Advertisement - content continues below
"PepsiCo is a long-standing local employer with a historic presence in Peterborough," Clancy writes. "Its Quaker Oats brand uses 'wholesome goodness' as part of its identity. Associating a major local employer that is involved in the production of food with a community gathering space contemplated for use for a regular farmers' market is an ideal fit between the City space and the sponsor."
As well as naming rights for the urban park, as part of the sponsorship agreement PepsiCo would be allowed to use the park "for events to engage with the community and/or its workforce," which Clancy writes are expected to be around six days per year.
General committee's endorsement of the sponsorship agreement will be considered for final approval at the regular city council meeting on September 26.