The housing crisis for renters in the Peterborough area got worse in 2021, with rents growing at rates never before seen, the vacancy rate the lowest in Ontario at one per cent, and average asking rent for vacant apartments 22.4 per cent higher than the average rent for occupied units.
There are some of the key findings of the United Way Peterborough & District's 17th annual Housing is Fundamental report, which the organization released on Tuesday (October 11) — World Homeless Day.
Other key findings of the report include a 10.5 per cent increase for the average rent of a two-bedroom unit (at $1,316) in 2021, the need to have an annual income of $52,640 to afford a two-bedroom unit, and no growth in rental supply despite an increase in demand of 1.5 per cent.
Advertisement - content continues below
Tweet this quote
In the report, author Paul Armstrong emphasizes the impacts of long-standing income inequality on housing affordability, which have only been further exacerbated by the pandemic and the increased demand for housing in Peterborough. Part of the problem, Armstrong states, is that shelter is being treated as a commodity rather than as a human right.
"The flood of investors into real estate has increased prices both within ownership and rental markets," Armstrong writes in the executive summary of the report. "Completely ignoring housing's shelter value, these investors treat housing like any other commodity, their only interest being profit. Here, we see almost no intervention from governments to protect households from rising costs."
"There is both an injustice and immorality when the well-being of so many people is left to the manipulation of the private marketplace," the report quotes Armstrong.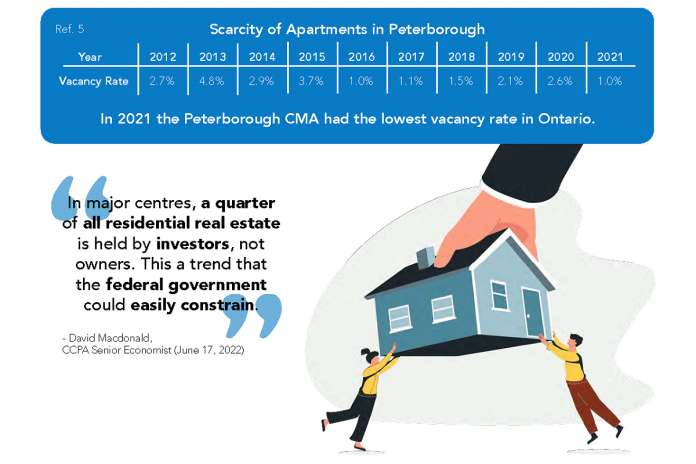 In reacting to the report's release, homelessness researcher Dr. Naomi Nichols of Trent University's Research for Social Change echoed Armstrong.
"We need to stop ceding the provision of housing — a fundamental human right — to the private market where it is commodified and traded as a financial asset, inflating prices and giving landlords and investors power to determine who gets housing in our community and who doesn't," Nichols said.
The report describes growing income inequality despite continued economic growth, driving the housing crisis, with the pandemic further exacerbating inequality and, in turn, worsening the housing crisis.
Advertisement - content continues below
Dawn Berry Merriam, a planning and research associate of Merriam and Associates, pointed out the social importance of housing in supporting the growth and well-being of communities.
"We immediately think of sustaining the physical environment and its infrastructure after years, decades, and centuries of neglecting it," Berry Merriam said. "What is not always recognized is that for our communities, and in turn our world, to be sustainable we must foster strong social infrastructures as well."
"This includes appropriate and innovative housing for all older adults to continue to live and thrive in the communities where they have social connections thus reducing isolation and increasing housing supports."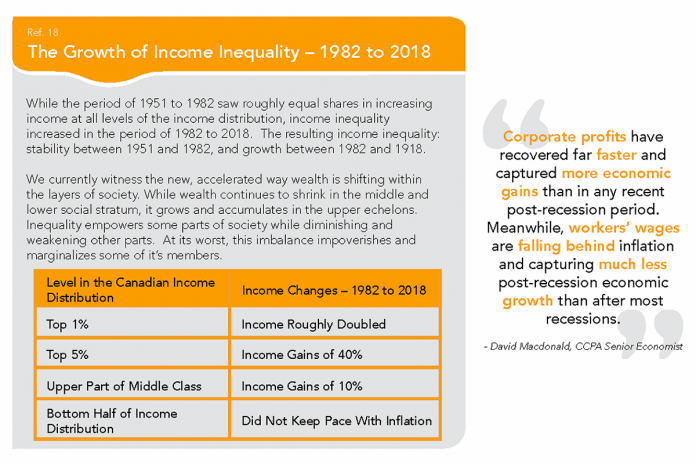 Tweet this quote
Housing is a key social determinant of health, according to the United Way's manager of community impact Betsy Farrar.
"Without a safe and stable home, achieving other social determinants of health becomes exponentially more difficult," Farrar said. "The rising cost of housing puts immense strain on our most vulnerable community members, impacting their mental and physical health, ability to maintain jobs, and restricting their spending power on other necessities like food."
"Our community continues to be in crisis and recovery from the pandemic will not be possible without significant investments in rent geared to income housing, rent supplements, and truly
affordable housing," she added.
Advertisement - content continues below
I am working to convene a special Council meeting next week to discuss the plans and funding for safe, accessible indoor space for our unhoused neighbours in the coming months. I'll share details when confirmed. #ptbo

— Diane Therrien (@DianeNTherrien) October 5, 2022
The release of the report comes two days before a special general committee meeting of Peterborough city council to receive a "verbal update on housing and homelessness" according to a city media release, after which council will respond to the update and also hear from delegations.
Peterborough mayor Diane Therrien called for the special council meeting, which will take place at 6 p.m. on Thursday (October 13), to discuss options to address the homelessness issue this winter.
The call for the special council meeting came after city staff advised $200,000 in city funding for a drop-in program at the former Trinity United Church on Reid Street could not proceed due to a "lame duck" provision of the Municipal Act that prevents city council or staff from making any expenditure over $50,000 during a municipal election campaign.
PDF: 2022 Housing is Fundamental report
2022 Housing is Fundamental report

The report is also available on the United Way Peterborough & District website.