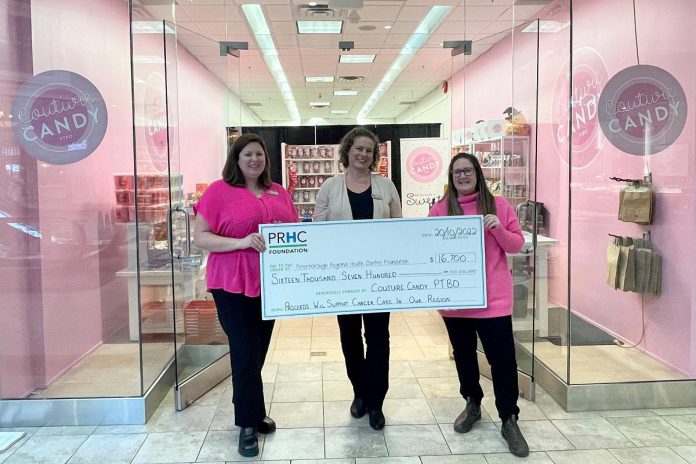 Couture Candy PTBO has raised $16,700 to support cancer care at Peterborough Regional Health Centre (PRHC).
Lisa Couture, owner of the specialty sweet shop, launched her "Supporting Cancer Care is Sweet" in June, aiming to raise $10,000 and later raising the fundraising goal to $15,000.
"We hoped we would hit our goal, but to get so far past it has been absolutely amazing," Couture said in a media release. "Thank you to everyone who supported us and to my team for all their hard work."
Advertisement - story continues below
Tweet this quote
Throughout the campaign, Couture Candy PTBO donated a portion of the proceeds from sales of more than 10 of their most popular products to the campaign. Couture and her team also collected donations, giving donors a chance to display their names and messages throughout the store, and held ice cream fundraisers throughout the summer with support from Central Smith Creamery.
In September, Lansdowne Place's specialty leasing manager Ron Conley offered Couture a free month of space for a pop-up Couture Candy PTBO location in the mall.
Other businesses and individuals also contributed, with Whelan's Flooring donating $1,000 — the single highest donation of the campaign — and Justin Armitage holding a haircut challenge and raising $2,125.
Tweet this quote
On Thursday (October 20), Couture Candy PTBO presented a cheque for $16,700 to representatives of the PRHC Foundation.
"Thank you to Lisa and her team, and every single individual and business who contributed to the fundraiser by purchasing some delicious candy, or by making an extra special donation," said PRHC Foundation president and CEO Lesley Heighway.
"The number of patients from Peterborough and the surrounding region who rely on PRHC for cancer treatment continues to climb every year. Your donations are helping our hospital serve more cancer patients, support earlier cancer diagnosis, and provide safer, more effective treatments."
Advertisement - story continues below
For more information about Couture Candy PTBO and to order, visit couturecandyptbo.ca.
For more information about the PRHC Foundation and to donate, visit prhcfoundation.ca.