When Alicia Doris began selling seasonal subscription boxes from her home to support local entrepreneurs during the first wave of the pandemic, she could not have predicted her passion project would become a thriving and award-winning venture.
Fast forward two-and-a-half years, and the owner of Living Local Marketplace in Peterborough has transformed her seasonal subscription box offering into a burgeoning business with a bricks-and-mortar boutique and an online shop. The Living Local Marketplace storefront opened one year ago at 1179 Chemong Road, across from Portage Place, and has since expanded to meet growing demand.
The boutique complements Alicia's e-commerce offering and, both in-store and on-line, customers can simply shop or build their own gift boxes featuring goods for babies, children, women, men, and even pups.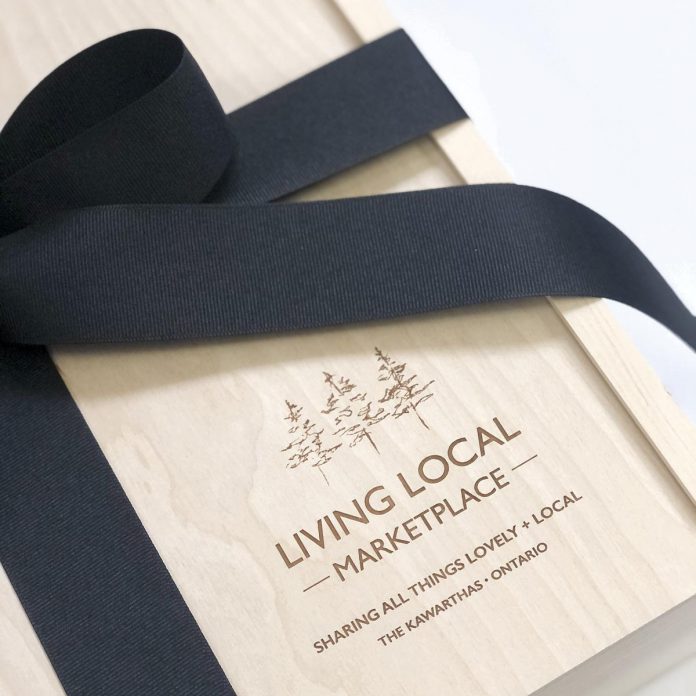 Alicia often refers to the merchandise in her store as "lovely, local goods" and says it is an honour to now share the work of more than 150 Ontario-based small businesses. A general store of sorts, Living Local Marketplace features artwork, bath and body, food and drink, jewellery and accessories, and goods for the home.
"The pandemic gave us a new perspective on the importance of supporting local," Alicia says. "We rallied around our family members, friends, and neighbours. At a time when living local had never been more important, community members stepped up. And my initiative is but one example."
A former journalist and communications professional who has lived in Peterborough since she was 10 years old, Alicia affectionately calls Living Local Marketplace her "career 2.0." She was laid off in the early days of the pandemic, but storytelling continues to be at the forefront of her work.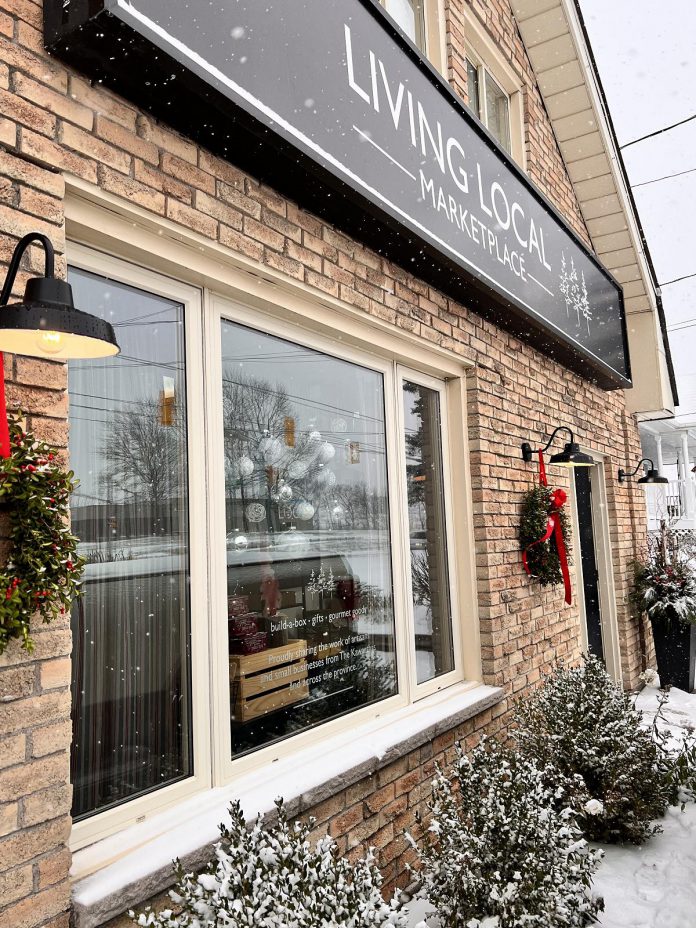 Alicia says it's an honour to share the stories of the people behind the products. For her, the business is all about the family that makes the maple syrup, the mother-daughter duo that bakes the shortbread, and the best friends who create cocktail kits as part of their own a pandemic pivot, as a few examples.
"Storytelling is at the foundation of everything I do here," Alicia explains. "When people come into the shop, I get to share what I know about the people behind the products. My customers love to learn and make a connection to the goods they're purchasing."
Along with sharing their stories, Alicia takes great care in the way she handles the work of her product partners. When designing her store, she was inspired by spaces that go above and beyond to make the shopping experience enjoyable. Her customers tell her the atmosphere in the shop is spa-like and, of course, it smells incredible. There's always a locally made candle burning.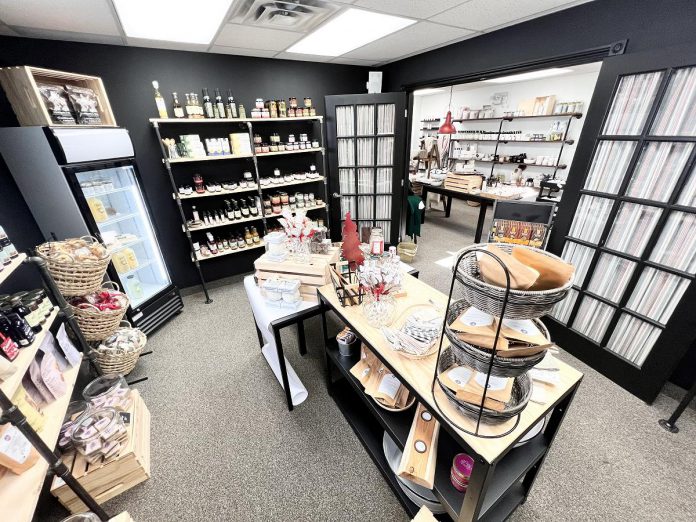 Tweet this quote
In fact, a large soy wax candle bar greets shoppers near the entrance. There's a station for gift-box building in real time, and tucked away is a gourmet goods space brimming with Ontario's best brands. There, you'll find the perfect gift for your foodie friends.
"Our gourmet goods are incredibly popular, and that's what led me to do a 200-square-foot expansion to the shop a few months ago," Alicia says. "I noticed that people were gravitating toward the food and drinks for gifting and stopping by on their way to dinner parties, but they were also finding their favourites and coming back for more."
Until recently, Alicia has been a solopreneur — though she credits her husband, also an entrepreneur, for his tireless support and much manual labour (including shelf building). She has some part-time support this season, which is allowing her to work with more corporate clients, as well as to work in the store.
Tweet this quote
From the very beginning, according to Alicia, businesses have been drawn to Living Local. Even before she had formalized her business, Alicia recalls creating care packages for companies whose staff members were working remotely. Today, she still serves businesses who want to celebrate their clients and their colleagues and, at the same time, support local makers.
Just last week, she published her first-ever corporate catalogue, which includes "hyper-local" offerings for the holidays from makers in Kawarthas-Northumberland. "The Sweet" and "The Savoury" are two gift box options that feature favourites from the store.
"Sharing the work of local makers in-store and on-line is one thing, but when other businesses get behind it, there's an even greater ripple effect," says Alicia. "Exposure is everything, because all it takes is for individuals to try these high-quality, lovely, local goods. They become loyal customers."
Alicia says she watches it happen every day, as her customers come back and buy in multiples, including products such as Apple Pie Jam from Kawartha Country Wines in Buckhorn, Creamed Cinnamon Honey from Swift Acres Apiary in Apsley, and Candied Jalapeños and Jammin Jerk Marinade from Suzanne's Hot Stuff in Millbrook.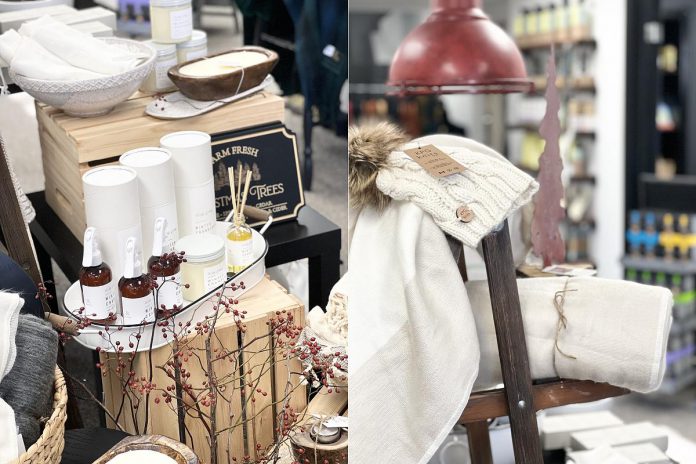 Always eager to converse with her customers, Alicia says she takes her cues from them on her entrepreneurial journey. She adds that many of her current customers are the same ones that purchased that first seasonal subscription box offering in spring 2020.
"Thank you to my customers for continuing to lead me in this journey," Alicia says. "Your interest in living and loving local is strong, and when I see a spark from you, it's an opportunity to try something new."
For example, Alicia has very recently added to her home goods and handmade jewellery offerings, along with clothing from Blondie Apparel, a small business based in Almonte run by two long-time friends. Right down to the thread and the hang tags, these pieces are Made in Ontario.
In October, Alicia was recognized with the Local Focus award at the Peterborough + The Kawarthas Chamber of Commerce's 2022 Business Awards of Excellence. Alicia says the award has special significance for her because it also shines a light on local makers – her company's raison d'être.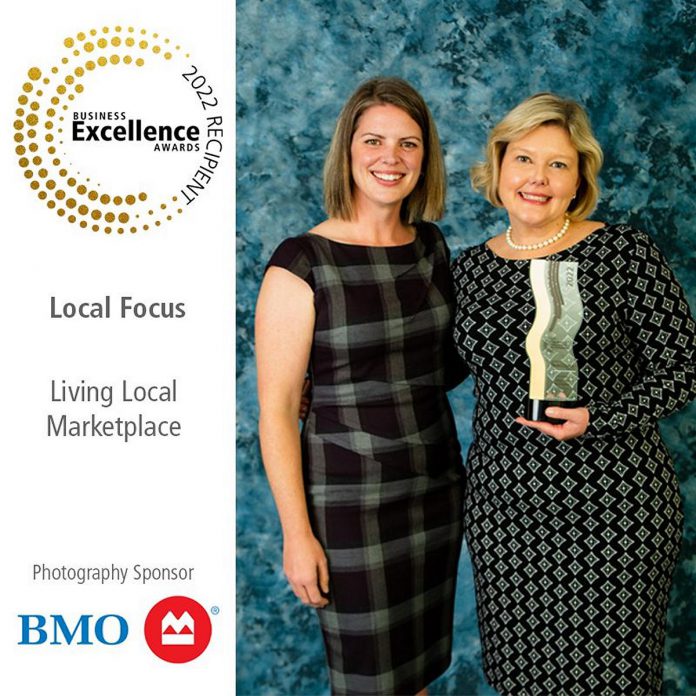 Tweet this quote
"It's an award I share with the more than 150 makers that are the backbone of my business, and all those who have supported Living Local since its beginnings as a passion project in the early days of the pandemic," Alicia says.
With the holidays on the horizon, Living Local Marketplace is brimming with gift ideas as well as seasonal décor, gourmet goods, and (of course) Christmas candles. Think hand-painted wooden Christmas trees and holiday signs, handmade candy cane bark and hot chocolate bombs, and scents like cider lane, tree farm, and winter wonderland.
Next week, Alicia will introduce her complimentary holiday packaging, which includes gift boxes in several sizes, red ribbon, and gift tags and enclosure cards that feature the work of local artist Megan Ward. She encourages customers to come by to build gift boxes in real time, and adds this offering — unique to Peterborough — will see them leave with a beautifully wrapped gift that's ready to give.
Tweet this quote
Private shopping events, as well as an opportunity to leave your "Grown-Up Christmas List" on file at the shop, are among the highlights for the weeks ahead.
Despite the growth of her business alongside others in the past two years, Alicia adds she's under no illusion that locally owned small businesses are out of the woods, and stresses the importance of shopping as close to home as possible.
"Small businesses are starting to send messages about shopping local — early and often — over the holidays because this is our time," she says. "This is when shoppers have the opportunity to purchase with purpose and to support those closest to home."
Located at 1179 Chemong Road in Peterborough, Living Local Marketplace is open from 11 a.m. to 5 p.m. Tuesday to Saturday. To learn more about the shop and to place an order online, visit livinglocalmarketplace.ca, where you can also see the Corporate Gift Guide. You can also contact Alicia at livinglocalmarketplace@gmail.com or 705-768-0621, and follow Living Local Marketplace on Facebook and Instagram.
This branded editorial was created in partnership with Living Local Marketplace. If your business or organization is interested in a branded editorial, contact us.