As a music producer and sound engineer, James McKenty has found himself thinking outside of the box more times than he can count.
But thinking inside the box — the box being a vintage Airstream Argosy trailer — well, that's a whole different ball game. Still, James adapted quickly and, together with his wife Kellie, is reaping the benefits in the form of In Record Time, a Bell Fibe TV1 series that they co-produced.
At the heart of the five-episode series are performances by Melissa Payne, Devin Cuddy, Ginger St. James, Lotus White, and The Silver Hearts, each given at a 'secret' barn location to which invited guests were transported by bus.
Advertisement - content continues below
James hosted each filmed performance, handled the live sound production, and recorded the audio, the latter process facilitated by his recording-studio-on-wheels parked adjacent to the barn.
The end result was great material with no immediate place for it to land. That changed when Peterborough-based filmmaker Michael Hurcomb broached the idea of Fibe TV1 interest in their work.
"During COVID was when I really partnered up with him," recalls James of his collaboration with Hurcomb, noting they worked together on livestreaming productions for artists including Blue Rodeo and Natalie MacMaster. "It couldn't have been more fortuitous to team up with him. I took care of the audio, he took take care of the film and the livestream portion. This opportunity really came out of that relationship."
VIDEO: "In Record Time" trailer
"He and (producer) Chad Maker had done some shows for Bell," James says, referring to the earlier Fibe TV1 productions Questionable Taste and Cover2Cover. "They asked 'Do you have any ideas for what you would do if you had this opportunity?' We had a lot of footage. We sometimes had eight cameras recording. All this stuff was on a hard drive that I handed to Michael."
With a commitment from Bell to proceed, Hurcomb took that footage and performed his magic, editing it for five episodes that can now be viewed on demand on Fibe TV1.
"He knew exactly what to do," says Kellie of Hurcomb. "He was like 'Yup, I got it.' He's so talented. He's positive and he's motivated. He's such a hard worker and that's really infectious. I think James and Michael are similar in that way, so it was quite serendipitous for them to start working together during COVID."
Advertisement - content continues below
Tweet this quote
Kellie adds the 'secret' shows were the result of wanting "to do something different."
"Guests didn't know what artists they were coming to see, and didn't know they were going to be on camera or that it was going to be recorded. We really wanted to create a unique experience outside of going to a festival or going out at night to a show."
Asked if guests were apprehensive about getting on a bus to be transported to a 'secret' location to take in a performance by an undisclosed performer, James laughs — "They didn't seem to mind if you gave them booze and food."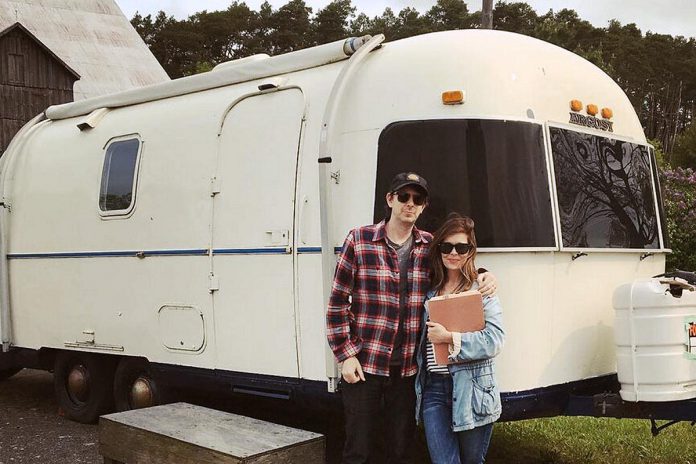 But while the production and airing of In Record Time — which is also the name of the McKentys' mobile recording studio — is the central story here, there's a back story of note and it involves the Airstream Argosy trailer they purchased in early June 2019 from a farm couple east of Peterborough.
"When James said 'I want to put a studio in an Airstream,' I wasn't shocked at all," Kellie recalls. "I was like 'That makes sense … that sounds about right."
"I was taking my equipment to other people's homes and halls, recording albums all over Ontario — I was constantly packing the car," adds James. "We were also, at the same time, doing events. Again, I'd be taking all this recording equipment and film stuff to the events."
Advertisement - content continues below
Tweet this quote
"Kellie said 'If you had all this is in a trailer, could you just hitch the trailer up and drive it to these places?' It was like 'Yeah, we could have the studio in the trailer at any event.'"
Turning the Airstream into a mobile recording studio wasn't a simple task.
"We took everything out of it — the stove, the shower, the beds," James says. "It was an empty shell by the time we were done. We had a local guy, Jim Boyle from Imagineers, draw up the plans. We described what we were looking for. He drew it up and ended up doing the retrofit himself."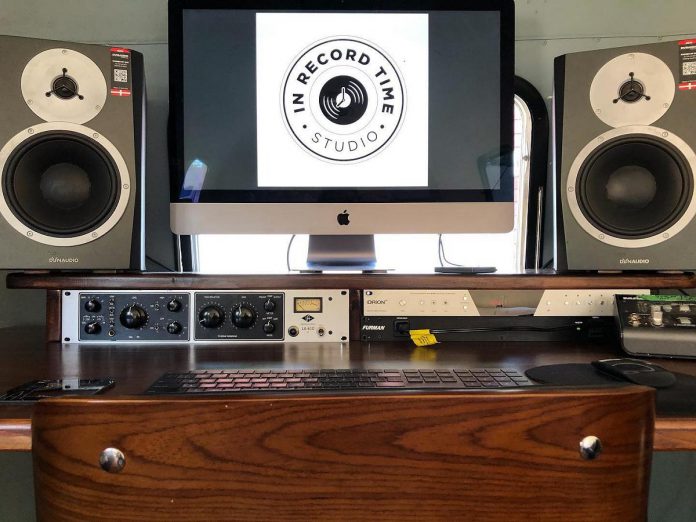 Finished in June 2021 ("It looks like a spaceship going down the road," marvels James), the mobile studio presents two recording options.
"You can record in the trailer — a stripped-down thing with five or six members of a group and more acoustic-like — but buried underneath the seating bench and coming out the side of the trailer, where there used to be a propane hatch, is a 24-channel audio snake that we can run into any building," James explains. "When we're doing an album with it, we're usually running that audio snake into a building. The actual recording happens elsewhere and the trailer is the lounge where you can come and listen back to your recording."
Airstream, an American brand of travel trailer, dates back to the late 1920s. Easily recognized by the distinctive shape of its rounded and polished aluminum coachwork, the body shape is based on the Bowlus Road Chief, an all-aluminum travel trailer designed and built by Hawley Bowlus, who also oversaw the construction of the famed Spirit of St. Louis single-engine plane that Charles Lindbergh flew solo nonstop from Long Island to Paris in May 1927.
Advertisement - content continues below
Tweet this quote
"While we were looking, what we found was a lot of them were musty smelling, or they had been sitting and rodents might have gotten in," says James. "This one was in good shape right from the get-go — the frame, all the windows, everything was in mint condition — so we snagged it up. We told them (the sellers) what we were going to do with it and they were like 'You're going to do what? You're going to put a recording studio in it?' We really have to send them some photos of it finished."
The icing on the cake, however, was James' discovery of a circa 1930s Presto record-making machine. Back in the day, the mono recording device with its single microphone was used for field recordings.
"I said to Kellie 'We need that machine' and she was like 'Do we?'," laughs James, adding "As long as it takes a song to be performed, that's how long it takes to make a (recording)."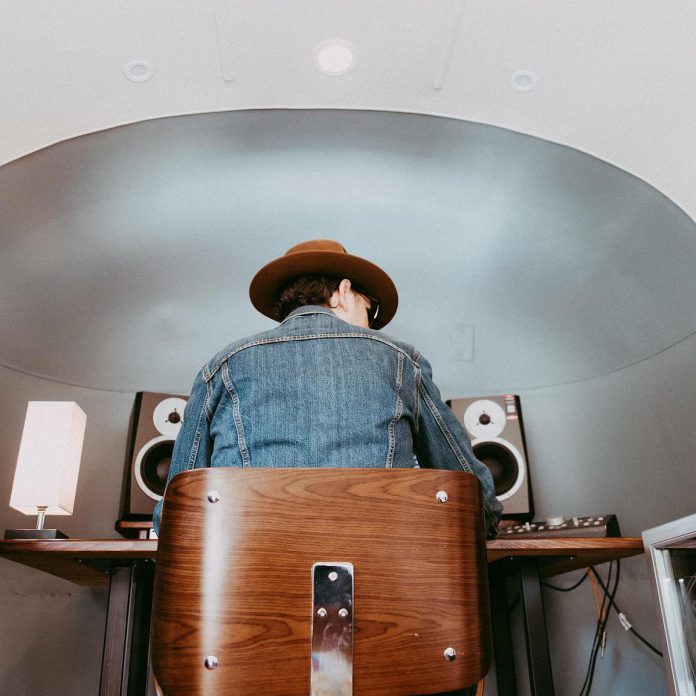 Each of the artists featured on In Record Time were gifted with a Presto-created recording — "a memento" of their performance, says James.
Ahead, James and Kellie say there are plans for future shows at the 'secret' barn location, which has been "completely retrofitted" since the last go-round. The plan at this point is to film those performances as well.
In the meantime, James is grateful for the opportunities that have come his way over the course of his time as a producer.
"I don't long for the days when I sat in a van and toured the country for 10 years," he says, referring to his popular band The Spades with Josh Robichaud and Tommy Street that disbanded in 2013 and reunited in 2018 for a couple of performances.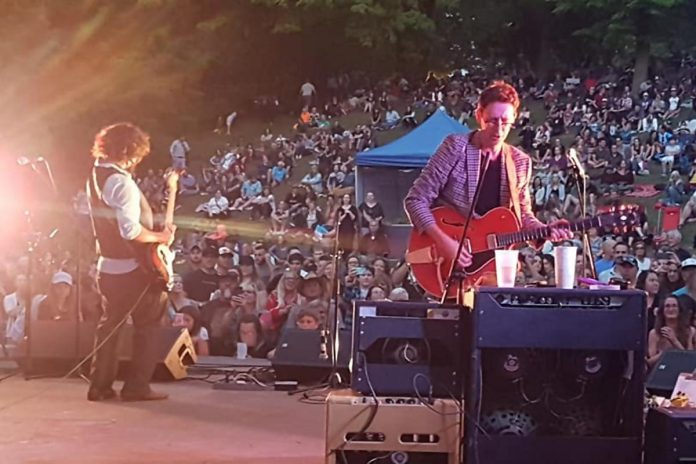 "I still get that jolt that I got before going on stage — I get that in the studio when people come to record," James says. "There are elements of it that are kind of like walking a tightrope. You're setting up and you're hoping magic is going to happen in the next few hours. I try to be present for the moment and capture it for these people because it's important to them. It's their life. It's their work."
Kellie, for one, isn't the least bit surprised by her husband's success.
"Hard work and passion — he's the master of both of those things," she says. "I've learned by watching him work, working on projects for hours and hours and hours, and seeing him never give up. That's really inspiring for me and for our son Noah. Sometimes we just shake our heads and say 'He's crazy.' Deep down, though, it's very admirable."