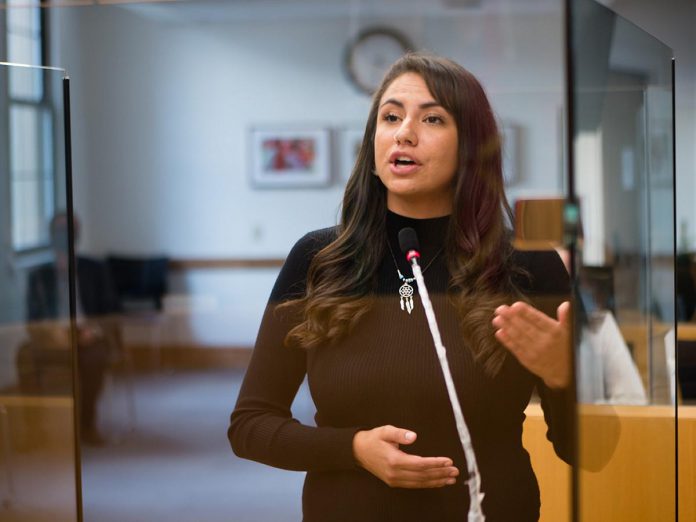 The City of Peterborough is looking for its next poet laureate for 2023.
Administered by the Electric City Culture Council (EC3) under the guidance of the City of Peterborough's Arts, Culture and Heritage Advisory Committee (ACHAC), the Peterborough Poet Laureate Program was launched as a pilot in 2021-22, with Curve Lake spoken-word artist Sarah Lewis named as Peterborough's first-ever poet laureate.
During her tenure, Lewis — an Anishnaabe Kwe (Ojibwe/Cree) spoken-word artist from Curve Lake First Nation — performed or gave workshops at more than 70 events, including four official city occasions. In November 2021, she was featured in the CBC Arts series Poetic License, performing her poem "Warrior Cry" which she had earlier performed at Peterborough city council.
"The arts are one of the key components to what makes a city vibrant and lively," Lewis says in a media release. "Humans create art, music, and poetry to protest, to disrupt, and to express their love, passions and the things we care about in this life. Not to mention that the arts have played a vital role in all thriving cultures and societies across the globe."
Advertisement - content continues below
Peterborough's city council has approved the Peterborough Poet Laureate as a permanent program, and EC3 is seeking nominations for the 2023 Peterborough Poet Laureate.
An honorary position established to recognize the excellence and outstanding achievements of professional poets living and working in Peterborough and Peterborough County, and to strengthen and enhance our civic identity, the poet laureate acts as an advocate for poetry and spoken word art, for the arts in general. The poet laureate, who receives honorarium of $2,000, must create a present a minimum of four original works to be presented at Peterborough city council meetings and other city events and occasions.
Nominations are being accepted until Tuesday, January 3rd and will be assessed by a panel including peers in the poetry and spoken-word community, local citizens, and a city representative.
Advertisement - content continues below
Artists must be nominated by someone else; self-nominations will not be accepted. Nominees must be professional, published artists 18 years of age or older who are current residents of the city of Peterborough or Peterborough County, including Curve Lake and Hiawatha First Nations.
Detailed program guidelines and the nomination form are available on the EC3 website at ecthree.org/program/peterborough-poet-laureate-2023-program-guidelines-and-nomination-form/.
EC3 will be hosting a virtual nomination workshop on Zoom at 7 p.m. on Tuesday, November 29th. For those unable to attend the virtual workshop or for those with have accessibility needs, there will also be an in-person workshop at the Peterborough Public Library at a date and time to be announced.
This story has been updated to reflect the extension of the nomination deadline from December 16 to January 3.