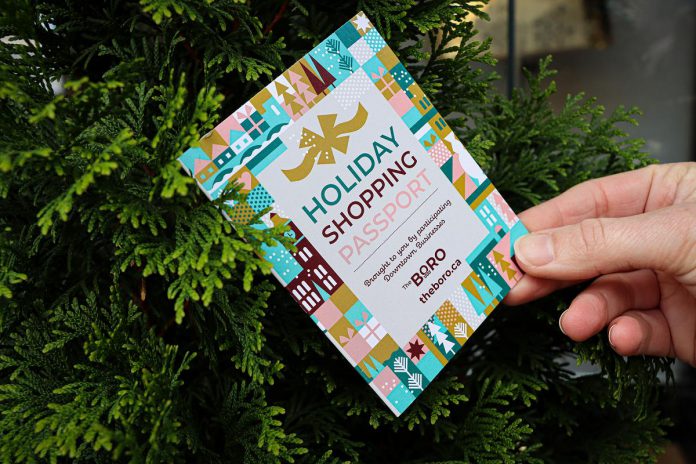 The holiday season is now in full swing in historic downtown Peterborough with the launch of the annual Holiday Window contest and Holiday Shopping Passports, designed to get residents and visitors in the festive spirit and to reward them for shopping, dining, and enjoying small businesses in 'The Boro'.
The Peterborough Downtown Business Improvement Area (DBIA) announced the return of the two programs on Monday (November 14) at the Peterborough & the Kawarthas Visitor Centre, where they also announced a new partnership with Peterborough & the Kawarthas Tourism to attract overnight tourists to the downtown.
The Holiday Window Contest sees downtown businesses decorate their storefront windows in the theme 'Winter Woodland', and downtown patrons can now vote online for their favourite windows until Tuesday, December 6th. The window with the most votes will see that business receive a $1,000 prize, with $500 prizes for the second and third place winners. With more windows being added throughout November, you can either go downtown to take a tour of the windows or see them online at theboro.ca/holiday-window-contest-2022/.
Advertisement - content continues below
Holiday Shopping Passports are also now available at 150 participating shops, boutiques, salons, restaurants, and cafes in the downtown (see the list below). For every $10 shoppers spend at participating businesses, they earn a passport stamp. Free stamps are available at the Peterborough Public Library, the Peterborough & the Kawarthas Visitors Centre, and the DBIA office.
When a passport is filled with 20 stamps, the completed passport becomes a ballot for one of three early bird draws on Wednesdays during December for a $500 Boro gift card and a grand prize draw for a $1,500 Boro gift card in January. The early bird draws take place on December 4, 14, and 21, with the grand prize draw on January 11. Find out more about Holiday Shopping Passports at https://theboro.ca/holiday-shopping-passport-season/.
"This year, we decided to launch both our Passport program and Holiday Window contest in tandem to really increase a sense of excitement and holiday ambience in the downtown core," says DBIA executive director Terry Guiel. "Our small businesses put a lot of care and love into the holiday season to capture the magic and charm of in-person shopping."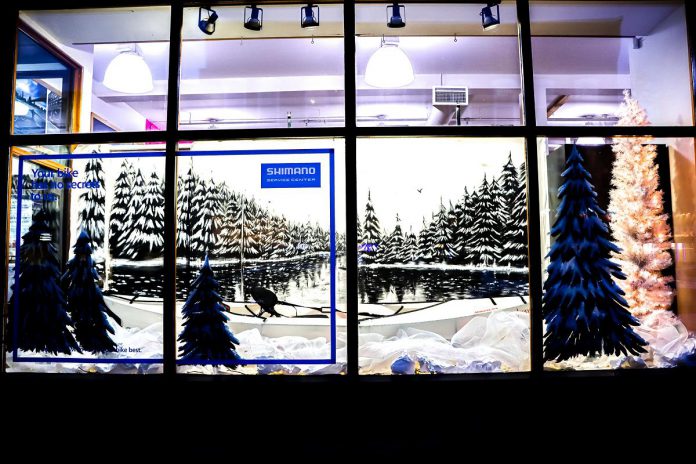 Tweet this quote
Through the two programs, the Peterborough DBIA is encouraging shoppers to support the many unique locally owed businesses in the downtown core. Last year's Holiday Shopping Passport program saw shoppers stamp more than $2.6 million worth of passports, representing a beneficial investment in the local economy. For every $100 shoppers spend locally, up to $48 stays in the community — compared to just $14 at big box stores and nothing at internet giants like Amazon.
"The physical shopping experience and visual storytelling of our downtown business community is something you just can't replicate online," Guiel points out. "Interventions like our Passport program and the Holiday Window contest is what gives us an edge in the market during the holiday season."
Along with supporting small business in the downtown, another priority for the Peterborough DBIA is attracting new customers and out-of-town shoppers this holiday season. They have teamed up with with Peterborough & the Kawarthas Tourism for the new Peterborough HAULiday Gifting Getaway Hotel Package.
Advertisement - content continues below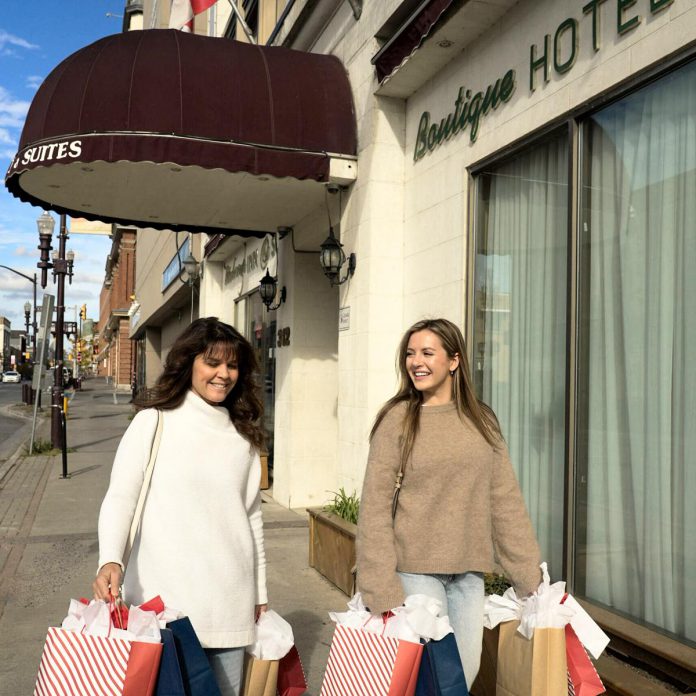 Visitors who book an overnight stay at a participating Peterborough hotel between November 14 and December 23 will receive a free swag bag with local gifts and a $100 Boro gift cart to spend in downtown Peterborough during their stay. For more details, including a list of participating hotels, visit thekawarthas.ca/ptbo-hauliday-gifting-getaway-package/.
"We are excited to be working alongside our partners at the DBIA to support local hotels during a need period in the late fall shoulder season and to encourage increased spending in the downtown during the holiday shopping season," says Joe Rees, director of tourism at Peterborough & the Kawarthas Economic Development.
To make it easier and more affordable to shop in downtown Peterborough, the City of Peterborough will be providing free two-hour parking in the downtown beginning Black Friday (November 26) until the end of December, courtesy of Wolfe Lawyers.
For more information on businesses in downtown Peterborough, visit theboro.ca.
Advertisement - content continues below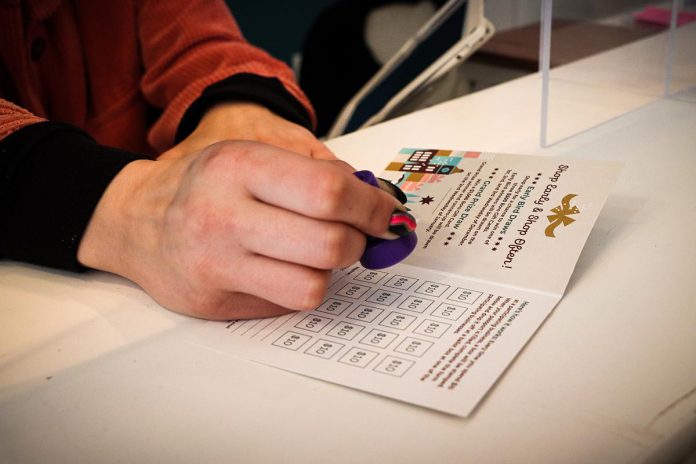 2022 Holiday Shopping Passport Locations
Free Stamp Spots
Peterborough Public Library
Peterborough & the Kawarthas Tourism
Great Eats
Crook and Coffer
Island Cream
Gerti's Pub
Karma Café
Dirty Burger
Kettle Drums
La Hacienda
Sam's Place
Crepes of Wrath
One Eighty Pub
The Night Kitchen
Food Forest
St. Veronus
Fresh Dreams
OMG
Black Horse Pub
MadoiSushi
Papas Billiards
Brothers Pizza
Speak Easy Café
BrickHouse Craft Burger
Capra Toro
Amandalas
The El P
Mr. Sub
Maple Moose
Taso's Pizzeria
Poco Burro
Curry Village
Curry Mantra
Whistle Stop
McThirsty's Pub
Nateure's Plate
Champs
Jasmine Thai Cuisine
Fork It
Board Walk Game Lounge
La Mesita
Village of Thai
Sweet Treats
Bobo Tea
Black Honey Café + Bakery
Cork + Bean
Dreams Café
Providence Cafe
Kit Café
TurnbellCafé
Canoe Café
The Eddison
Revelstoke Café
Tragically Dipped
Couture Candy PTBO
Naked Chocolate
YoYo's Yogurt Café
Artisanal Food
The Cheese Shop
The Pasta Shop
The Food Shop
Minh's Chinese Grocery
Goodies on George
Boutique Fashion
John Roberts
Gentry Apparel
Cottage Toys
Flavour
S.O.S
Cahill's Outerwear
Providence
Hi Ho Silver
Dan Joyce Clothing
Just Like New
Solid Leather
Grady's Feet Essentials
Antionette Bridal
Sinders Bridal
The Neighbourhood Vintage
The Capitol PTBO
Reiker by Cheslers
T-Elle Boutique
Insight Optical
Plant Shops
Pammett's Flowers
Plant Goals
Tiny Greens
Avant-Garden Shop
Pet Shops
Turner and Pooch
Paws Plus
Cannabis Shops
Pipe Dreams
Sparq Retail
Fallen Giants
Sports Stores
Wild Rock
Runners Life
Boaters World
Fontaine's Source for Sports
Rawscoe's Sport Collectibles
Hobies Sport
Bike Shops
B!ke: Community Bike Shop
Dream Cyclery
Full Tilt Cycle
Green Street
Speciality Stores
Blue Streak Records
Liftlock Escape
K C Costumes
Grey Guardian Games
Dueling Grounds
IceMan Video Games
Kollect This
Personal Care
Sugar Me Right
Pettigrew Spa
Studio East
Starks Barber Shop
Tonic Hair Salon
Laurie Jones & Co Hair Salon
Riverside Tattoo
Health & Wellness
Elderberry Clinic
Ritual Apothecary
The Earth Food Store
Sustainable
GreenUP Store
Sustain Eco Store
Homeware
Knock on Wood
Metaphor Home
Cozy Home Design
Tribal Voices
Lavender Moon
Electric City Works
Luminary Emporium
Artisan & Craft
Art School of Peterborough
Needle Works
Needles in the Hay
Peterborough Photo Services
Charlotte Paint
Makers Markets
Cheek
Watson + Lou
Tools & Hardware
Kingan Home Hardware
Larry Electric
New to You
Chumleighs
The Hawk Shop
First Stop Swap Shop
Book & Zine
Mark Jokinen Books
By the Books
Services
Peterborough and the Kawarthas Chamber ofCommerce
Sullivan Law
Smiles to You
Toys
Boardwalk Games
Things from Mom's Basement
The Toy Shop
Electronics
Reboot
The Cell Shop
Accommodation
Peterborough Inn & Suites
Convenience
The Smoke Shop
Sandys Variety