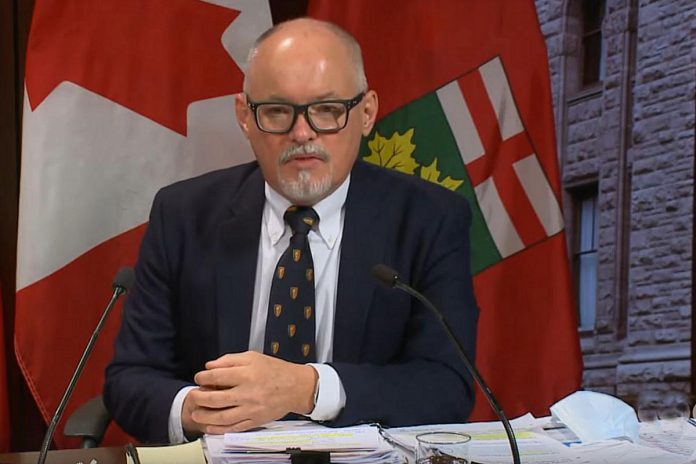 "Mask up to protect our children" is the message from Ontario's chief medical officer of health, who is "strongly recommending" that all Ontarians wear a mask in indoor public settings, but not mainly to prevent COVID-19 infections.
At a media conference at Queen's Park on Monday morning, Dr. Kieran Moore said a combination of seasonal influenza and respiratory syncytial virus (RSV) — a highly infectious seasonal virus that is common in young children and can cause severe infection in infants and for which there is no vaccine — is straining the pediatric health care system in Ontario hospitals.
Moore said over 20 per cent of children under one year of age in hospital emergency departments have tested positive for RSV, with half of children under five years of age in intensive care units having RSV and the other half having seasonal influenza.
Advertisement - content continues below
Tweet this quote
"I'm also recommending that, if possible, children between two and five wear a mask with supervision, if they can tolerate the mask and safely put it on and off," Dr. Moore said. "It is our youngest children, those under five, who are especially vulnerable to severe outcomes from RSV and COVID and influenza, and we need to ensure we take all the necessary steps to keep them safe."
Dr. Chris Simpson, executive vice-president of medical at Ontario Health, began the media conferences by stating that RSV, influenza, and COVID-19 are a "triple threat" causing "extraordinary pressure" to the pediatric care system.
"Unusually high numbers of children are coming into hospital emergency departments for one or more of these viral illnesses, and the total number of these children that require admission is uncommonly high," Dr. Simpson said.
Advertisement - content continues below
Tweet this quote
He added that, although hospitals have been preparing for increased seasonal illnesses, Ontario — along with other jurisdictions in North America and around the world — are seeing high numbers of seriously ill children and seeing them earlier in the season than unexpected.
Dr. Simpson said all hospitals have implemented "surge plans" to increase bed capacity and "refocus" resources to deal with the influx of pediatric patients, adding the number of available pediatric intensive care unit beds is being "monitored closely" and is "very fluid" and rapidly changes as children are admitted to intensive care and then discharged to a hospital ward bed when safe to do so.
"All pediatric patients will be seen when they come to a hospital," he emphasized. "If they require admission, then we will look after them. But, in order to do this, other parts of the health system will be impacted. We're already seeing a reduction in scheduled surgeries and procedures, and this will likely continue as we reallocated our resources to focus on pediatrics."
Dr. Simpson said hospitals are also watching for the impact influenza may have on older adults, which will require both pediatric and other hospitals to work together to coordinate care.
Advertisement - content continues below
Tweet this quote
For his part, Dr. Moore encouraged adults to wear masks if they are sick to prevent the spread of illness to children, even at home and especially during the holiday season with the increase in social gatherings. He urged adults to keep children, especially babies, "away from crowds."
When asked why Ontario was not implementing a mask mandate, Dr. Moore said it is hard to mandate "social environments."
"My job today is to educate Ontarians that this is a change," he said. "This isn't COVID affecting our children, although obviously it can. It's RSV and influenza combined that are driving our children to have to be admitted to hospitals."
"My concern is that this is spreading in families and in social situations outside of the large public venues," he added. "It really comes down to families, grandparents, parents, (and) siblings protecting the most vulnerable and youngest in our communities."
While Dr. Moore said he doesn't think a mask mandate is "inevitable," he said it would be considered both in schools and day cares if necessary.