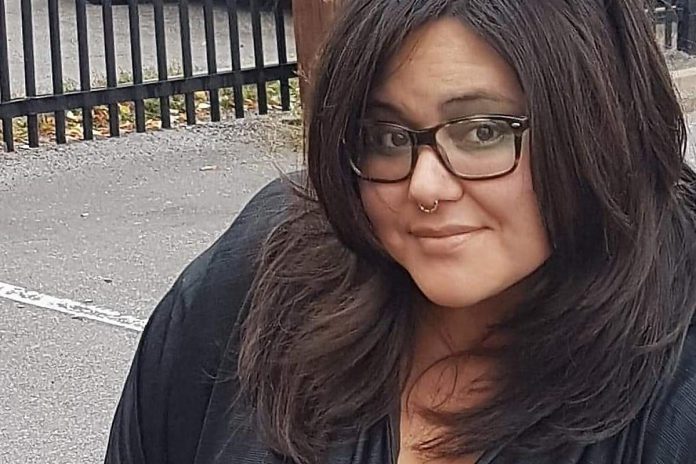 Indigenous advocate Mkwa Ghiizis is the recipient of the YMCA of Central East Ontario's 2022 YMCA Peace Medal.
Mkwa, whose Anishinaabemowin name means "bear moon" and whose colonial name is Crystal Hebert, is a two-spirit Annishnaabekwe from Wasauksiing First Nation who has been living and working in the Nogojiwanong-Peterborough community since 2006. In addition to being an advocate, Mkwa is also a water protector, artist, and intersectional feminist.
For the YMCA, "peace" is more than just the absence of violence and conflict: it means developing fairness, inclusion, empathy, security, and respect for diversity. The charity use peace as an acronym for the values of participation, empathy, advocacy, community, and empowerment.
Advertisement - story continues below
Tweet this quote
The YMCA presents Peace Medals to individuals or groups who — without any special resources, status, wealth, or position — demonstrate a commitment to those values through contributions made within their local, national, or global community. The Peace Medals are presented every year during YMCA Peace Week, which takes place this year from November 12 to 19.
"The YMCA recognizes Mkwa's work in Nogojiwanong as a fearless advocate and voice for those experiencing systemic failures," reads a YMCA media release. "They are the founder of Tweak Easy, a safe and judgement-free, grassroots overdose prevention site, as well as the organizer of rallies, vigils and marches."
"They have held costume drives for children experiencing homelessness and emergency community meetings that bring members and organizations together to find grassroots solutions to the opioid crisis and homelessness. They focus on low-barrier access to ceremony, medicines, and supporting people experiencing systemic failure as well as those who use drugs or engage in sex work from an Indigenous Harm Reduction approach."
Advertisement - story continues below
Mkwa has previously worked for the YES Shelter for Youth and Families, the United Way of Peterborough & District, the Nogojiwanong Friendship Centre, and as an independent speaker or consultant.
"The recipient of the YMCA Peace Medal demonstrates that peace has many dimensions," says YMCA of Central East Ontario David Allen. "They show us the importance of building community, where people feel that they belong and are included. Most often their actions started small and grew into something bigger than themselves. That is the power of peace."
Mkwa will be presented the 2022 YMCA Peace Medal at a ceremony at noon on Thursday, November 24th at the YMCA Balsillie Family Branch at 123 Aylmer Street South in downtown Peterborough. The event is free and open to the public, and a light lunch will be served.