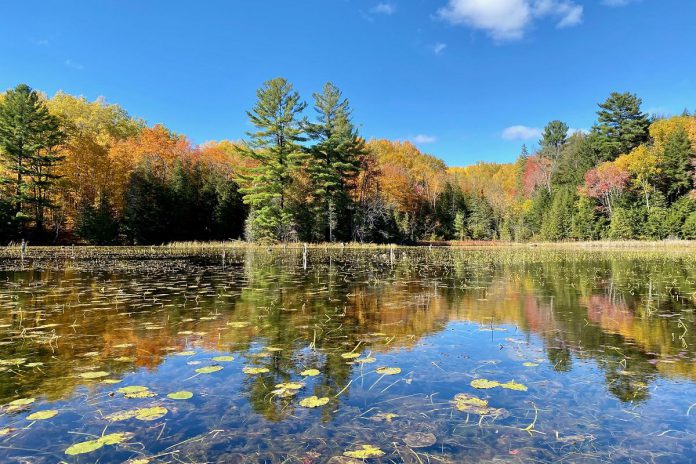 Kawartha Land Trust will receive up to $1.7 million in federal funding over five years to secure land made up of carbon-rich ecosystems, such as forests, wetlands, and grasslands with extensive biodiversity.
Federal environment and climate change minister Steven Guilbeault made the announcement in Peterborough on Monday (November 21). The funding for Kawartha Land Trust is part of up to $109 million in funding over five years for 40 projects across Canada from the Nature Smart Climate Solutions Fund.
Kawartha Land Trust, a non-government charitable organization established to protect land in the Kawarthas, already protects 30 properties comprising more than 5,070 acres, providing additional safe havens for wildlife while securing important ecological landscapes to help combat climate change.
Advertisement - content continues below
Tweet this quote
"We are so lucky in the Kawarthas to live where people have been caring for the land for generations, leaving a lasting natural legacy for today," says Kawartha Land Trust executive director John Kintare in a media release. "This funding will allow us to reach out to key landowners across our landscape to help them understand the part their land plays in our local ecosystem. We will work with all who are willing to secure important carbon stores and enhance land management so that our local lands can have a global impact."
According to the media release, of the 40 new projects receiving funding under the Nature Smart Climate Solutions Fund, 24 are place-based and will conserve about 32,000 hectares, restore up to 5,500 hectares, and enhance the management of about 460 hectares of wetlands, grasslands, and forest areas. In total, the Nature Smart Climate Solutions Fund will distribute $631 million in funding by 2031.
The federal government estimates the 40 projects will reduce greenhouse gas emissions by about 85,000 tonnes of carbon dioxide per year. The projects will conserve and protect ecosystems that provide critically important habitat for Canada's wildlife, including migratory birds and species at risk, and will also contribute to Canada's commitment to conserve 24 per cent of land and inland waters in Canada by 2025 and 30 per cent by 2030.
The funding announcement comes less than three weeks before the 15th conference of the parties to the United Nations Convention on Biological Diversity convenes in Montreal on December 7.