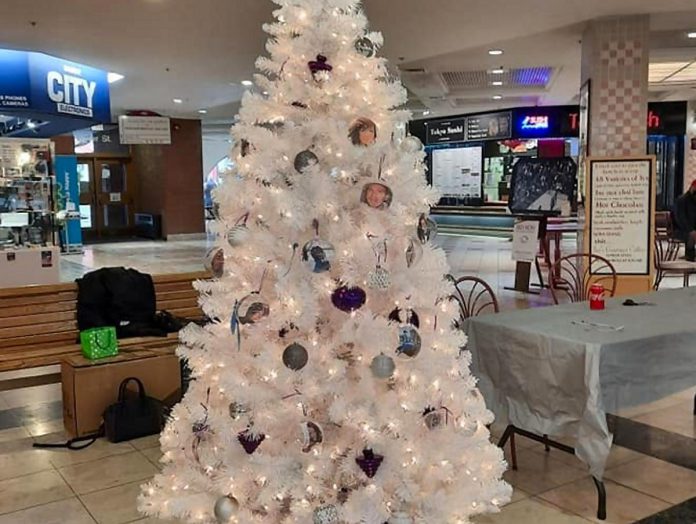 Gail Parry has a Christmas season tradition — an annual undertaking she dearly wishes wasn't a part of her life at any time of the year. Circumstances, tragic is every respect, have dictated otherwise.
Following the death of her daughter Jody in August 2018 from health complications related to her substance use, Parry has overseen the placing and decoration of a memorial Christmas tree in Peterborough Square.
Since 2019, ornamental bulbs featuring photos of people whose substance use proved fatal, either from overdose or the poisoned drug supply, have hung from the tree's sparkly white branches.
Advertisement - story continues below
Tweet this quote
"It's a place to honour the lives of those lost — a safe place," says Parry who, not unlike any of those who have lost a loved family member or friend depicted on the tree, draws comfort from the display.
"I miss her every single day. She was my only child. Christmas was special for us. Our last Christmas together was in 2013. She was waiting for long-term treatment for months. The call never came."
This year's memorial tree, located on the upper level of the downtown mall near the food court, will go up Wednesday (November 30) at about 10 a.m. and stay in place until the week prior to New Year's Eve.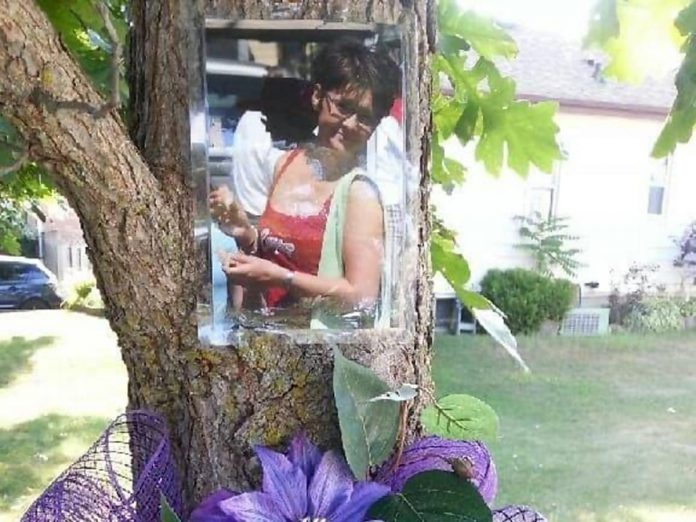 "A mom from Lindsay is going to be joining me," says Parry, adding, "She lost her son recently and is having a service for him the same day."
Parry is a member of Moms Stop The Harm, a network of Canadian families that, among other things, advocates for change as that pertains to failed substance use strategies and policies, She is a also a key organizer of events related to International Overdose Awareness Day marked each August 31st at Millennium Park.
As satisfying as that work is for Parry, her memorial tree initiative hits home on a much deeper personal level.
"When I lost Jody, I wanted to honour her life and the lives of others lost," recalls Parry, attributing the memorial tree idea to another member of Moms Stop The Harm in Powell River, British Columbia.
Advertisement - story continues below
Tweet this quote
Due to the continuing opioid crisis, the number of ornaments on the memorial tree continues to grow every year. According to data from Peterborough Public Health, 63 people in the Peterborough region have died from drug poisonings over the last year — that's one death every six days on average.
"There were a lot of photos on that first tree but, every year, we add more photos," Parry says. "There have been at least 100 bulbs on the tree and I'll have more this year. I may have to come up with another tree for next year to put beside this one."
Helping Parry out with the tree this year is Aizha Pollock, the manager of Harm Reduction Services with PARN – Your Community AIDS Resource Network in Peterborough.
"The tree means different things to different people but, of course, it's a way to remember and honour those lost," says Pollock. "With the opioid crisis being what it is, we've all lost somebody. The holiday season is a difficult time for many, but especially for those who have lost a family member or friend to the opioid crisis or to drug poisoning. It's a bit of a way to alleviate that pain by honouring them and also raise awareness to try and prevent that pain for somebody else."
The memorial tree, adds Pollock, serves another broader purpose.
"It puts a face to the opioid crisis," she says. "It can seem like a very faceless thing when you haven't lost someone in your life. It really brings it home that these people are loved just like anybody else — that each one isn't a statistic but an individual."
"It's hard to tell from a photo what walk of life someone comes from but, again, it makes them less of a statistic. It personalizes them."
Hopefully, adds Pollock, that will help lessen the inherent stigma attached to substance users: those who see the faces in the ornaments will be moved to realize they are ordinary people, of all ages and from all walks of life, who struggled with an addiction not of their choosing and paid the ultimate price.
Advertisement - story continues below
Tweet this quote
Passers-by do take notice, says Parry.
"People stop and comment about how beautiful the tree looks and how sad it is," she says.
But, as she told kawarthaNOW this past August, there has been rare instances where ignorance has cut deep and it has left a scar on her heart — including the time a man who stopped to look at the tree and told Parry, "They all should be taken out into a field and then shot in the head like a sick horse."
"I said 'These are our kids on this tree' — then he said it again," she recalls. "There are a lot of people that have judgment. It's terrible. Ignorance equals stupidity."
Those interested in having an photo ornament displayed on the tree are asked to email Pollock at aizha@parn.ca or phone her at 705-768-1719.
Parry adds arrangements can also be made by contacting Hospice Peterborough or the Elizabeth Fry Society.