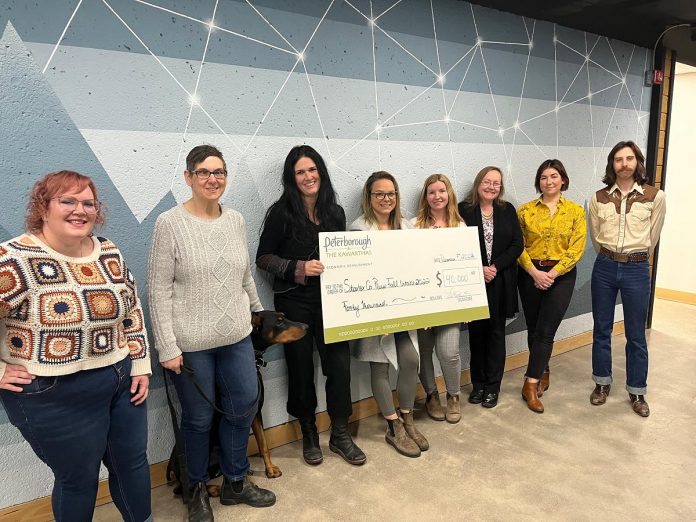 Eight Peterborough-area entrepreneurs have each been awarded a $5,000 microgrant to support their small business in the fall intake of the Starter Company Plus program offered by the Peterborough & the Kawarthas Business Advisory Centre — a total of $40,000 comprising the largest number of microgrants awarded to date.
Funded by the Government of Ontario and administered by Peterborough & the Kawarthas Economic Development (PKED), Starter Company Plus provides aspiring or experienced entrepreneurs in the City and County of Peterborough with five weeks of business training to help them launch a new business or expand an existing one.
Twelve small businesses participated in the fall intake of the program, with the following eight entrepreneurs and their businesses selected to each receive a $5,000 grant based on the overall strength of their business plan and business pitch:
Advertisement - story continues below
Jacquelyn Craft of The Neighbourhood Vintage in Peterborough, offering sustainable and trendy vintage clothing from eight different vendors in a single space.
Lisa Mace of ECO Cabin in North Kawartha Township, an off-grid destination for those who are environmentally conscious and looking for creative experiences.
Ineke Turner of Turner & Pooch Dog Training in Peterborough, helping owners, veterinarians, and rescue organizations deal with problematic dog behaviour.
Nathan Truax of Truax Leather Co. in Peterborough, creating bespoke everyday leather items that blend classic styling with modern functionality.
Lisa Burkitt of Burkitt's Gardening & Home Services in Havelock-Belmont-Methuen Township, bringing neglected gardens back to life, providing one-time clean-up and advice, and offering long-term maintenance and care.
Kate Griffin of Mental Wealth Counselling in Otonabee South-Monaghan Township, a virtual counselling and psychotherapy service with access to both a registered social workers and registered psychotherapist.
Jena Trimble of Zen Home and Cottage Cleaning Services in Havelock-Belmont-Methuen Township, providing detailed and personalized cleaning for homes, cottages, rental properties, resorts, and businesses using mostly "clean" cleaners made in-house.
Vanessa Bruce of Vanessa Bruce Virtual Services in Peterborough, offering virtual support to small businesses with a specialization in creative needs and social media.
"This intake of the Starter Company Plus program saw many new businesses that were referred from past participants," says Madeleine Hurrell, the PKED entrepreneurship officer who oversees the program, in a media release.
"Now in its fifth year, the program has directly contributed to the growth and development of small businesses in Peterborough & the Kawarthas and has allowed us to support the largest cohort to date. In Peterborough and the Kawarthas, we are lucky to have thriving and growing small businesses. We have seen our communities rally around entrepreneurs and small businesses."
Since its launch in 2017, the Starter Company Plus program offered by the Peterborough & the Kawarthas Business Advisory Centre has assisted over 215 local entrepreneurs and more than 174 small businesses, which have created more than 200 jobs in the local economy.