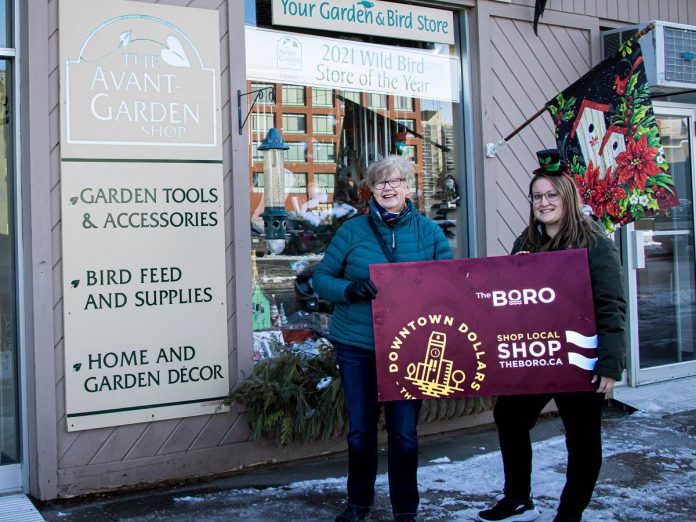 Karen Scott has won a $500 Boro gift card for shopping local in downtown Peterborough, as part of the Peterborough Downtown Business Improvement Area (DBIA) annual Holiday Shopping Passport program.
For ever $10 people spend at any of more than 150 participating downtown business, they receive a stamp in their holiday shopping passport. When a passport is filled with 20 stamps (representing $200 in spending), the completed passport is entered into a draw for three $500 early bird prizes and a $1,500 grand prize.
Scott's passport was drawn as the winner of the second Holiday Shopping Passport early bird prize on Wednesday (December 14) at Poco Burro, a new Mexican grill located at 343 George Street in downtown Peterborough. The first early bird prize was won by Heather Adey on December 7.
Advertisement - content continues below
Tweet this quote
Scott completed her winning passport at the Avant-Garden Shop at 165 Sherbrooke Street in downtown Peterborough, where she purchased some Christmas presents for her family and garden supplies during a customer appreciation event on November 22. She was presented her $500 Boro gift card prize by Avant-Garden's customer service representative Marissa Dunk on December 14.
"Growing up in Peterborough, downtown was my favourite place to shop and explore," Scott says in a media release. "Supporting downtown really helps our local economy. What a delightful surprise to win the early bird draw. I am excited to shop the many charming stores located in the heart of our city with my Boro gift card."
New this year, passport winners will also receive a Peterborough Musicfest Diner's Book alongside their Boro gift card. The Musicfest Diner's Book is filled with coupons valued at $600 in savings at local restaurants, with 100 per cent of the proceeds going directly towards musician fees for the summer outdoor music festival.
Advertisement - content continues below
The final $500 early bird prize will be drawn on Wednesday, December 21st, with the $1,500 grand prize to be drawn on Wednesday, January 11th.
You can get a holiday shopping passport at any of the participating shops, boutiques, salons, restaurants, and cafes in downtown Peterborough. Visit theboro.ca/holiday-shopping-passport-season/ for a list of all the participating businesses.
To start off your holiday shopping passport with no purchase necessary, you can get complimentary stamps at the Peterborough Public Library at 345 Aylmer Street North and the Peterborough & the Kawarthas Visitors Centre at 270 George Street North.
Downtown businesses will also be hosting late night shopping events over the next two Thursdays (December 15 and 22), providing double stamps for passport holders and free gift wrapping from 5 to 8 p.m.
The City of Peterborough is now offering free two-hour parking in the downtown until the end of December, courtesy of Wolfe Lawyers.