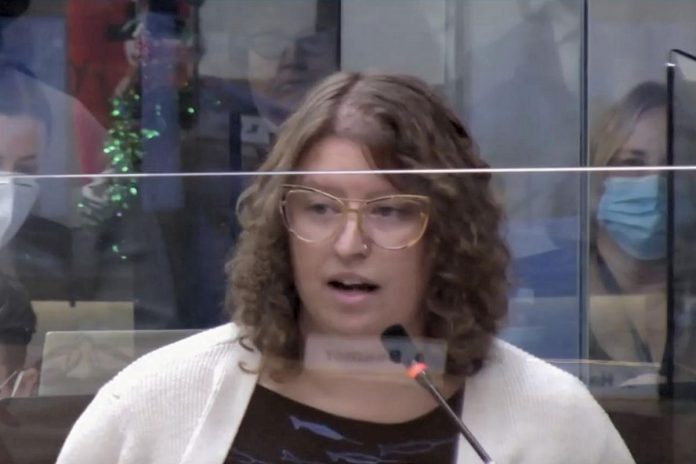 Despite a lack of financial support from the City of Peterborough, a coalition of community agencies is planning to go ahead with an emergency winter response to Peterborough's homelessness crisis.
More details are expected to be announced next week but, according to Peterborough Police Service community engagement and development coordinator Emily Jones, a partnership involving the Canadian Mental Health Association (CMHA), Fourcast, One City Peterborough, the United Way of Peterborough and District, and the police service is working toward soon opening an overnight drop-in centre for unhoused people, most likely at the former Trinity United Church on Reid Street.
That collaboration gained traction earlier this week following Peterborough city council's second denial of Town Ward councillor Alex Bierk's call for $100,000 to support the operation of the overnight drop-in centre. Jones was among those who addressed council before the vote.
Advertisement - content continues below
The organizations involved are committing $200,000 for the operation of the drop-in centre at a building now owned by the Peterborough Poverty Reduction Network.
According to Jones, a chunk of that money — $130,000 — will come from an earlier-provided federal grant managed by the police service for the operation of the Mobile Support Overdose Resource Team (MSORT).
As for the logistics involved with establishing and opening the drop-in centre, including staffing, One City Peterborough is taking the lead. The organization is hiring a coordinator for a winter overnight drop-in program as well as overnight drop-in workers.
Jones told kawarthaNOW on Wednesday (December 14) that all involved "are working very diligently" to get the drop-in centre set up and open as soon as possible.
"The biggest barrier will be getting people in place to do the job," she said, admitting "It's going to be a bumpier road" without the funding that was requested of the city.
"Without that $100,000, we're not going to be able to run it as long. In reality, the funding that we have will probably keep it open for maybe two months. We would have liked to have some extra funds to keep it going longer. Ultimately, we'll continue to look for funding."
Advertisement - content continues below
Approached for comment, both United Way CEO Jim Russell and One City Peterborough co-executive director Christian Harvey declined, noting more details of the plan will be revealed at some point next week.
In the meantime, Jones is heartened by the collaborative spirit that is fuelling the initiative.
"I often hear from various members of the community that our non-profits don't work well together and we're all in our silos," she said. "I have seen nothing but the opposite. It's just so inspiring."
"There are, of course, disagreements between non-profits, but we come together especially when there's grant proposals (involved). I'm not going to make a grant proposal without talking to every single partner I have. We're not competing. We're working together."
This is a developing story. kawarthaNOW will publish more details as they're made available.