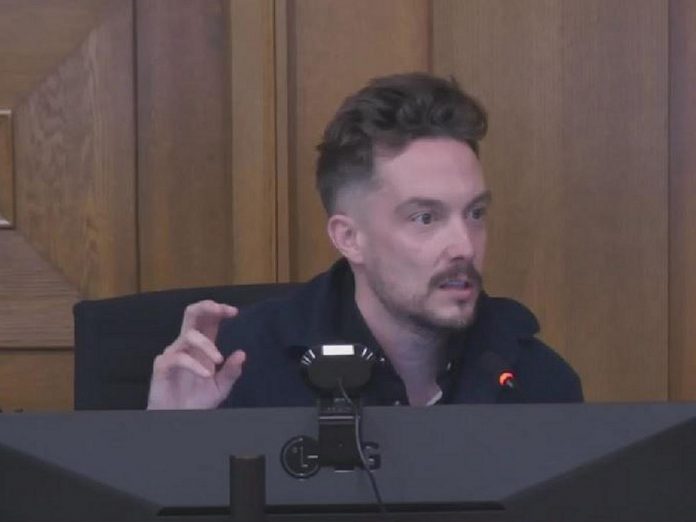 Two motions to address Peterborough's homelessness crisis over the winter were defeated at the inaugural general committee meeting of Peterborough's new city council on Monday night (December 5) — although a motion by Mayor Jeff Leal at the end of the meeting to move forward on one of the proposals was approved.
The two defeated motions were put forward sequentially by first-time councillor Alex Bierk, who had said in March when he announced his run for council that he was doing so as "a response to what I see as a lack of action where it's most desperately needed."
When introducing his first motion on homelessness, Bierk noted the recent death of a person who was homeless.
Advertisement - content continues below
"I heard from our community that an unhoused member of our community who was in his 50s passed away sleeping outside last night," Bierk said.
Bierk's first motion called for the city to support a proposal for an emergency winter response from a partnership of community organizations — including the Peterborough Police Service, Canadian Mental Health Association – Haliburton, Kawartha, Pine Ridge (CMHA), FourCAST, the Housing Resource Centre, the United Way, and One City Peterborough — and for the city to provide a grant of $100,000 funded from the social services reserve for the period January 5 to April 30.
The previous council had considered an earlier version of the proposal for a drop-in program at the former Trinity United Church on Reid Street, which had originally requested a $200,000 grant from the city. At that time, city staff advised the "lame duck" provision of the Municipal Act prevented city council or staff from making any expenditure over $50,000 during a municipal election campaign.
Tweet this quote
Bierk's motion noted there were around 326 unhoused people in the city and county of Peterborough as of October.
"These numbers point to the fact that we have more unhoused people than we have shelter for them," Bierk said. "So what does that look like? That means people are sleeping outside tonight. Someone died last night."
"What we have here is a response to the system that's not working. It's not a forever response. It's an emergency response and what it's going to offer is a barrier-free place for people to access overnight where they can come and get out of the elements and be safe and not die."
"This is being done by a collaboration by community groups that is actually a symptom of what's happening in our community. We're seeing community groups collaborating like never before. They're not in their silos anymore, they're working together."
"By not dealing with stuff like this, the problem just doesn't go away. By not dealing with this, you know what happens is people find other places to sleep."
Advertisement - content continues below
Tweet this quote
First-time councillor Matt Crowley indicated his support for the motion, while first-time councillor Kevin Duguay raised the issue of negative behaviour of some people using the Wolfe Street shelter and expressed concern about approving the program "without any meaningful neighbourhood consultation."
Mayor Jeff Leal expressed his support for the proposal.
"What I thought was particularly important in this proposal was the fact there will be three staff booked for each shift, with a minimum of two needed to operate this on an ongoing basis," Leal said. "In my own mind, that provides a level of operational confidence that this is a project that needs to go forward. I've said often that Canada is a G7 country. We can't afford nor should we ever have individuals that freeze to death for the lack of getting shelter for their needs."
"This is a reasonable approach, it's a short-term approach, and I think it folds in nicely to an earlier discussion that we had in terms of looking at homelessness and a housing first strategy as we move forward."
Bierk's first motion was defeated 6-5, with councillors Don Vassiliadis, Kevin Duguay, Lesley Parnell, Keith Riel, Andrew Beamer, and Dave Haacke voting against it and Mayor Leal and councillors Bierk, Matt Crowley, Gary Baldwin, and Joy Lachica voting in favour.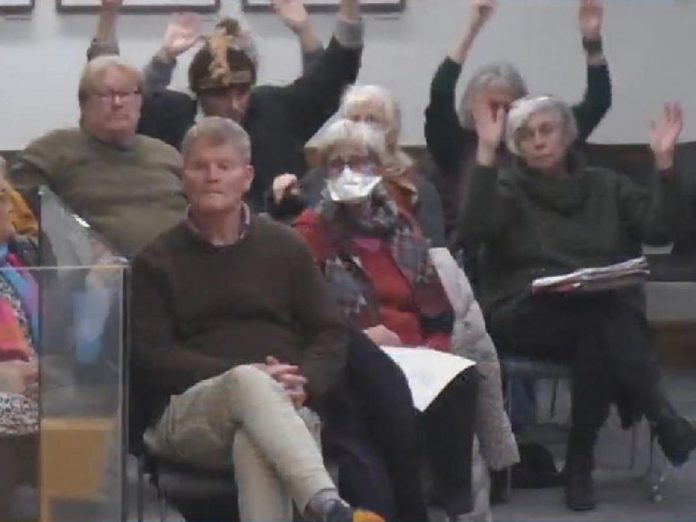 Bierk's second motion was for the city to support the Peterborough Action for Tiny Homes (PATH) pilot project to provide 15 sleeping cabins for chronically unhoused individuals in the community over the winter.
The motion called for a temporary use by-law and potential site plan exemption application to allow for property at 834 Park Street to be used as a location for the sleeping cabins along with supportive buildings, including sanitary and food services, and support services provided by Elizabeth Fry Society of Peterborough.
The motion also called for the city to waive application and development fees for the processing of the applications, for city staff to expedite the review of the applications, and to allocate $100,000 for start-up funding for this winter.
"I'd be really willing to make any amendments necessary to make a version of it happen," Bierk said when introducing the motion. "What PATH has done which is remarkable is this is this community-led thing where they are reacting to a gap in the system, and they're doing it in the most beautiful, compassionate, organized, thoughtful way. They have rallied to the need to keep people alive this winter, and they have built 10 portable sleeping cabins."
Tweet this quote
"It's so easy for us tonight to figure out a way how to make this work for them, with all the knowledge and expertise of city staff here to help enable it. We have to do this. This will have a huge impact in our community and this will be the start of us addressing this problem in a compassionate, caring way that's going to actual impact people."
In speaking against the motion, Duguay — who was a land use planner for the City of Peterborough for more than 15 years — was insistent the PATH group must follow the required planning process for land use approval.
"These are statutory requirements," Duguay said. "We just simply can't skip the process."
As with his objection to Bierk's first motion, Duguay said there would have to be "meaningful neighbourhood consultation" beyond PATH's past efforts to obtain broad community support for the idea.
"The idea has been started, but for the idea to become a reality must follow the rigours of the planning approval process — and that has not yet started — whether it's a temporary use by-law, whether it's a zoning by-law amendment," Duguay said, adding that the city would need to look at building code and fire safety requirements.
Advertisement - content continues below
First-time councillor Joy Lachica, who like Bierk represents Town Ward, spoke in favour of the motion.
"We talked at length just a short time ago about housing first and that our city espouses housing first as an approach to dealing with the unhoused and the homeless in Peterborough," Lachica said, referring to her earlier motion that city staff provide a report to council on the potential of the housing first model, a recovery-oriented approach to ending homelessness, as a long-term solution to eradicating homelessness in Peterborough. That motion, with an amendment for when staff would report back to council, was unanimously supported by council.
"I'm devastated that the last motion didn't pass because to me that would align with the idea of housing first — shelter first — and this particular motion as well aligns with housing first, that lives are more important than administration. If there's an emergency, we can achieve it. We can rush the paperwork. We can plow through the red tape. We can get it done to save lives. That's what functioning in an emergency is about — that lives are first."
Tweet this quote
"How can we in good conscience say that we're espousing housing first, and that's the approach our city is taking, and we can't even allot a hundred thousand dollars for a warming room when it's 40 below? And we can't allot a gift of land and put those 15 shelters on that piece of land where it's said we can do everything to hide it so it doesn't look distasteful? We need to not carry on pretending that this doesn't exist. The reason we are in this situation is because we don't have the housing built, or we haven't repurposed the buildings for the housing and the shelter that we need for our homeless."
"I urge you to consider councillor Bierk's motion and the community that has come together to construct these wonderful cabins. I toured one. It's happening in Kitchener, it's happening in Hamilton, it's happening throughout Ontario. There are PATH community groups that have assembled and they're creating housing in our housing emergency in this province. I urge you to support this motion."
Advertisement - content continues below
Otonabee Ward councillor Lesley Parnell, who had already voiced her objections on Twitter to the PATH proposal to use the Park Street property, spoke against Bierk's motion.
"I think you already know how I'll be voting on this one," Parnell said. "There was quite a bit of activity over the weekend, and I was actually called quite a number of very inappropriate names, but I would encourage you to call me mama bear, because I will defend the families and seniors in my den, my ward."
As her fellow ward councillor Duguay did in speaking against Bierk's first motion, Parnell referred to the situation with the Wolfe Street shelter and the negative impact on the surrounding neighbourhood.
"They have all kind of unspeakable things happening around their home(s), on their front porches, in the backyards. They cannot let their children into their own backyards. We spent $250,000 of your taxpayers' money to erect an eight-foot wooden fence to try and provide some security, cameras, lights and they still do not feel safe."
Tweet this quote
"And one thing they didn't tell us at the time is an awful lot of mature trees were lost in that transaction. I did not know that was going to happen, and that's a long-term impact to those families. So I cannot in good conscience do that to another neighbourhood in my ward or any of your neighbourhoods."
"People want less crime, less needles on their trails and parks and beaches, less people going through their cars and homes and sheds. This is a serious problem, and we cannot fix it by just adding more and more and more, because we are inviting (homeless people to come to Peterborough). Three people just this week moved to Peterborough from New Brunswick because of our reputation."
"Yes, we do look after our people. It's not like we have nothing. We have a significant budget of what we invest in looking our folks who are vulnerable — our lost souls. We do, but we cannot sustain so many more coming to our community, it's just not sustainable."
Earlier, when speaking to his first motion, Bierk had refuted the notion that Peterborough "is a haven for the unhoused." He pointed out that data from the United Way Peterborough & District's Point in Time count has shown that eight per cent of unhoused people are coming from outside of Peterborough, "and of that eight per cent, a high number of them have pre-existing ties to Peterborough."
Parnell also claimed there would be campfires on the property proposed for use by PATH, and that a "dear friend" of hers with a respiratory disease who lives on the street "would suffer so much from these regular fires, and that is not fair to that man. He has lived in that house for decades."
"I do commend PATH — your hearts are in the right place — but we cannot just plunk this anywhere and very negatively impact any neighbourhood that it may be beside," Parnell said.
"That's not to say all homeless people are criminals, but it certainly invites a lot of that criminal activity and that is what we have to be very careful of. And there's no such thing as temporary. We were told Wolfe Street is temporary, and now it's until March. And we do by the way have those services until March, so it's not like we don't have alternatives. There are places for people to go, if they will go to them."
Tweet this quote
In responding to Parnell's comments, Bierk noted he is an artist who didn't graduate high school.
"So you ask yourself why is a guy like me sitting at this table, and why am I not wearing a blue suit? It's because people wanted a different approach to this (issue of homelessness). The reason that we are in the situation that we are in is because we look at this through the bureaucratic lens and our solution is to criminalize poverty, our solution is to go in with force, and police, and security cameras, and punishment. Do you know what it's like to go to prison? We're going to send people to prison because that's the alternative to this."
"We have an emergency shelter system built on twigs that has become the norm, that is not working for anyone. Why has there been more work done to do something more sustainable? It's sad to me that solutions like this have to come (from) the community when there's people of great capability and capacity and get paid high salaries to make this their daily work. Why are we talking about sleeping cabins? This is the immediate need, that PATH has a solution to deal with the acuteness of the problem that is not going away. And if we continue to not do ideas like this, mark my words, (it) will only get worse."
Leal said he supported the concept of sleeping cabins as part of the solution to homelessness, and referred to similar projects in Fredericton, Kingston, and Kitchener that include "24/7 wraparound services" including addiction services, mental health services, and employment services. However, he expressed concern about proceeding without sufficient planning.
Tweet this quote
"One of the things that we have to avoid in public policy is moving in a direction where there may be a failure," Leal said. "We should take the time. I'm told in these other communities it was eight or nine months of detailed planning before they established their sleeping cabins in these respective communities … It really behooves us to take the time to get this right so it will be a successful initiative down the road."
Speaking for a final time to his motion, Bierk pleaded for "someone on council to throw me a bone to expedite this process, to change this motion, to amend this motion on the spot, so we can get the PATH group to come up and tell you way better than how I can tell you how they've been planning this for multiple years."
"We need to do more than just put them into the system, because what that looks like is that everyone's going to go on Christmas break, and then we're going to come back and deal with (the budget), and we're not going to make use of these sleeping cabins when could benefit from sleeping in these cabins over the winter. There's got to be an out. Someone help me."
In response to Bierk's plea, Leal said he had a "long conversation" with the city's community services commissioner Sheldon Laidman, who indicated city staff are prepared to review possible sites within the city "to make sure we put together a full, detailed, and comprehensive plan for supports for the site" including operational supports and services including food and washrooms, and that staff could report back to council by February.
Councillor Gary Baldwin raised questions about the city's potential liability in being involved in the PATH project, and also suggested as an interim measure it would be possible for willing property owners to put individual sleeping cabins on their own property, registering it with the city and having it inspected by the city's building department.
Tweet this quote
For his part, councillor Matt Crowley — who began his comments by saying "That last vote broke my heart" — supported Baldwin's suggestion.
"We have 10 units ready to go now, to have people sleep in tonight, and it would be a real tragedy to not use them," Crowley said, while acknowledging the concerns of those who oppose the idea.
"Maybe there's something we can do as council, or to work with the planning department — I'm just throwing an idea out (there) — to expedite a permit for that in order to get it done quickly so when the weather turns obscenely cold we have something in place, at least temporarily, and then we can maybe move forward with a proper plan to look for land, look for a lot, look for a property that would be great for a tiny home community."
Bierk's second motion was defeated 8-3, with Leal, Baldwin, Vassiliadis, Duguay, Parnell, Riel, Beamer, and Haacke all voting against the motion and Bierk, Crowley, and Lachica voting in favour.
At the end of the meeting during other business, Mayor Leal put forward his own motion for the PATH project. The final motion, with modifications suggested by council, is shown below.
Whereas a community led group, Peterborough Action for Tiny Homes (PATH) has submitted a request to Council dated November 21, 2022 for funding in the amount of $100,000, waiver of fees, support in principle of various necessary land use planning approvals, and the expedited processing of such land use approvals; and
Whereas the City as the Service Manager for housing and homelessness coordination and programs has the responsibility for ensuring that such an activity is integrated appropriately with other support services and can assist in achieving outcomes towards the goals of the 10 Year Housing and Homelessness Plan; and
Whereas the City has a responsibility to ensure that such a use is located conforming to all Official Plan, Zoning Bylaw, environmental and health standards; and
Whereas the City has a responsibility to ensure there is appropriate public consultation in choosing an appropriate location for such a use;
Therefore, be it resolved that Council request staff to do the following:
Work with PATH and its partner organizations to review the best option for the location of such a use that best balances the issues of conformity with the City's planning documents, impacts upon neighbouring landowners, and success for clients. This review should include evaluation of all City owned lands;
Work with PATH and its partner organizations to develop a plan to ensure the success of the site itself and for clients. The plan would be expected to include but not be limited to items such as supports to be provided on the site, operational controls, number of and layout of shelters, services to be provided on the site, how the site will fit within the overall Coordinated Access System and By Name Priority List managed by the City, assurances that data is collected to evaluate the success of the project, appropriate funding to be provided by the City, and expected outcomes; and
A report be provided to Council with the above items by February, 2023.
That support services be provided on a 24/7 basis, including mental health, addictions, and employment services.
That we will communicate and consult with our County and Township partners regarding supports and potential locations.
Explore opportunities with the provincial and federal governments.
"I think this is amazing," Bierk said in response to Leal's motion. "I would just like to caution other councillors in viewing this as an overarching solution for the situation that we're in. This is definitely just like treating the top-level acuteness of the most drastic situations of people that are sleeping outside."
"There is still so much work that needs to be done to build a better shelter system than the one we have. Maybe alongside this conversation to do something like this, we could hear more about other solutions that we could support as a council."
Council approved Leal's modified motion, with the sole exception of Parnell, who voted against it.