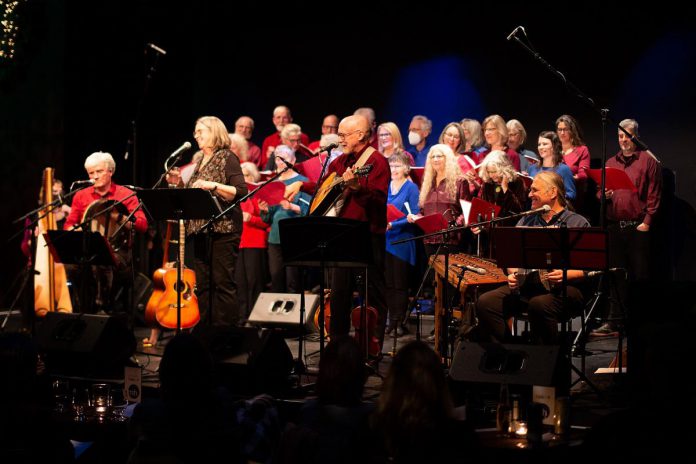 The 23rd annual In From The Cold has raised almost $20,000 for YES Shelter for Youth and Families, after returning to Market Hall Performing Arts Centre in downtown Peterborough for the first time since the pandemic began.
The two in-person concerts, held over two nights on December 9 and 10, raised $19,963.43 for youth and families experiencing homelessness — the highest single-year amount ever, bringing the 23-year total raised for YES Shelter for Youth and Families to almost $170,000.
"That is a lot more than we've ever made before and I'd like to thank everyone who played a part in that success, including all performers, Brooke Erickson of the YES Shelter for Youth and Families, and our generous sponsors, whose increased donations were responsible for a large proportion of the increase," writes John Hoffman, who first organized In From The Cold in 2000 with Susan Newman, Rob Fortin, and Curtis Driedger.
Advertisement - content continues below
Hoffman, Newman, and Fortin once again performed as Carried Away, along with with multi-instrumentalist Michael Ketemer and Celtic harpist Tanah Haney, as well as the 30-voice Convivio Chorus led by Newman and Curtis Driedger and his youth performers.
Highlights included the rollicking old Provence carol "Noël est arrivé" ("Christmas is here"), Newman's musical arrangement for choir of Robert Frost's famous poem "Stopping By Woods On a Snowy Evening," Driedger's "The Santa Situation, Fortin's original song "The Coldest One," which was featured in LA Alfonso's short film "One Day in December" about the catastrophic Quaker Oats explosion and fire in December 1916, and an English-language version of the 19th-century Swedish carol "Gläns över sjö och strand" ("Shine over lakes and shores").
Sponsors for this year's In From The Cold include kawarthaNOW, McInroy and Associates Private Wealth Management, Jo Pillon of Royal LePage Frank Real Estate, LLF Lawyers, Herod Financial Consulting, Manitoulin Transport, Stoneguide Realty Limited, Artspace, Wildrock Outfitters, Camp Ponacka, Sam's Place, Ashburnham Ale House, Black Honey, Kawartha Credit Union, Teachers For Kids, and Long and McQuade.