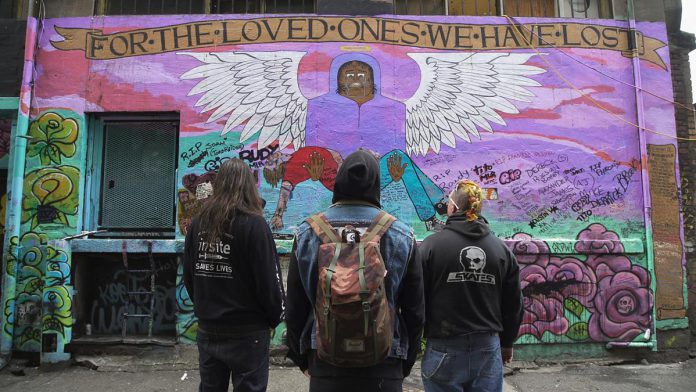 Peterborough's ReFrame Film Festival has unveiled the full lineup of social justice documentary films screening during the 2023 virtual festival, which runs for nine days from Thursday, January 26th to Friday, February 3rd.
The 19th annual documentary film festival, available to audiences across Canada, features an extensive list of fascinating films on the international circuit, as well as Canadian films and local short films.
The festival opens on January 26 with an in-person event at Showplace Performance Centre in downtown Peterborough, featuring an exclusive screening of All the Beauty and the Bloodshed, which premiered at the Toronto International Film Festival in September. The epic story of internationally renowned artist and activist Nan Goldin is told through her slideshows, intimate interviews, ground-breaking photography, and rare footage of her personal fight to hold the Sackler family and their company Purdue Pharma, manufacturer of OxyContin, accountable for the overdose crisis.
Prior to the opening night screening, Alice Williams will open the festival with a prayer, Cormac Culkeen will give a musical performance, and ReFrame creative director Amy Siegel will speak about the festival program.
Advertisement - story continues below
VIDEO: "All the Beauty and the Bloodshed" trailer

International films screening during the virtual festival include Subject that explores the life-altering experience of sharing one's life on screen through the participants of five acclaimed documentaries, Be My Voice about exiled journalist Masih Alinejad who urges Iranian women to rebel on social media, The Seeds of Vandana Shiva that presents the incredible life story of the Gandhian eco-activist, and Devil Put The Coal In The Ground that looks at the devastation brought on by the coal industry and its decline.
Canadian films premiering at ReFrame include Norwegian Headache about a historic lawsuit that grants unborn Norwegians the right to a clean environment and Freedom Hill that explores the environmental racism washing away the town of Princeville, North Carolina. Canadian feature films include The Colour of Ink that follows acclaimed Toronto artist Jason Logan who creates incredible inks from foraged plants and found objects, and Love in the Time of Fentanyl about a renegade safe injection site in Vancouver's Downtown Eastside.
Local short films include the world premiere of Rewilding the Classroom by educator Cam Douglas and filmmaker Rodney Fuentes, about aligning educational practices with the reality of environmental crises through the Youth Leadership in Sustainability program, and The Butch and the Baby Daddy from Trent professor Karleen Pendleton Jimenez about a trans/butch lesbian who asks her close friend to help her build a family.
Advertisement - story continues below
VIDEO: "The Colour of Ink" trailer

New this year, ReFrame and Artspace have collaborated on a special in-person exhibition on-view at Artspace from January 25 until February 25. Featured projects include What Fools These Mortals Be, a three-channel video installation that reimagines Shakespeare's A Midsummer Night's Dream in a series of tableaux vivants (living pictures) performed by formerly incarcerated women, and Intravene, an immersive audio experience about the opioid crisis.
You can get opening night tickets (which must be purchased separately), single and household virtual festival passes, and festival five-pack, eight-pack, or 10-pack of tickets (allowing you to stream five, eight, or 10 virtual films of your choice) at reframefilmfestival.ca.
Opening night tickets are $20 or pay what you can, a single pass is $100, a household pass is $120, a five-pack is $45, an eight-pack is $65, and a 10-pack is $80. Pay-what-you-can tickets for single films will be available on Wednesday (January 11).
Advertisement - story continues below
Here is a list of the films screening during the 2023 ReFrame Film Festival. For details about each film, visit reframefilmfestival.ca/festival/reframe-2023-film-guide/.
Alis (2023, 84 minutes)
Ten young women reside in a home for girls from the streets of Bogotá. They talk about their roommate, Alis. She is a collective invention and at the same time a protected space that makes it possible to express painful truths.
All the Beauty and the Bloodshed (2022, 117 minutes)
Following the life of artist Nan Goldin and the downfall of the Sackler family, the pharmaceutical dynasty who was greatly responsible for the opioid epidemic's unfathomable death toll. Note: This film will screen in-person only during opening night at Showplace Performance Centre; it is not available as part of the virtual festival.
And Still I Sing (2022, 90 minutes)
Controversial Afghan pop star and activist Aryana Sayeed mentors young hopefuls as they prepare to appear on their country's hit TV show `Afghan Star'.
Apart (2020, 86 minutes)
Against the backdrop of a Midwestern state battling industrial decline, an opioid epidemic, and rising incarceration rates, APART offers an intimate portrait of three women who return home from prison and rebuild their lives after being separated from their children for years.
Arctic Song (2022, 7 minutes)
Arctic Song tells stories of how the land, sea and sky came to be in beautifully rendered animation.
Be My Voice (2021, 90 minutes)
Exiled journalist and activist Masih Alinejad, who has millions of followers on Instagram, amplifies the voices of Iranian women.
The Benevolents (Les bienveillants) (2021, 16 minutes)
The Benevolents (Les bienveillants) takes us into the world of Tel-Aide Montreal call centre, as we follow a group of future volunteers.
Beyond Extinction: Sinixt Resurgence (2022, 102 minutes)
Beyond Extinction documents three decades of Indigenous struggle by the Sinixt people, and their decades long struggle for recognition.
Bigger Than Us (2021, 95 minutes)
For six years, Melati, 18, has been fighting the plastic pollution that is ravaging her country, Indonesia.
Body Politics (2021, 8 minutes)
In a fatphobic image-conscious world, educator, activist and eccentric cat-lady-turned-politician Dr. Jill Andrew takes her fight for body justice, human rights, representation, access and equity to the legislature as the first queer Black person elected as a member of provincial parliament.
Buffy Sainte-Marie: Carry It On (2022, 90 minutes)
For over six decades, Buffy Sainte-Marie has put truth to music and the world has listened, even when powerful forces tried to silence her.
A Bunch of Amateurs (2022, 94 minutes)
In the northern industrial town of Bradford, England, a handful of diehard amateur filmmakers desperately cling to their dreams, and to each other, in this warm and funny look at shared artistic folly that speaks to the dreamer in us all.
Burnt. Land of Fire (2020, 14 minutes)
This short documentary captures life in a little village in Calabria in southern Italy.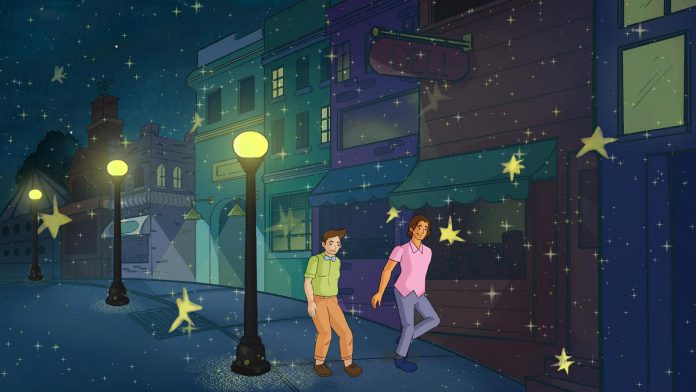 The Butch and the Baby Daddy (2022, 6 minutes)
The Butch and the Baby Daddy is about a trans/butch lesbian who asks her close friend to help her build a family.
Choices (2023, 43 minutes)
A group of men from Peterborough, Ontario reveal the stories that set the course of their destiny.
The Colour of Ink (2022, 105 minutes)
The Colour of Ink uncovers the mystery and power of our oldest medium through the eyes of Jason Logan, a Toronto inkmaker. Harvesting colours from the natural world—weeds, berries, bark, flowers, rocks, rust—he makes ink from just about anything.
Dad Can Dance (2022, 29 minutes)
Dad Can Dance is a mid-length documentary short about family secrets.
Dear Jackie (2021, 90 minutes)
Dear Jackie is a cinematic letter to Jackie Robinson, the first Black man to play in Major League Baseball, and a cultural leader in Montreal, Quebec.
Dear Mr. Dudley (2021, 13 minutes)
Dear Mr. Dudley follows a series of hand-written letters between the filmmaker and his estranged father.
Devil Put the Coal in the Ground (2022, 80 minutes)
This film follows the rise and fall of the coal industry in Appalachia, and the people who continue to live there.
Eternal Spring (2022, 86 minutes)
Confronted with government denunciations and human rights violations against their spiritual practice, a group of Chinese activists executes a bold and perilous plan to hack into state television.
Fault Lines – People, Work, and the COVID-19 Pandemic (2023, 15 minutes)
Workers in sectors hardest hit by COVID make us question the fault lines endemic to our system.
For Your Peace of Mind, Make Your Own Museum (2021, 71 minutes)
In a tiny village lives the ghost of a folk artist named Senobia Cerrud, who transformed her house into The Museum of Antiquities of All Species.
Foragers (2022, 65 minutes)
Foragers depicts the dramas around the practice of foraging for wild edible plants in Palestine, with wry humour and a meditative pace.
Framing Agnes (2022, 75 minutes)
After discovering case files from a 1950s gender clinic, a cast of trans actors turn a talk show inside out to confront the legacy of a young trans woman forced to choose between honesty and access.
Freedom Hill (2022, 29 minutes)
Freedom Hill is a short documentary exploring the environmental racism washing away the town of Princeville.
Galb'Echaouf (2021, 18 minutes)
The breathtaking landscapes of Western Sahara don't seem to have a memory. Yet, the eyes of its people bear enduring signs of the tragedy that has marked their existence for decades. Through small details, fragments of a lasting conflict find their way to the screen.
Haulout (2022, 25 minutes)
A man is waiting in his hut in the desolate expanse of the Russian Arctic. He is holding out in order to observe a natural event that occurs here, every year. But ocean warming is taking its toll.
Heartbeat of a Nation (2022, 20 minutes)
In Heartbeat of a Nation, a short documentary by Eric Janvier that celebrates Dene cultural reclamation and revitalization, a father passes on traditional knowledge to his child through the teachings of a caribou drum.
High Tide Don't Hide (2021, 82 minutes)
In the race for existence, striking teenagers discover that activism, authority and awareness make for a steep learning curve.
A Hundred Joys (2022, 5 minutes)
A Hundred Joys is a film about the main intersection of Toronto's East Chinatown, a community whose stores spread out onto the streets.
Advertisement - story continues below
Imalirijit (2021, 27 minutes)
Tim Anaviapik Soucie is a young father living in Pond Inlet, Nunavut who started an inspiring research project about water quality.
In Love With A Problem (2022, 22 minutes)
The story of the women who rebirthed plastic.
Inuktitut Dialects (2020, 9 minutes)
Ulivia explores what is accessible via Internet in relation to Inuktitut.
Let the Little Light Shine (2022, 86 minutes)
Parents and students at a top-ranked African American elementary school fight to save the institution after it's threatened with replacement by a school favoring wealthy families.
Living on the Threshold (2022, 29 minutes)
Dancer Marine Chesnais travels to Réunion Island to collaborate with migrating humpback whales.
Love in the Time of Fentanyl (2022, 80 minutes)
A vibrant group of misfits, artists, and drug users operates a renegade safe injection site in Vancouver's Downtown Eastside, fighting to save lives and keep hope alive in a neighbourhood ravaged by the overdose crisis.
Make People Better (2022, 83 minutes)
A rogue biophysicist disappears after developing the first designer babies, shocking the world and the entire scientific community, but an investigation shows he may not have been alone in his attempts to create a "better" human being.
Mariposa (2022, 6 minutes)
An operatic cine-poem weaving together the stories of African-Canadian singer Portia White, South African chef Phelokazi Ndlwana, and the Free Gender activist group—a Black lesbian organization based in Khayelitsha, a township on the outskirts of Cape Town.
Meeting Point (2022, 90 minutes)
Two filmmakers theatrically explore how their fathers were imprisoned together in 1975, under the Pinochet dictatorship in Chile.
Nelly & Nadine (2022, 92 minutes)
Nelly & Nadine is the unlikely love story between two women falling in love on Christmas Eve, 1944, in the Ravensbrück concentration camp.
The New Greatness Case (2022, 93 minutes)
The New Greatness Case offers remarkable access to a group of young Russians entrapped by the secret service, resulting in unjust trials and prison sentences – echoing the intensified crackdown on dissent and free expression in Russia we see on the news every day.
Norwegian Headache (2021, 51 minutes)
In the Norwegian Constitution, there is an article that speaks for future generations. Article 112 gives all unborn Norwegians the right to a clean environment, and now it has been challenged in the Norwegian Supreme Court for the first time in history as a group of lawyers, young activists and grandparents file a historic lawsuit against the Norwegian government for granting new oil licenses in the Arctic Barents Sea.
Okay! (The ASD Band Film) (2022, 75 minutes)
Four performers on the autism spectrum form a band and take on the challenge of writing and performing their first album of original songs.
Our Glorious Bodies (2021, 7 minutes)
Enter into a liberating and intimate space that celebrates disability, joining one disabled voice with community-sourced images of and by disabled artists.
Planktonium (2021, 15 minutes)
Planktonium is a short film about the secret universe of living microscopic plankton. These stunningly beautiful, diverse and numerous organisms are invisible to the naked eye, but are drifting in every water around us.
Rebellion (2022, 82 minutes)
Rebellion is the first feature-length documentary to tell the behind-the-scenes story of Extinction Rebellion from its launch in 2018. With unprecedented access, the filmmakers follow a group of unlikely allies and capture the human drama of social movements first hand.
Rewilding the Classroom (2023, 15 minutes)
Exploring opportunities to align educational practices with the reality of environmental crises through the Youth Leadership in Sustainability program in Nogojiwanong/Peterborough.
Ricochet (2022, 76 minutes)
When an undocumented immigrant in San Francisco is accused of killing a young woman, the incident ignites a national firestorm, as two public defenders fight to reveal the truth.
Riotsville, USA (2022, 90 minutes)
Welcome to Riotsville, a fictional town built by the US military. Using all archival footage, the film explores the militarization of the police and creates a counter-narrative to the nation's reaction to the uprisings of the late '60s.
Sam Now (2022, 87 minutes)
Sam and his half-brother Reed use archival footage to investigate the mystery of their mother's disappearance 25 years ago.
The Scattering of Man – DƏNE YI'INJET (2021, 75 minutes)
Director Luke Gleeson, a member of the Tsay Keh Dene Nation, unveils the story of the people who were forcibly relocated from their ancestral territory when the Williston Reservoir and the W.A.C. Bennett Dam were created in the 1960s. In the process of putting up these hydro power projects, the government of the time flooded 175,000 hectares of Indigenous territory, including villages, hunting and fishing grounds, and culturally significant sites.
The Seeds of Vandana Shiva (2021, 91 minutes)
Activist Vandana Shiva takes on powerful corporations that pollute and degrade the environment.
Sirens (2022, 79 minutes)
On the outskirts of Beiruit, young women navigate friendship and identity in their pursuit of becoming thrash metal stars.
The Smell of Money (2022, 85 minutes)
A rural North Carolina community fight the world's largest pork corporation for their freedom to enjoy fresh air, clean water and a life without the stench of manure.
Subject (2022, 90 minutes)
Subject explores the life-altering experience of sharing one's life on screen through the participants of five acclaimed documentaries.
Unloved: Huronia's Forgotten Children (2022, 90 minutes)
Filmmaker Barri Cohen leads part detective story, part social history as she uncovers the truth about Alfie and Louis, her two long-dead half-brothers. They were institutionalized at the Huronia Regional Centre in Orillia in the 1950s.
Vibrations – Inner Music (2022, 15 minutes)
Deaf dancer Kassandra Wedel flips the switch on expectations of sound and movement as she conducts her own piece, using patterns and rhythms from her urban environment.
Wild Prairie Man (2022, 52 minutes)
An intimate look at the life of a man enthralled with the exotic and endangered lands of Grasslands National Park. Located in the Northern Great Plains of Canada, Grasslands has been a 20-year odyssey for wildlife photographer James R. Page.
Will You Look at Me (2022, 21 minutes)
As a young Chinese filmmaker returns to his hometown in search for himself, a long due conversation with his mother dives the two of them into a quest for acceptance and love.
kawarthaNOW is proud to be an official media partner and sponsor of the 2023 ReFrame Film Festival.