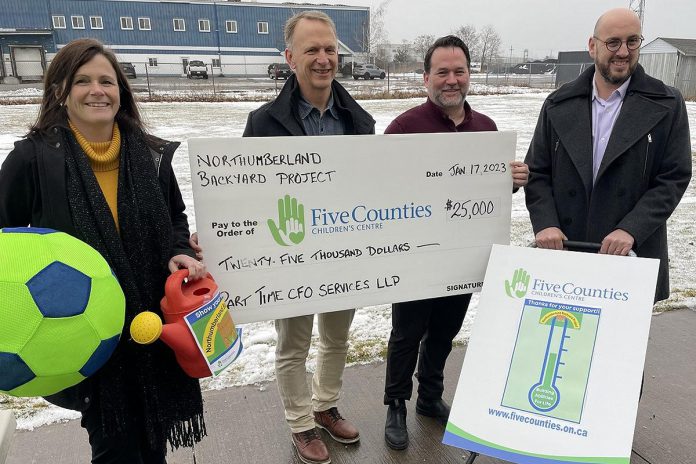 Cobourg-based financial management services company Part Time CFO Services LLP has donated $25,000 to the Northumberland Backyard Project, which would transform the property behind Five Counties Children's Centre in Cobourg into an outdoor green space for treatment, recreation, cultural awareness, and education programs.
The Northumberland Backyard Project is being led by Five Counties, a charitable organization providing therapy services that assist children who are delayed in their development to build the skills they need in everyday life such as walking, talking, and activities of daily living, in partnership with Northumberland County, Nogojiwanong Friendship Centre, YMCA Northumberland, and the local EarlyON Child and Family Centre.
The outdoor green space, which would be available to clients, families, and visitors of the project partners and other community program providers, would include the installation of fencing and an accessible playground — the first of its kind in the area — along with sensory play equipment, an accessible garden area, a gazebo, storage space, and eventually a track. The 25,200-square-foot property at 800 Division Street in Cobourg currently cannot be used because of safety, traffic, and accessibility concerns.
Advertisement - story continues below
Tweet this quote
The $25,000 donation from Part Time CFO Services LLP represents around 10 per cent of the remaining funds needed to develop the Northumberland Backyard Project, and brings the initiative almost halfway to meeting its fundraising goal of $255,000.
"We appreciate the significant investment Part Time CFO Services LLP is making in our kids, families, and community by supporting the Northumberland Backyard Project," says Five Counties CEO Scott Pepin in a media release. "Agencies in our community have seen growing waitlists due to increased need and the pandemic. We recognize the importance of this outdoor project to create more space and opportunities for our kids and families. We're very grateful for supporters like Part Time CFO Services LLP that see value in this project."
Northumberland resident Darryl Goodall, the founder and president of Part Time CFO Services LLP, is an active sports enthusiast who has been a long-time volunteer for organized outdoor recreation activities, including as coach and head referee of the Port Hope Minor Soccer Club.
"Our staff believe in giving back to Northumberland, and that's why Part Time CFO Services LLP is proud to support Five Counties and its partners on a project that will provide life-changing opportunities for kids," Goodall says. "Our investment in the backyard project will help kids get the treatment and support they need that benefits them for the rest of their lives."
For more information about the Northumberland Backyard Project, and to make a donation, visit fivecounties.on.ca/northumberland-backyard-project/.