The Peterborough Theatre Guild wants to help you beat the mid-winter blahs with the next show of its 2022-23 season. Canadian playwright Kristen Da Silva's award-winning comedy Gibson & Sons runs for 10 performances in late February and early March at the Guild Hall at 364 Rogers Street in Peterborough's East City.
In this feel-good 90-minute play, a rural Canadian family is struggling to run Gibson Funeral Services, their small-town funeral home, in the face of new competition. Harry Gibson is helping his father operate the business, but it's gotten in the way of his love life.
Missing his recently departed mother and hungry to settle down and have a family of his own, Harry secretly turns to an unconventional method of meeting a woman: an online Russian bride service. When his bride-to-be Katya arrives, with her acerbic sister Eva in tow, the Gibson family is thrown into a tailspin.
Advertisement - story continues below
Harry needs to convince his traditional father that he knows what he's doing, convince his friends and family that he hasn't lost his mind, and explain to his bride-to-be that they will be sharing their marital home with the dearly departed.
Described as "a hilarious, touching comedy about family, love, and making all kinds of relationships work … even the unexpected kind," the play won the 2016 Stage West Comedy Award, presented annually to a member of the Playwrights Guild of Canada — the first of two wins of the award by playwright Kristen Da Silva.
Also an actor, Oakville-based Da Silva sets her plays in Ontario locales from Sudbury to Stayner. Her other plays include Book Club, Five Alarm, Sugar Road, Hurry Hard, Where You Are, The Rules of Playing Risk, and Beyond the Sea. Canada's most-produced playwright Norm Foster has called her "one of the brightest new comedic playwrights in all of Canada."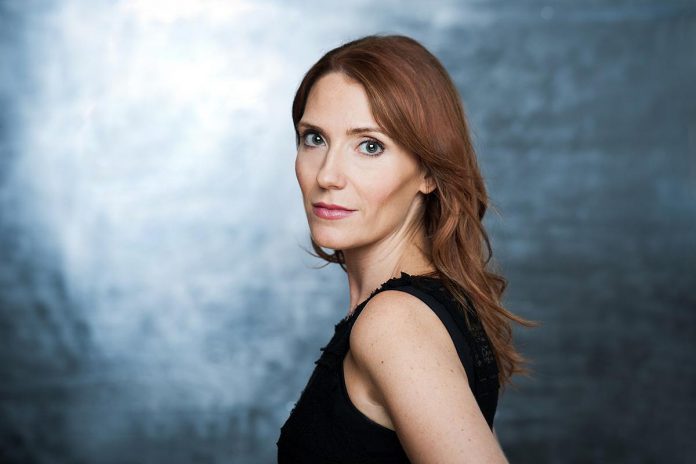 "Laughing with someone is a really quick way to find common ground," Da Silva said in a January 2022 interview with James Hutchison. "There's a science behind what laughter actually does in our brain, and some of those brain chemicals allow us to feel a little more open for a while after. In that way, comedy is like a doorway into being able to examine ourselves without the level of fear we might feel doing that directly."
Danny Gaisin of Ontario Arts Review called Gibson & Sons a "continual giggle with quotable lines too numerous to list," adding "There's also some very touching and identifiable bits that make Gibson & Sons hit a personal chord."
The Peterborough Theatre Guild's production of Gibson & Sons is directed by Jerry Allen (Annie, The Cripple of Inishmann, Buddy Holly) and produced by Pat Hooper (Annie, Cats).
Advertisement - story continues below
Featuring some of Peterborough's best comic actors — Luke Foster, Dan Smith, Lyndele Gauci, Jade O'Keeffe, Brian McIntosh, Bethany Heemskerk, and Sheila Charleton — performances take place at 7:30 p.m. on February 24 and 25, March 2 to 4, and March 9 to 11, with 2 p.m. matinee performances on February 26 and March 5.
While masking is encouraged at all performances, a special evening performance on March 9 will be available for those more comfortable attending a show with COVID protocols (masking will be required for that performance and there will be limited audience capacity with spaced seating).
Tickets for Gibson & Sons are $25 for adults, $22 for seniors, and $15 for students, and are available online at peterboroughtheatreguild.com or by calling 705-745-4211. Tickets for the March 9 performance are available by calling the box office at 705-745-4211.
kawarthaNOW is proud to be a media sponsor of the Peterborough Theatre Guild's 2022-23 season.