February is the month of love. And it's the best time of year to be a lover of local. Entrepreneurs, bakers, florists and makers all around us across the Kawarthas and beyond have conjured their creative energies to bring us the perfect testaments to love.
Whether you're looking for some mid-winter self-care or the perfect gift for your partner, friend, family member, or girlfriend (Galentine's Day is February 13), I have some ideas for you from my loving-local list.
While it's impossible to bring all of my locally loved things to you in one short list, I have selected some options that are unique, some that are sweet, some that are eco-sustainable, and some that you may not have thought of, but be assured they are all from locally owned businesses. Love, gratitude, and local — good karma will be yours for supporting them.
Advertisement - story continues below
Local Love gift boxes from Living Local Marketplace and The Florest in Peterborough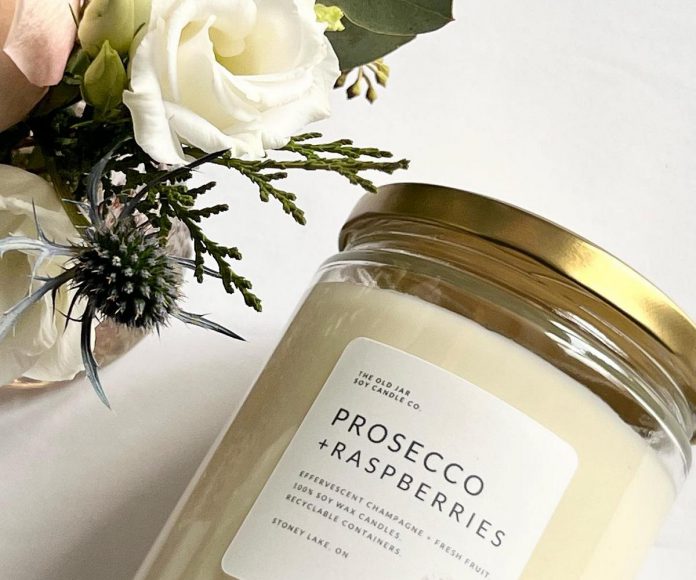 I love it when a duo comes together and the result is absolute perfection. And when I'm talking female entrepreneurship collaboration, I am more excited for us than I am for them.
It is a perfect time for Alicia Doris of Living Local Marketplace (1179 Chemong Rd., Peterborough) and Angela McDonald of The Florest (theflorestptbo.com), two local Peterborough entrepreneurs, to team up to curate two Valentine's Day gift boxes. As Alicia says, "There's love and then there's local love!"
They've combined their love of local, beauty, and the simple yet best things in life to create two special-edition "Local Love Boxes". Each box is $65 plus tax. They are available for pick-up or delivery in the City of Peterborough and can be ordered online at livinglocalmarketplace.ca/collections/special-edition-subscription-boxes.
The first box includes a prosecco and raspberries soy wax candle (from Old Jar Candle Co., Stoney Lake), chocolate pretzel love knots (from Saxon Chocolates, Toronto), and a modern mix of soft, sweet florals surrounding a large pink rose in a matching tinted glass votive (from The Florest, Peterborough). The second box includes Gentleman's Apothecary eucalyptus after-shave balm (from Maison Apothecare, Oakville), an extra-creamy milk chocolate canoe (from The Chocolate Rabbit, Lakefield/Bancroft), and a modern mix of unique florals surround a large cream rose in a stoneware base (from The Florest, Peterborough).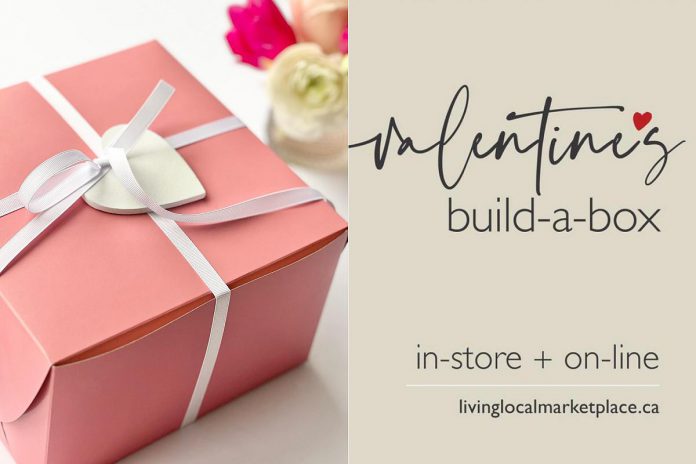 And how did this perfect collaboration happen?
"Ang and I met via Instagram and instantly admired each other's work," Alicia explains. "We first connected in person over a bouquet of peonies I had ordered. We are both new entrepreneurs — being Starter Company Plus grads — and have become supportive of each other in every way. Our offerings are complementary, as are our approaches to building our businesses, so this is the latest of our collaborations."
Along with the curated Local Love Boxes, you can also mix and match to build your own Valentine's Day box for pick-up or delivery at livinglocalmarketplace.ca/collections/valentines-build-a-box, including a glass votive posie from The Florest. Angela is also taking orders on her own website at theflorestptbo.com for the most beautiful arrangements.
Be My Valentine spa day package at Elmhirst's Resort in Keene
You had me at "spa day". The Be My Valentine package from the Spa at Elmhirst's Resort (1045 Settlers Line, Keene) turned my head for a few reasons. Not only is it a chance to get away (a bit out of town but not too far away), but it includes several spa services (a 30-minute aromatherapy massage, a 30-minute facial, and a 60-minute manicure) as well as lunch.
The Be My Valentine spa day package is $199 (plus tax) per person. Call 1-855-520-6635 to book. Your sweetheart will thank you for this Valentine's Day gift of relaxation and indulgence, which can be used any time during February.
And if you've not enjoyed the benefit of this spa with the lovely serene view yourself, you must try it. Find out more at elmhirst.ca/pamper/pamper-packages/.
Advertisement - story continues below
Lovable local candy at Flossophy in Peterborough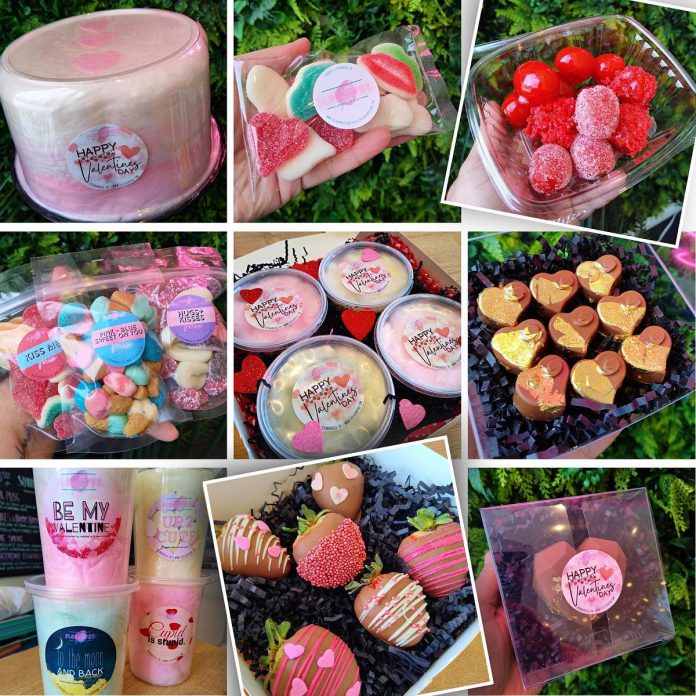 Danielle McIver's candy store Flossophy (75 Hunter St. E., Peterborough) specializes in hand-spun cotton candy floss but offers so much more when it comes to sweets for your sweetie.
Flossophy is now accepting pre-orders for Valentine's Day, with fan favourites like candied grapes and chocolate-covered strawberries making a return. There are also candy cups, Valentine's build-a-bags, candy-filled hearts, and candy mixes including three new options for Valentine's Day: Pink-Blue Sweet on You (pink and blue candy), Hugs and Kisses (Xs and Os, grape rings, and pink berries), and Kiss Me (red and white sugared hearts and a mix of coloured lips).
If you've never tried one of Flossophy's cotton candy cakes, you can order a small one of $29.
Browse Flossophy's selection of Valentine's Day candy and more at flossophyptbo.com/shop/valentines-pre-orders/17.
Chocolate roses at The Chocolate Rabbit in Lakefield and Bancroft
Surprise your sweetheart by bringing home a chocolate rose bouquet from The Chocolate Rabbit (11 Queen St., Lakefield and 16 Bridge St. W., Bancroft). Also available in singles, the long-stem chocolate roses come in both milk chocolate and The Chocolate Rabbit's new Ruby chocolate.
The Chocolate Rabbit's Lakefield location is also participating in the Lakefield Village Lions Club's third annual Hot Chocolate Festival until February 17. For a special Valentine's Day treat, drop in and try their gourmet salted caramel hot chocolate served with fluffy whipped cream, chocolate shavings, and their famous caramel milk chocolate truffle drizzled on top. From each hot chocolate purchased, $1 will be donated to the Lakefield Village Lions Club to support the community.
The Chocolate Rabbit's Lakefield store is open from 10 a.m. to 5 p.m. Tuesday to Saturday. The Bancroft store is open Wednesday to Saturday, but will also be open the day before and on Valentine's Day (Monday, February 13 and Tuesday, February 14). Visit thechocolaterabbit.ca for more information.
Hand-crafted chocolate at Millbrook Valley Chocolates in Millbrook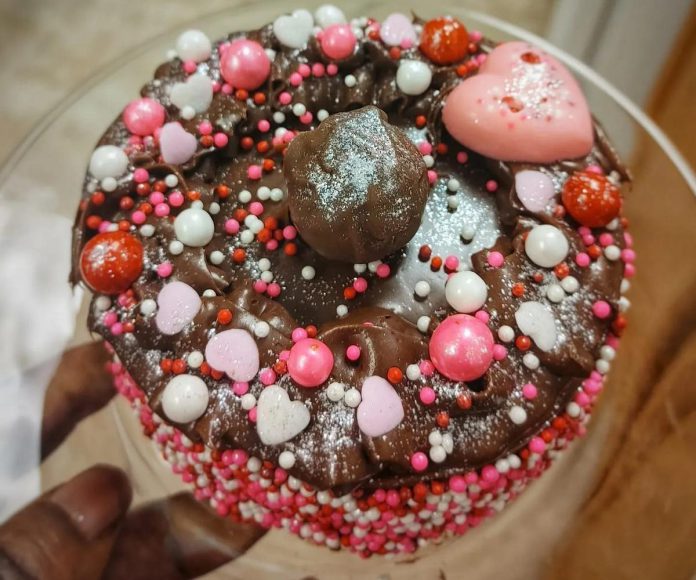 Millbrook Valley Chocolates (32 King St. E., Millbrook) is a magical place, where owners Jackie and Steve Flamminio lovingly craft decadent hand-made chocolates and truffles with special flavours and designs, very special desserts, and ice cream cakes made from Kawartha Dairy and Central Smith Creamery — our local dairies. Their chocolate is handmade and they are one of the last handcrafted (without machinery) chocolatiers in Ontario.
For Valentine's Day, Millbrook Valley Chocolates is offering a dozen strawberries dipped in the chocolate of your choice (milk, semi-sweet, or pink-white), a dozen candied bacon pieces dipped in milk or semi-sweet chocolate, mini three-inch cheesecakes topped with strawberries and whipped cream, and mini three-inch chocolate truffle cakes topped with assorted truffles. To order, email millbrookchocolate@gmail.com.
For a special couples' experience, consider a private one-on-one class with chocolatier Jackie Flamminio, where you'll learn how to make beautiful molded artisan truffles. The cost is $175 per couple, with classes offered February 7, 8, or 9 (the class on February 10 is sold out), as long as at least 10 people register per class. Register at millbrookvalleychocolates.com.
Fresh chocolate croissants made locally with love at Kit Coffee in Peterborough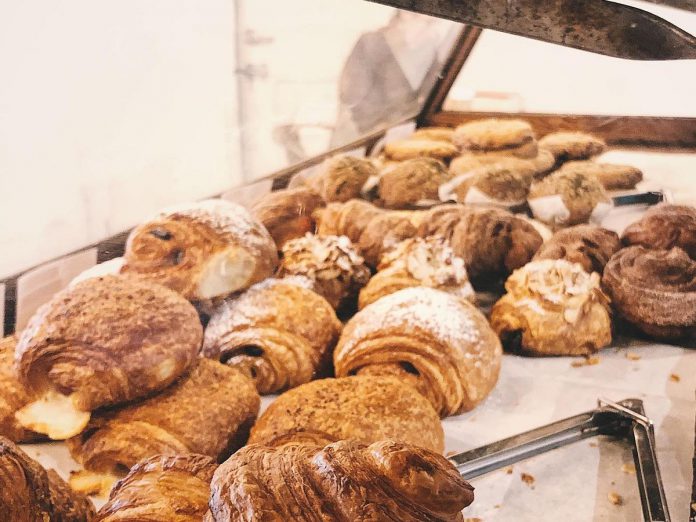 If you've not yet had a chance to see the creation and rolling of the croissant pastry on the Instagram account of Kit Coffee (144 Hunter Street W., Peterborough), trust me: you need to drop in and taste test the chocolate croissants — or any selection of their other flavoured croissants (why I am obsessed with the chocolate?).
Owner Helen Ramsay describes Kit Coffee as "a place for coffee, croissants, and connection." They strive to provide the best espresso-based drinks in the city, and produce all of their artisanal pastries small batch, in house, and by hand using as many local ingredients as possible.
You can also find a special Valentine's Day gifts for your favourite caffeine connoisseur. Kit Coffee curates a rotating selection of small Canadian coffee roasters to offer as whole beans to take and brew at home, focusing on directly traded coffee that supports farmers, producers, and the environment. A small selection of quality brewing gear and equipment can also be found on their shelves, along with a selection of primarily locally made home goods and gift wares.
For more information, visit kitcoffee.ca.
Advertisement - story continues below
Strawberry Heartthrob from Centre & Main Chocolate Co. in Trent Hills
For Valentine's Day, Centre & Main Chocolate Co. (50 Centre Ave., Trent Hills) is introducing the entirely new Strawberry Heartthrob featuring lots of local ingredients.
The Heartthrob is made of solid chocolate, blended with crisped rice and studded with chunks of sponge toffee, and includes whole strawberries (local and freeze-dried) along with nuggets of strawberry ice cream, and is finished with chocolate rocks and rose petals. Local ingredients include strawberries from Brambleberry Farm in Quinte West, sponge toffee made with maple syrup from Sandy Flat Sugar Bush in Warkworth, ice cream from Reid's Dairy in Belleville, and rose petals from Greenmoxie's in Warkworth.
You can also get the Love Box 2.0, featuring four gourmet chocolate bars infused with "stimulating" ingredients, and topped off with an anatomical chocolate heart studded with local Alpine strawberries.
Find out more at centreandmainchocolate.com/.
Pocket Hugs and more from Blueberry Dreams Creations in Peterborough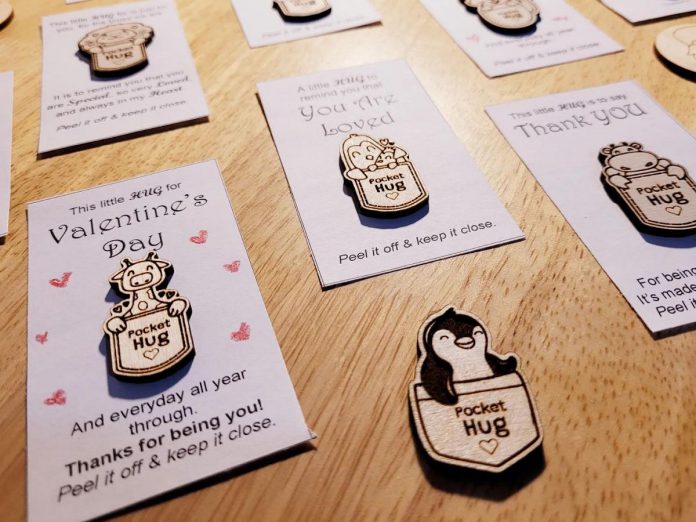 Peterborough small business Blueberry Dreams Creations (www.blueberrydreams.ca) is offering long-lasting mementos for Valentine's Day this year — keepsakes that will show your love for years to come. Their Pocket Hugs and puzzles can be a unique Valentine's Day gift for that someone special in your life.
The Pocket Hugs are a beautiful way to show love, with many animals and styles to choose from and customizable backs. Blueberry Dreams Creations will donate $1 from each Pocket Hug sold to support children's mental health in Peterborough.
Blueberry Dreams Creations is also offering cute Valentine's Day themed tic tac toe games and colour-your-own Valentines, and custom hanging heart ornaments available at Avant Garden Shop (165 Sherbrooke St., Peterborough).
Shop online at www.blueberrydreams.ca.
Local lavender products from Rocky Meadows Lavender in Asphodel-Norwood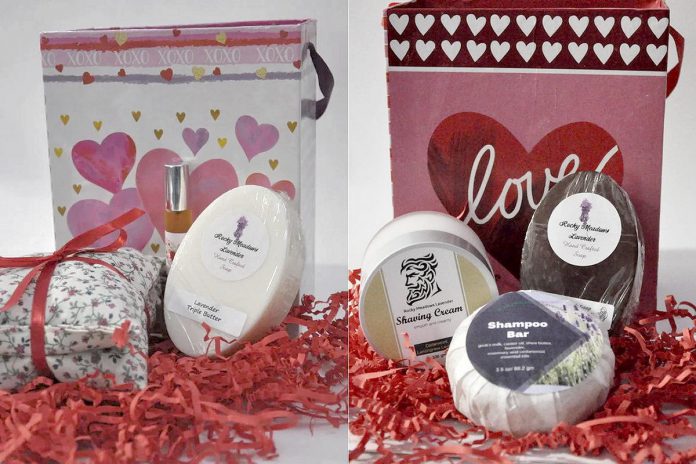 Although the farm shop and lavender field at Rocky Meadows Lavender (2295 County Rd. 38, Asphodel-Norwood) are closed for the season, you can still order from their online shop — including lavender-themed Valentine's Day gifts for a special guy or gal in your life.
The Valentine's Special for Your Gal includes a flax and dried lavender eye pillow with buds from the farm's lavender plants (microwave or cool in the freezer to refresh your eyes or help relieve a headache), a 10 ml vial of "Love Potion" essential oil perfume (a blend of lavender, ylang ylang, vanilla, and sweet orange in a jojoba oil base), and a full bar of hand-crafted lavender soap.
The Valentine's Special for Your Guy includes a jar of lavender, lemongrass, and cedar shaving cream, a shampoo bar, and a full bar of lavender-patchouli African black soap.
Both gifts are $25 and packaged in a decorative box. You can order them online for pick-up or delivery, along with other lavender products, at rockymeadowslavender.ca.
Advertisement - story continues below
Hand-painted love-themed gifts from Hearts 4 Joy in Peterborough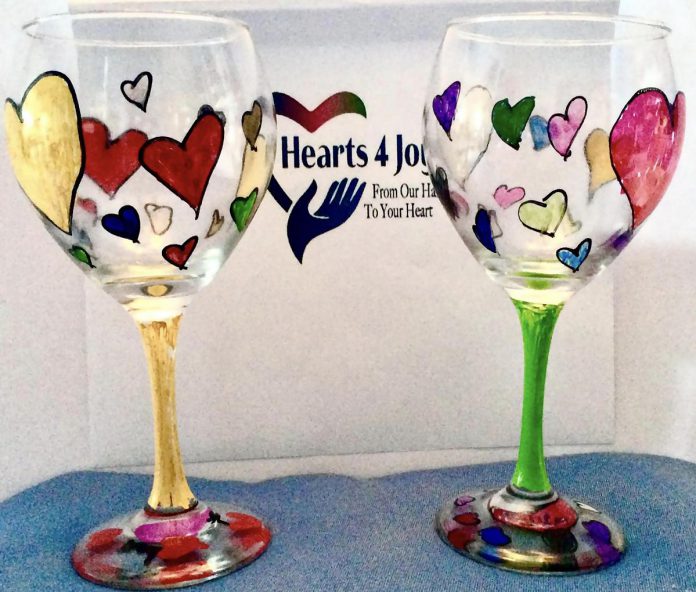 Share the community love this Valentine's Day by buying a love-themed gift from Hearts 4 Joy.
The Peterborough-based not-for-profit organization of young adult artists with intellectual exceptionalities came together a year ago. Their creative pursuits and products have been capturing hearts ever since.
The group is celebrating the opening of their own Artisan Shoppe in Charlotte Mews in downtown Peterborough from 10 a.m. to 3 p.m. on Saturday (February 11). Drop in to browse their products including one-of-a-kind hand-painted vases. Prices range from $10 to $25, and all are made with special love.
Keep up to date on Hearts 4 Joy on their Facebook page at facebook.com/hearts4joyptbo.
Zero-waste gifts from the GreenUP Store in Peterborough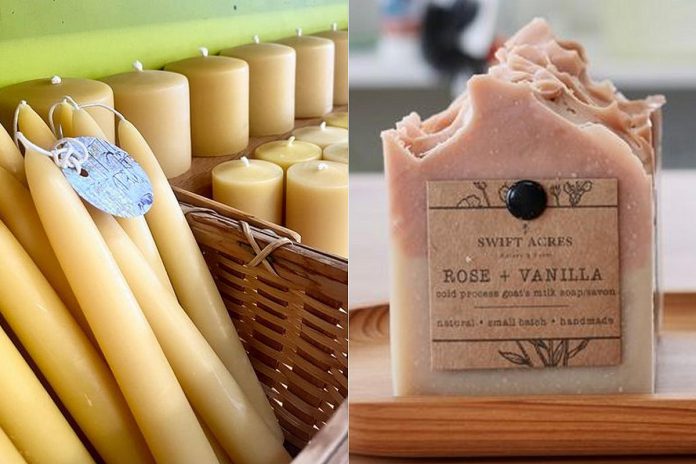 You can show your love for the environment and local makers too by picking up a Valentine's Day gift from the GreenUP Store (378 Aylmer St. N., Peterborough).
This Old Flame beeswax candles are handcrafted in Peterborough by Melodie McCullough in her home studio using locally sourced beeswax and cotton wicks. The candles do not contain any artificial fragrances or dyes, can burn longer than paraffin or soy candles, can emit a brighter light, and can purify and improve air quality. Tea lights, votives, pillars, and tapers are available.
Swift Acres natural cold-pressed soaps are handcrafted in Apsley using unprocessed goat's milk fresh from their farm, which makes the soap very creamy and moisturizing. Scents available include rose and vanilla, orange and cocoa, and lavender and mint.
The GreenUP Store has many more locally made products available that would make great Valentine's Day gifts, especially for your environmentally aware loved ones. The store is open from 10 a.m. to 5 p.m. Tuesday to Friday and 10 a.m. to 4 p.m. on Saturday. You can also shop online. For more information, visit greenup.on.ca/greenup-store/.