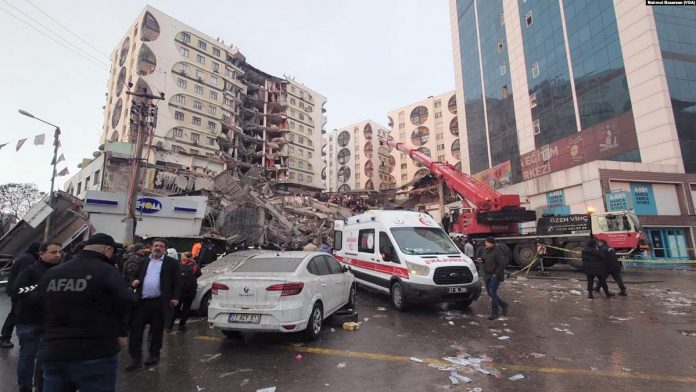 Hastings resident Mark Cameron has issued an urgent appeal for earthquake medical relief on behalf of the Canadian International Medical Relief Organization (CIMRO), an internationally recognized non-governmental organization he cofounded that provides medical education and relief in disaster zones — and a Peterborough veterinary clinic is already stepping up to help.
The magnitude 7.8 earthquake that devastated southern Turkey and northern Syria on Monday morning (February 6) has now claimed more than 19,300 lives (most in Turkey) and injured more than 63,000 people, with more than 113,000 search and rescue workers still looking for survivors trapped under the rubble as time runs out.
"Most people trapped, sadly, will not survive," says Cameron, who is also CIMRO president, in his appeal. "In triage cases, we as medical responders try to offer the most help to the neediest of people, who we can practically save. Our experience tells us over the next five to seven days we will be dealing with sepsis (life-threatening infections) from crushed and damaged extremities, toes, feet, legs, and arms. Crush injuries are life threatening over a few days if not treated."
Advertisement - content continues below
Tweet this quote
Before cofounding CIMRO in 2011 with Syrian physician Khaled Almilaji and Toronto pediatrician Jay Dahman, Cameron spent more than three decades working as a paramedic with Peterborough Emergency Medical Services and in his hometown of Hastings as well as Hastings County. He received the Governor General of Canada's Medal of Bravery in 2014 for direct line-of-duty action and the Meritorious Service Medal in 2017 for his work in Syria. A 1989 graduate of Humber College's Primary Care Paramedic program, he also received a 2022 Premier's Award.
Over the years, CIMRO has been involved in numerous medical missions in the Gaziantep (Turkey) and Aleppo (Syria) regions helping with critical front-line combat medicine, as well as vaccination and chemical response training.
"CIMRO is positioned uniquely with respect to this crisis," Cameron explains. "We already have an established presence on the ground in the region. We are trusted by the locals and have the legal relationships required to enter and exit the most devastated areas. Remember, there is still a war going on in Syria. Many very fine aid organizations will not be able to operate in the poorest and most needy areas. CIMRO can. We literally know most of the physicians in the region. We know the trusted medical teams. We have our own physician leaders operational presently, with 'boots on the ground'."
VIDEO: A survivor is pulled from the rubble (video by CIMRO physician)
To treat as many injured people as possible with life-saving surgeries, CIMRO needs a large supply of antibiotics, pain killers (morphine, fentanyl, codeine), and sedatives (ketamine for surgeries and xylocaine to suture small wounds). They also need sutures, small needles and syringes, and antiseptic solutions and iodine swabs. While the organization would normally acquire such supplies locally in the region, that is likely not an option because of the scale of the destruction.
Cameron tells kawarthaNOW they also need funds for dialysis-essential drugs and filters to help with dialysis, as "crush injuries die of sepsis and renal dialysis injury."
He is seeking immediate help from the Canadian government to get the life-saving drugs CIMRO needs, and has asked Conservative Northumberland-Peterborough South MP Philip Lawrence for assistance in working with Health Canada.
Advertisement - content continues below
Tweet this quote
"The federal government does not understand how vital my basic medication list is," he says. "If the feds give me the life-saving drugs I need, then my team of doctors can have them inside Syrian hospitals in one day. We only have three to four days to save some of these people. Time equals death."
Cameron adds that Bab Al-Hawa Hospital in northern Syria, just a few kilometres from the border with Turkey, needs generators and diesel as their main generator was destroyed. Cameron says they have one day's worth of diesel left.
Because time is of the essence, Cameron is asking for donations to be made directly by e-transfer marked "Earthquake Relief" to cimro.cme@gmail.com. He tells kawarthaNOW the organization is working to set up a crowdfunding page as well.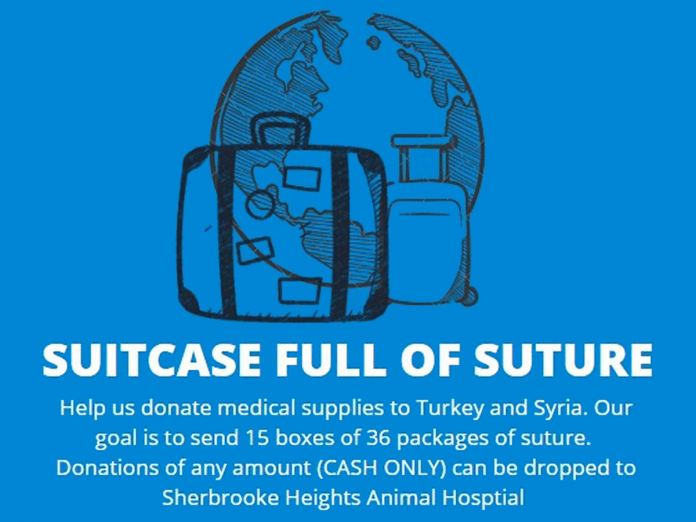 "We can put life-saving aid into surgically precise areas of care instantly — literally instantly, as we have access to Turkish bank accounts and have professionals on the ground," he says. "Time is critical. We will begin to lose survivors in medically sensitive areas within a few days. We will take zero per cent of this money in overhead; all of it will go directly into the hands of trusted CIMRO medical professionals, who are presently on the ground, in the most needed regions."
CIMRO has around 16 "boots on the ground" in the region, although most are homeless and even shoeless as they fled in the night during the earthquake. However, the biggest challenge CIMRO is facing right now, according to Cameron, is a lack of funds.
"We can't fly stuff 8,000 kilometres (from Canada to Turkey and Syria)," he says. "We need to get supplies there. Our warehouse is buried. We need cash, plain and simple."
Advertisement - content continues below
Cameron is a friend of Peterborough veterinarian Dr. Kristy Hiltz and her husband David McNab, a retired OPP officer. Upon learning of CIMRO's appeal, Hiltz launched a fundraiser through Sherbrooke Heights Animal Hospital with the goal of purchasing 15 boxes of suture material that CIMRO can use repair wounds of those injured during the earthquake.
In the veterinary clinic's "Suitcase Full of Suture" fundraiser, people can donate $5 to support the purchase of a single package of suture or $150 to support the purchase of a box. Sherbrooke Heights Animal Hospital will be matching the donations up to $500.
Donations should be made as soon as possible, given the urgent need. All donations can be dropped off at the veterinary clinic at 1625 Sherbrooke Street West in Peterborough. For more information, call 705-745-5550 and ask for Stacey.