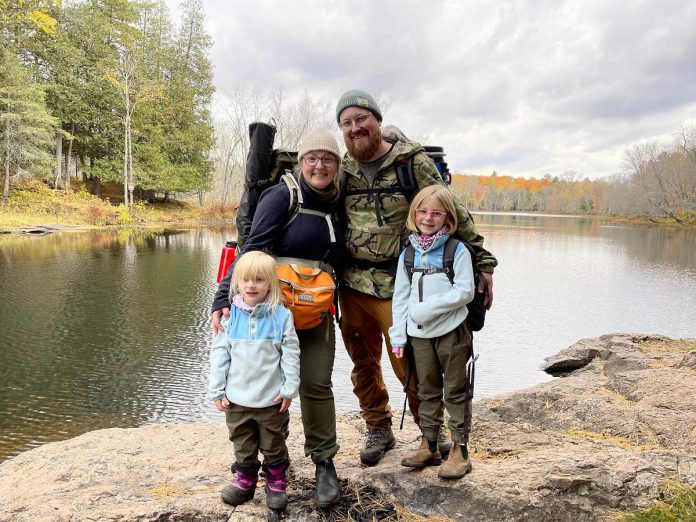 An idea is just that until, at some point, the person with the idea takes decisive action to make it a reality — to, in the words of entrepreneur Kassy Scott, "Go for it."
In May 2022, Kassy, together with her partner Tyler, went for it, applying to the Spark Mentorships and Grants Program — a pivotal step in their joint creation and development of Rare Escape that sees delicious culinary offerings and the great outdoors come together to create a back-to-nature experience that's as memorable as it is unique.
In total, 16 Peterborough and area entrepreneurs applied for acceptance into the 2022 Spark program, an initiative offered collaboratively by the Tourism Innovation Lab and Peterborough & the Kawarthas Tourism (a division of Peterborough & the Kawarthas Economic Development).
The program is returning for 2023, with applications being accepted from Tuesday, February 14th to Tuesday, April 4th at tourisminnovation.ca/peterborough.
With the goal of finding, fostering and supporting new tourism-related ideas, experiences and partnerships, the aim of the program is to enhance current offerings, address gaps or challenges, motivate travel and longer stays, and increase year-round visits to the Peterborough region.
From those who applied for the 2022 intake, 10 were selected to pitch their new tourism idea before a judging panel of local partner representatives and tourism innovators from outside the region. That process done, six applicants were awarded $3,000 each to help lift their idea from concept to reality — Kassy and Tyler Scott among them.
The idea for Rare Escape, explains Kassy, began with her and Tyler's effort to take care of their mental health while dealing with the pandemic-induced stress of owning and operating Rare Culinary Arts Studio in downtown Peterborough, which they bought in August 2019.
"Tyler and I, from the time we met, would always escape to the outdoors for our mental health," says Kassy. "Once we got into the most difficult parts of the pandemic, we started reaching inwards again, building a stronger connection with the outdoors to heal ourselves from the crazy stress we were going through to stay grounded."
"In 2021, Tyler was offered the opportunity, through Peterborough & the Kawarthas Tourism, to take a course called Nature's Table, which was essentially about facilitating a food experience based around adventure. It was an awakening for him to something that was missing for him and his career, and it opened his eyes to the potential of the opportunity to do something really special that nobody else was really doing in our area."
Tweet this quote
When the opportunity to apply for the Spark program presented itself, the couple took full advantage. Once through the program, with their $3,000 in hand, they returned to running Rare Culinary Arts Studio but sold the business in September 2022, excited to take Rare Escape to the next level.
"We thought Rare Escape would be something we'd do on the side while we had the restaurant going but then, over time, we realized our heart was pulling us in a different direction," recalls
Kassy, noting after hosting their first outdoor culinary experience, there was "no going back."
"We started out with Lunch In The Woods. Then we branched out to offer canoe portage lunches. We used the Spark grant to purchase a canoe trailer. We supported local by renting canoes from Wild Rock. We then expanded again to offer Lunch In The Woods With Your Kids and, with the second infusion of our grant, our Winter Hot Tent Experience this winter."
Along with the Scotts, Robyn Pierson and Polina Ratnichkina are two other entrepreneurs who went through the 2022 Spark program. Each emerged with not only a grant, but the immeasurable benefit of having been mentored by established tourism innovators, entrepreneurs, and leaders.
"Spark was the first big leap of faith I took with the business idea," says Pierson, the owner of Curve Lake-based Indigenously Infused, where she grows traditional plants such as sweetgrass, cedar, and sage to serve as ingredients in the candles and essential oils she produces.
"I have a bit of anxiety over public speaking, but the Spark process was really enjoyable, and everybody was really supportive — it was fun. Spark was a different experience for me. One of the Grandfather Teachings is humility, but that doesn't mean you can't promote the great things you're doing."
Tweet this quote
While grateful to have received one of the grants, Pierson notes the real value of Spark program lies in the mentorships. She says her mentor, Indigenous entrepreneur and Tea Horse founder Denise Atkinson, "went above and beyond, even answering my calls while she was on a retreat in New Mexico."
Kassy, who was mentored by Yours Outdoors founder Barrie Martin, says she "really lucked out" in being matched with him.
"He took me under his wing and spent so much time with me, answering all of my questions and connecting me with the tools I needed to learn more about specific things that were so new to me. Having someone give their honest opinion of our idea and let you know you're not crazy is huge."
Meanwhile, Polina Ratnichkina is doing very well with her venture Camp Rentique, an online business that rents out camping equipment to those who are looking to camp but don't have access to all the trappings. She also came away from last year's program with a grant and, more importantly, the benefit of advice and guidance from her mentor, Kelly Johnston of Ontario Travel Information Services.
In 2009, Ratnichkina came to Peterborough from her native Russia to attend Trent University. She says she wanted to experience camping but barriers to that activity, most notably the cost of the required equipment to do so, threw up the roadblock that spawned her idea.
"A lot of my Canadian friends talked about how they went camping but I didn't have any camping equipment," she recalls.
"When I compiled the list of equipment I'd need, it was so expensive. It took me seven years before I went camping with friends. We were able to borrow equipment, but it was of poor quality — our tent leaked. I can't say it was the best experience."
"The barrier to camping is so high. First of all, you have to figure out where to go. You need to know you need to book an Ontario Parks location four months in advance. That's not common knowledge. And getting everything you need for an enjoyable experience is a very expensive venture."
Tweet this quote
With her business idea percolating in her head, Ratnichkina applied for the Spark program. She was impressed by how easy the application process was.
"All I had to do was record a three-minute interview and take 20 minutes to fill out the application. I was done in one afternoon."
Noting she had "nothing to lose" by applying, Ratnichkina says she has gained much as a result of being accepted into the program.
"Everyone was so encouraging and welcoming … the environment didn't feel competitive," she says, adding "I was just blown away by how supportive everyone was."
That includes the mentorship she received from Johnston.
"They choose the right mentor for you based on what you want help with. I can figure out the tech and operational side, but I needed help with marketing and strategic partnerships. Kelly was the right person for the needs I had at the time."
Of note, these three program 'grads' are doing well with their businesses — a testament to the value of the Spark experience they have in common. Both the Scotts and Ratnichkina are actively taking reservations online, while Pierson is preparing to open a brick-and-mortar gift shop in Curve Lake where she will host a series of immersive workshops.
All three strongly recommend those with a business idea they want to explore and develop further apply for the Spark 2023 intake.
"So often we shut down our wildest dreams because we're afraid to go for it," says Kassy. "It doesn't hurt to put yourself on the line. That's how we grow. That's how we learn. That's how we're able to flourish."
The application deadline for the 2023 Spark Mentorships and Grants Program is Monday, March 20th.
For more information, eligibility requirements, and to apply, visit tourisminnovation.ca/peterborough. You can also register for two virtual information sessions about the program, to be held at 11:30 a.m. on Thursday, March 2nd and at 5 p.m. on Wednesday, March 8th.
This branded editorial was created in partnership with Peterborough & the Kawarthas Economic Development. If your organization or business is interested in a branded editorial, contact us.