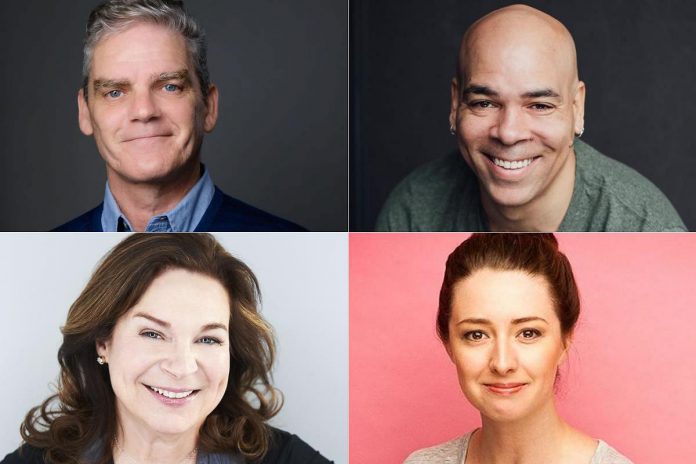 New Stages Theatre's 25th anniversary season continues with an all-star cast taking to the stage at Market Hall Performing Arts Centre in downtown Peterborough on Sunday, March 26th for a one-night-only performance of acclaimed Canadian playwright Daniel MacIvor's latest play New Magic Valley Fun Town.
Dora award-winning actors Shawn Wright and Beau Dixon will join Linda Kash and Peyton LeBarr for the staged reading, where the actors perform the script without sets or costumes.
In New Magic Valley Fun Town, Cape Bretoner Dougie has found his best childhood friend Allen on Facebook. Although he hasn't seen Allen, now a University of Toronto professor, in 25 years, Dougie has no doubt they'll easily reconnect when Allen comes to visit.
Advertisement - content continues below
With Dougie's estranged church-going wife Cheryl and their depressed adult daughter Sandy joining the reunion in Dougie's trailer, the night begins with drinking, dancing, laughing, and reminiscing. But as the party winds down, uncomfortable memories from Dougie and Allen's past begin to emerge that force the two friends to confront the realities of who and what they really are.
MacIvor's bittersweet comedy tackles sensitive topics that many Canadians will be familiar with, yet he handles them with such compassion and humour that you are left feeling shaken but somehow lighter and more hopeful by the end. While the play is full of comedic moments, it also touches on sensitive issues such as the aftermath of past trauma.
The critically acclaimed play premiered in 2019 at Prairie Theatre Exchange in Winnipeg before a run at Toronto's Tarragon Theatre, with MacIvor performing in the role of Dougie.
Born and raised in Nova Scotia, the 60-year-old MacIvor is a playwright (A Beautiful View, The Best Brothers, This is What Happens Next), theatre and film director, and actor best known for his roles in independent films and television including the CBC series Twitch City and Republic of Doyle.
In addition to winning the Governor General's Literary Award for Drama in 2006, he has received two Chalmers New Play Awards, and was awarded the Siminovitch Prize in Theatre in 2008.
The New Stages' staged reading of New Magic Valley Fun Town will feature Dora-award winning actor Shawn Wright — a New Brunswick native who is currently playing Voldemort in the Mirvish production of Harry Potter and the Cursed Child at the Ed Mirvish Theatre in Toronto — in the role of Dougie.
Advertisement - content continues below
Peterborough icon Beau Dixon, who has been busy performing on stages in Toronto and Stratford as well as in hit TV productions including Station Eleven and The Expanse, will read the role of Allen.
Well-known Peterborough actor Linda Kash (former Philadelphia Cream Cheese Angel, Seinfeld, Everybody Loves Raymond, Waiting for Guffman, Fargo) will perform as Cheryl, with Grassboots Theatre co-founder Peyton LeBarr — who has been performing for over 20 years across Canada and the UK — reading the role of Sandy.
New Magic Valley Fun Town takes place at 7:30 p.m. on Sunday, March 26th at Market Hall Performing Arts Centre in downtown Peterborough. General admission tickets are $22 ($11 for arts workers, students, or the underwaged), available in person at the Market Hall box office at 140 Charlotte Street from 12 to 5 p.m. Monday to Friday or online anytime at tickets.markethall.org.
VIDEO: Talking New Magic Valley Fun Town with Daniel MacIvor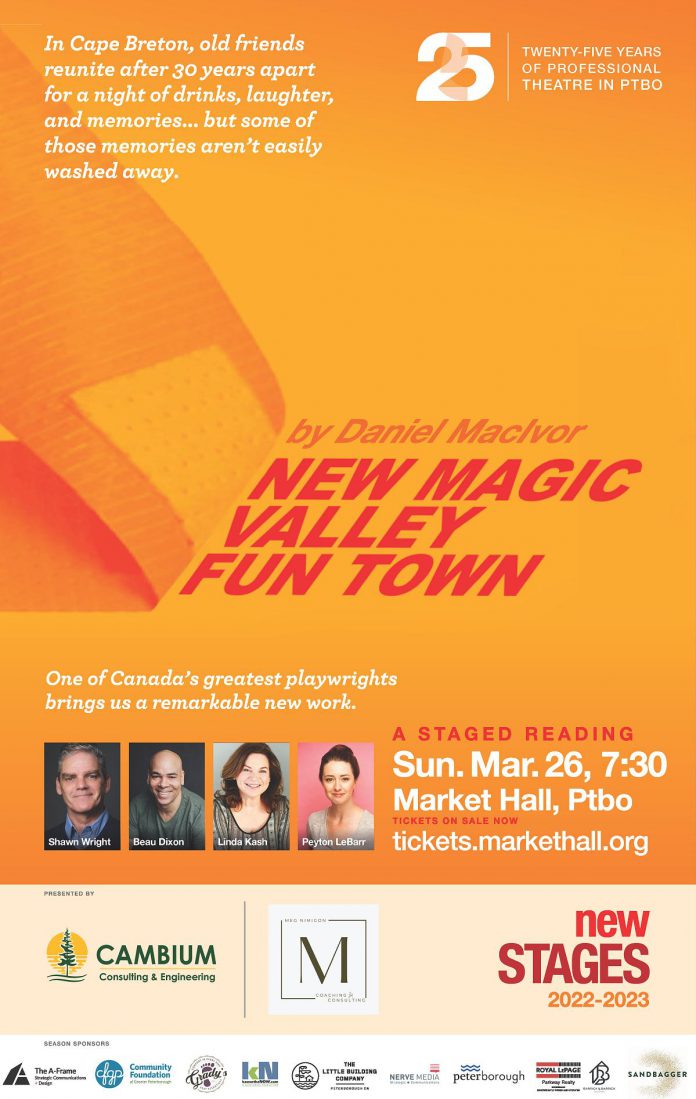 kawarthaNOW is proud to be media sponsor of New Stages Theatre Company's 25th anniversary season.