Newly elected Ontario NDP leader Marit Stiles visited Peterborough on Tuesday morning (March 14) to meet with the local chamber of commerce and to hold a media conference in which she called for mental health coverage under the Ontario Health Insurance Plan (OHIP) to boost the economy.
The NDP MPP for the Toronto riding of Davenport since 2018, Stiles was the sole candidate to run for the party leadership after Andrea Horwath stepped down as leader following last June's provincial election. Stiles was elected the party's leader on February 4, also making her the leader of the official opposition in the provincial legislature.
Following her meeting at the Peterborough and the Kawarthas Chamber of Commerce office in downtown Peterborough, Stiles gave brief remarks on the significance of government support for small business and the importance of ensuring accessibility to mental health services.
Advertisement - content continues below
Tweet this quote
Stiles' stop in Peterborough is part of a tour of eastern Ontario that has included Ottawa, Kingston, Belleville, Prince Edward County, and Picton. She told those assembled that the tour has really driven home the place of small businesses in building strong and caring communities that in turn bolster the economy.
Issues of affordability are no longer only the concern of those living in Toronto, Stiles said, before suggesting that her reason for visiting some of the smaller communities outside the GTA has been important in getting a better idea of how to solve issues related to cost of living and housing while maintaining a strong economy.
"The economy will grow, I really believe it will, but only if people are feeling healthy and getting the support they need," Stiles told attendees, connecting the issues of mental health and the health of the economy while pointing to the role government can play in ensuring solutions are found to pressing issues facing workers and businesses in Ontario.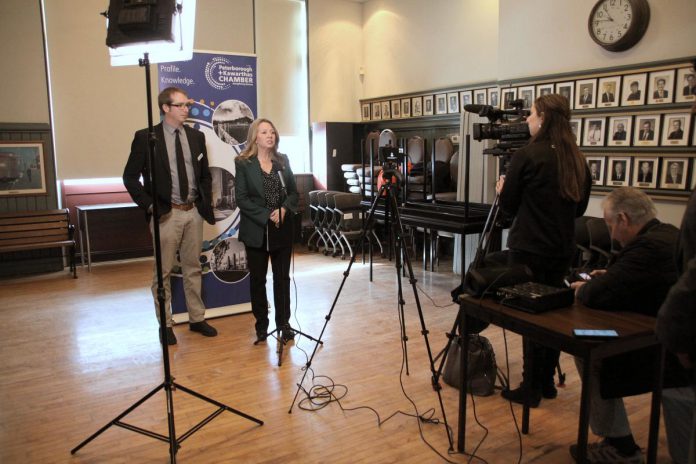 "Mental health should be part of our public health care system — OHIP coverage should be expanded to include mental health," Stiles said, before citing an opposition motion put forth last week that would remove the 13 per cent HST on psychotherapy services.
Stiles spoke further about the connections between strong mental health supports and employment and strong local business communities.
"Expanding mental health care is a win-win — a win for the people and one for the employers, and a win for the province," she said, noting the upcoming provincial budget and adding that she will, as leader of the opposition, keep the government in check so they are addressing issues at the forefront of business owners' minds.
Advertisement - content continues below
Tweet this quote
Stiles addressed questions about affordable housing in the area, as well as supply-chain concerns and infrastructure including transit and transportation. She also spoke of how an ongoing health care crisis in the province related to mental health and addictions is a barrier to workforce development projects and the necessity of investing in workers.
"We know that the government right now is not spending billions of dollars — money that they budgeted for services to help people," said Stiles, referring to a March 8th report by the province's financial accountability office that the Ford government has allocated $21 billion less than will be needed by 2028 to fund current health sector programs and deliver on its program expansion commitments in hospitals, home care, and long-term care.
"Because of this, and because people are going to be struggling, they're struggling for longer and longer," Stiles added.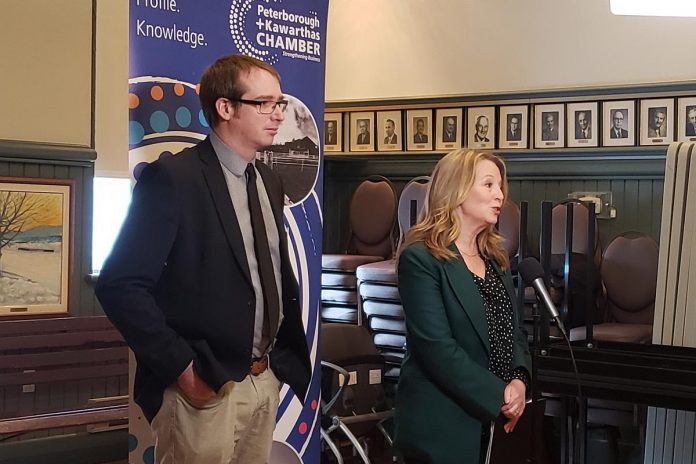 When asked about specific supports for workers and small businesses in this respect, especially in the private sector, Stiles reiterated her conviction about addressing concerns in the supply chain and spoke of how, when governments really want to address issues affecting the province such as during the pandemic, they are able to "roll up their sleeves and get it done."
Responding to a reporter's question asking for specifics, Stiles referred to utility prices and the cost of rent as factors affecting the viability of small businesses.
"Government has a role to play in ensuring that we are training people, that we are providing that solid workforce, that we are supporting communities," she said. "But small businesses are not going to be able to thrive, are not going to be able to retain workers, if people can't afford to live in those communities. If people can't get basic health care, they have to take (time) off and go to another community to go to a walk-in clinic. That's actually costing small businesses."
Advertisement - content continues below
Tweet this quote
Stiles was also questioned about the conduct of Sarah Jama, the NDP's candidate for Hamilton Centre, which was vacated in 2022 when former leader Andrea Horwath decided to run as Hamilton mayor. Jama is widely expected to win the by-election taking place on Thursday (March 16).
Recently, footage of Jama — a noted community organizer and activist — from a 2021 protest in Toronto has resulted in a flood of allegations of antisemitism due to her statements regarding Palestinian liberation and the legitimacy of Israel. The comments prompted the Jewish human rights organization B'nai Brith to call for the revocation of Jama's nomination for the legislative seat.
In response, Stiles stated she had not seen the clip in question but added Jama has "spoken very passionately about issues like policing and human rights here and internationally."
Advertisement - content continues below
"She's spoken out about homelessness, she's spoken out about antisemitism," Stiles said. "I know antisemitism is on the rise in our country. I think it's incumbent on all of us to work together to address that. I think Sarah is speaking up on behalf of a lot of her constituents every day, and is known to be a strong advocate against violence and racism."
kawarthaNOW asked Stiles about her impression of Bill 5, Stopping Harassment and Abuse by Local Leaders Act, a private member's bill put forth by Liberal Orléans MPP Stephen Blais that is currently in second reading in Queen's Park.
At the March 6th general committee meeting, Peterborough City Council voted unanimously to support a motion by councillor Alex Bierk calling on the city to send a letter of support for Bill 5 to the Ford government and to the Association of Municipalities of Ontario.
While not addressing the bill in particular, Stiles said she felt there has been a rise in harassment of elected leaders, specifically school board trustees, and that she believes all workplaces should be free from harassment.