Ziysah von Bieberstein has been selected as Nogojiwanong-Peterborough's second poet laureate.
The Electric City Culture Council (EC3) and the City of Peterborough made the announcement on Wednesday afternoon (April 12).
Ziysah will serve in the honorary position — established in 2021 to recognize the excellence and outstanding achievements of local professional poets (both print/page and spoken word) and to enhance civic identity — from April until September next year.
In their role as poet laureate, Ziysah will create and present four new works for various official civic occasions, as well as undertake a legacy project, and a community-initiated program of special events and activities to promote literacy, poetry, local arts, culture, and community identity. They will receive an honorarium of $2,000 and be featured in EC3's National Poetry Month programming in April.
Advertisement - content continues below
Described as "a parent, poet, community cultivator, and unsettled settler who works to connect us to our imaginations, our responsibilities, and each other," Ziysah co-founded Take-Out Poetry, which offers made-to-order typewritten poems from a bicycle-drawn cart. Their writing has appeared in various magazines and anthologies as well as in their self-published collections, Hineini (2007), Ayd (2015), and consents+/=/- severances (2020).
Co-founder of the Peterborough Poetry Slam, multiple-year team member and Peterborough poetry slam champ, Ziysah has competed and represented Peterborough at national poetry slams in Vancouver, Calgary, Saskatoon, and Toronto. In addition, Ziysah has performed and facilitated workshops across Turtle Island.
Past director of New Canadians Centre Peterborough, Kawartha World Issues Centre, ReFrame Film Festival, and the Trent Queer Collective, Ziysah is currently working as an editor, coach, and consultant while completing their next poetry manuscript.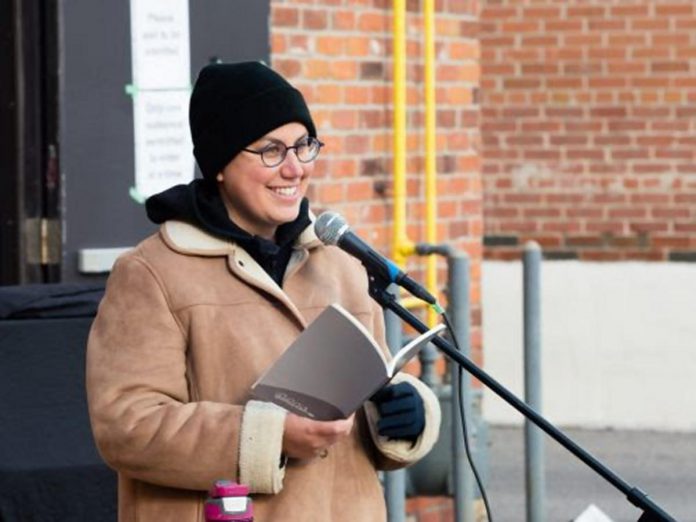 Ziysah was selected as poet laureate through a multi-step competitive process by a committee including well-recognized academics, poets, and spoken word artists. The selection was reviewed and endorsed by the City of Peterborough's Arts and Culture Advisory Committee.
During the selection process, three candidates were shortlisted, participated in an interview, and presented their work to the selection committee. The other two finalists were accomplished artists Niambi Tree and Wes Ryan.
"The selection committee was deeply impressed by the power and beauty of Ziysah von Bieberstein's language, their ability to speak about challenging issues and complex ideas in a creative and poetic voice, the mesmerizing quality, authenticity and strength of their performance, and the emotional range of their work," read a media release from EC3. "This artist makes everyone feel like each poem is for them. Clearly an accomplished artist with a wide range of experience, Ziysah has a remarkable ability to connect individuals to larger world issues."
Advertisement - content continues below
Tweet this quote
Ziysah takes over the poet laureate role from Sarah Lewis, an Anishnaabe Kwe (Ojibwe/Cree) spoken word artist from Curve Lake First Nation who was selected Peterborough's first poet laureate in 2021. Along with Justin Million, Ziysah was a finalist for the inaugural poet laureate competition.
"I am deeply honoured and grateful to all who have recognized the vitality of poetry in creating this position, and to the foundational voice of our first poet laureate Sarah Lewis," Ziysah says. "My vision for the coming year is to hold space for the kind of poetry that can lure us from our caves of isolation back to the warmth of a shared fire."
Dr. Jenn Cole, a mixed-ancestry Algonquin Anishinaabe-kwe, associate professor at Trent University, and director of Nozhem First People's Performance Space, was a nominator of Ziysah for poet laureate.
Advertisement - content continues below
"Hearing Ziy at readings and community events has deepened my connection to Michi Saagig territory and allowed me to imagine more livable futures for all," Dr. Cole says. "Ziysah's work speaks across generations, to human and non-human life, with playfulness, momentum and a sense of celebration,."
Peterborough mayor Jeff Leal will introduce Ziysah at the beginning of the April 24th city council meeting.
"A poet laureate is a reflection of our values as a community," Leal says. "Through poetry, we're inspired and encouraged to reflect on our lives and the life of our community. The arts community is a key part of the cultural, social, and economic vibrancy of Peterborough. Thank you to Ziysah, our new poet laureate, for helping to elevate the awareness of the arts in our community and for bringing the arts into our civic life."