Spring celebrations are in full swing for Peterborough and the Kawarthas, and the business community is busy celebrating. Last Thursday (May 4), Green Economy Peterborough hosted its second annual Leadership in Sustainability Awards event to recognize local organizations for their contribution towards a greener community.
Representing several sectors in both the City and County of Peterborough, seven businesses were presented with awards by Peterborough Mayor Jeff Leal, Peterborough County Warden Bonnie Clark, and their network peers.
"We appreciate the hard work of all our members," says Jackie Donaldson, Green Economy Peterborough's Hub Coordinator. "No matter what stage they are at in Green Economy Peterborough's process, they are committed to reducing their greenhouse gas emissions and so, we celebrate them all. It's hard to pick winners, but today we acknowledge six businesses that have proven to be especially earnest, committed, and visionary over the past year."
Here are the Green Economy Peterborough members who received awards for their commitment to sustainability.
Advertisement - content continues below
Lake Edge Cottages: Leading with Momentum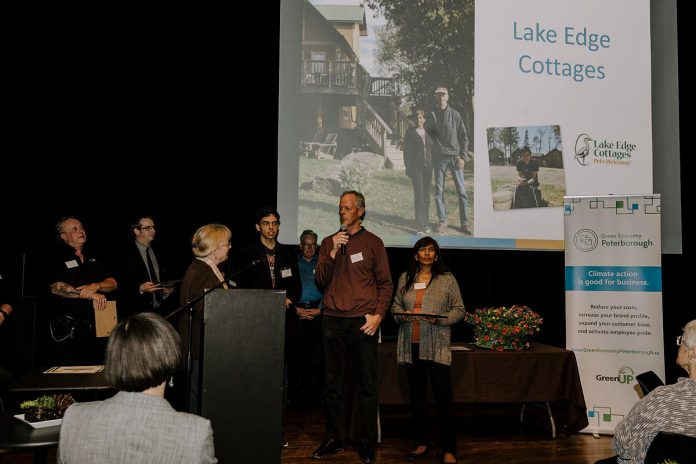 Lake Edge Cottages is a small cottage resort in Lakefield, Ontario. Owners Steve and Anne Wildfong and their son Jakob are committed to caring for the land that is at the heart of their livelihood.
Not long after joining Green Economy Peterborough, they jumped on a funding opportunity to install solar panels and an EV charging station, both of which will reduce their energy and transportation emissions. In addition to these big changes, this family team is continuously on the lookout for ways to reduce their footprint and educate their visitors on sustainability.
Peterborough Golf & Country Club: Leading Through Teamwork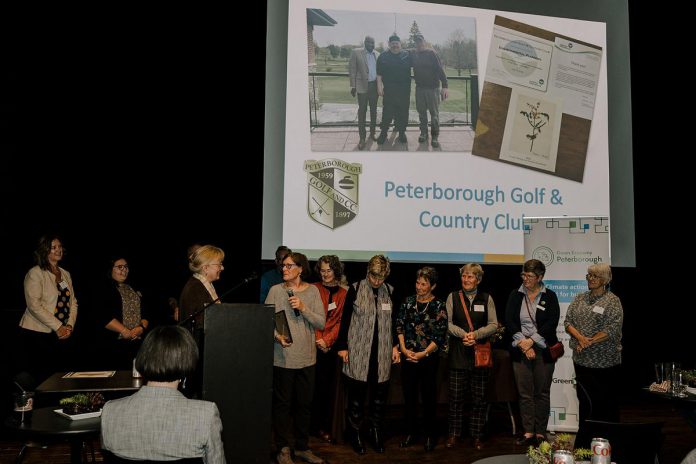 Peterborough Golf & Country Club are all about teamwork. Last year, they won for the efforts of their member-based Environmental Sustainability and Stewardship committee; this year, it is for the commitment of their staff team, including golf course superintendent Kevin Kobzan, chef Steve Barber, and maintenance supervisor John Sullivan.
Collectively, this crew has improved the energy efficiency of their buildings, are working with 1.5 Degrees Composting to redirect their food waste, and have recently achieved Audubon Certification for the club.
Advertisement - content continues below
Wild Rock Outfitters: Leading with Ambition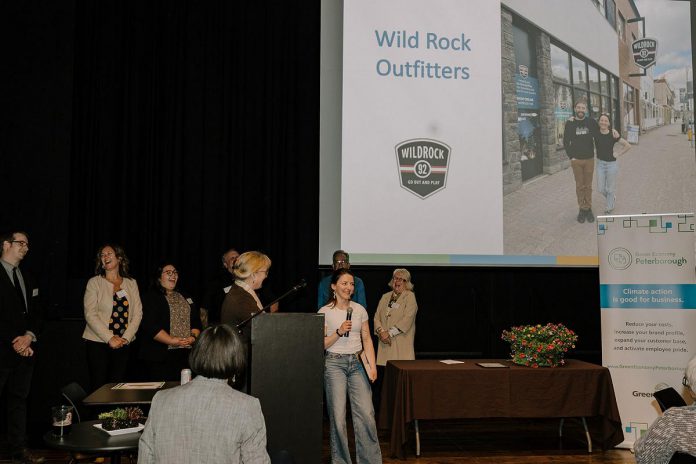 Wild Rock Outfitters in downtown Peterborough continues to inspire. Their award celebrates an acute understanding of the role they play in mentoring other local businesses. They clearly communicate their commitment to the health of our community and environment, and take big steps towards supporting our planet.
After looking at the high impact of air travel generated by their tourism program, Wild Rock decided to change their business model by shifting from overseas to local travel to meet their emissions reduction goals.
Jigsaw Organizing Solutions: Leading Through Connection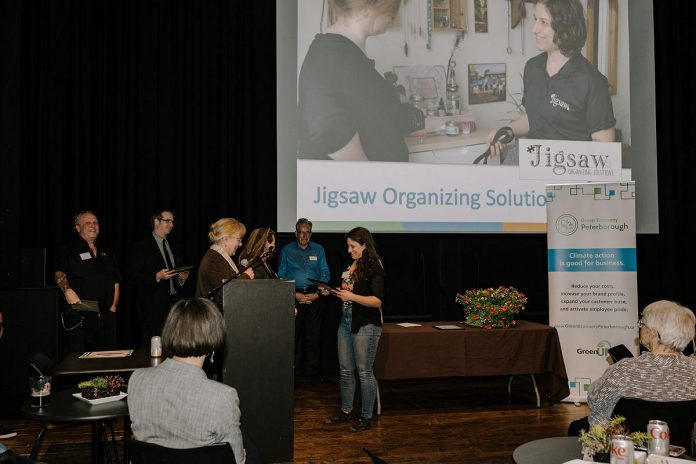 Adeilah Dahlke of Jigsaw Organizing Solutions in Peterborough is passionate about waste reduction. She works hard to ensure that the materials we no longer have use for, like those decluttered by her clients, get re-used and avoid the landfill.
Dahlke has taken sustainability a step further by reaching out to connect with community partners to help share her knowledge and resources. She now offers educational workshops hosted in partnership with several organizations. This spring, Dahlke issued a 30-day Spring Cleaning Challenge with Habitat for Humanity to encourage the community to declutter sustainably and donate items to support Habitat Restore.
Advertisement - content continues below
Green Street: Leading Outside the Box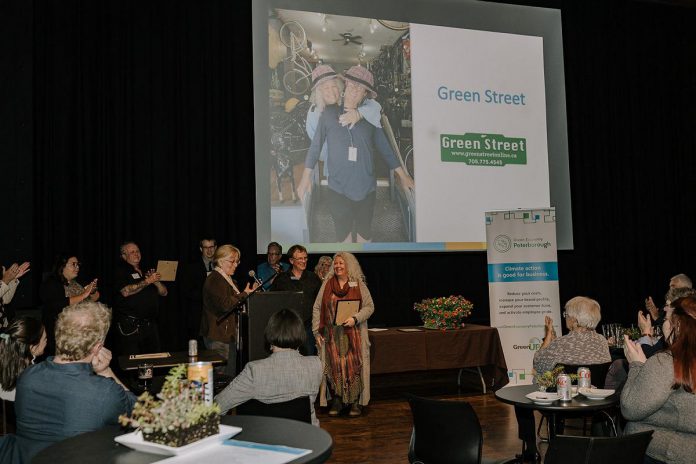 As an accessible, affordable, and clean alternative to the car, e-bike use is on the rise. Angella and Verne, owners of Green Street in downtown Peterborough, are e-bike champions with a vision, working to build a connected e-bike community.
They are currently exploring the development of the PTBO Electric Bike Hub, a group that connects and shares skills with other e-bike enthusiasts. Through this hub, the Green Street team will offer free "shop talk" workshops on maintenance and other e-bike topics to help increase the confidence and knowledge of local e-bike riders.
Charlotte Products: Rookie of the Year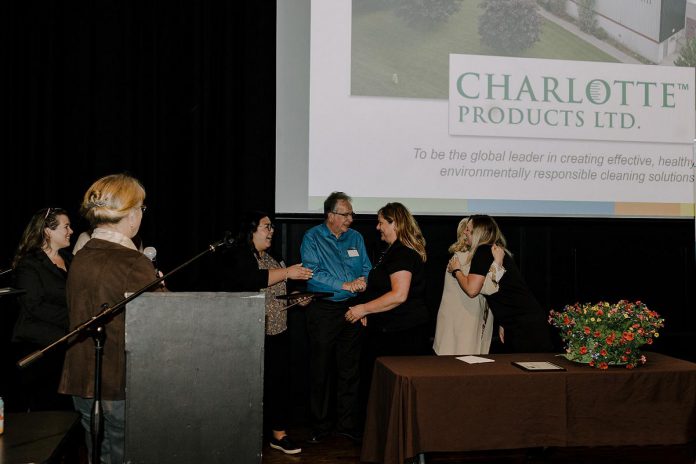 Charlotte Products in Peterborough is a familiar name in the Kawarthas business community. A long-established manufacturer of liquid cleaning products, they are already recognized for their award-winning product excellence. Their commitment to excellence is further evident through their recent commitment to becoming a Green Economy Peterborough member.
Charlotte's leadership team has been engaged with the network and attending events for the past few years, and is now ready to go greener. At our Green Economy Peterborough kick-off meeting, we were thrilled to learn how deeply involved they are towards ensuring the integrity of their products and the health of the greater community.
Advertisement - content continues below
In addition to the Green Economy Peterborough awards, Farms at Work recognized Cavan-Monaghan farmer Norm Lamothe of Woodleigh Farms with the Leadership in Climate Resilient Agriculture.
Woodleigh Farms received this award for their commitment to reducing their environmental impact, educating others, and demonstrating that eco-friendly agricultural practices can provide an economic advantage.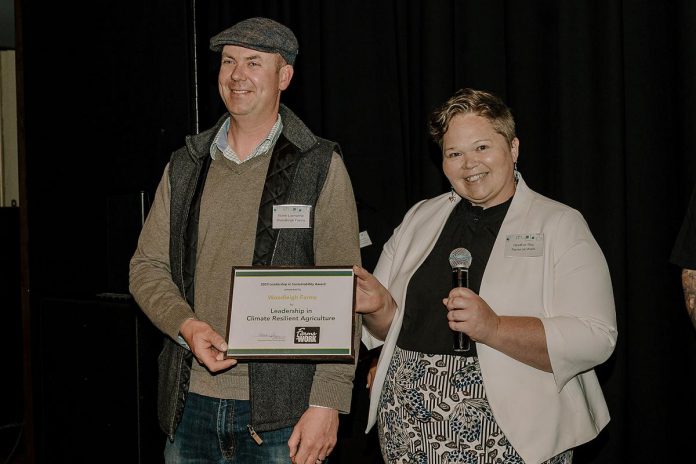 Green Economy Peterborough is a GreenUP program for the business community. With membership, organizations commit to taking a comprehensive inventory of their greenhouse gas emissions, setting reductions targets, and engaging in mentoring opportunities towards achieving them.
To learn more, visit www.greeneconomypeterborough.ca.