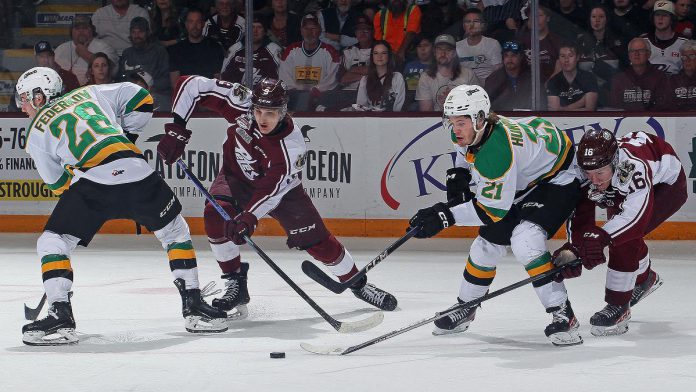 With the Peterborough Petes in the OHL championship for the first time in 17 years, a free outdoor community watch party to cheer on the hometown team while they're on the road is taking place at Quaker Foods City Square in downtown Peterborough from 6:30 to 10 p.m. on Friday night (May 19).
The Petes, who now lead the series against the London Knights 3-1 after winning a sold-out game four Wednesday night at the Peterborough Memorial Centre, head back to London for game five on Friday — one win away from clinching the championship.
Friday night's community watch party will feature an enormous 16-foot screen, provided by Porter Sound, where game five will be livestreamed from Budweiser Gardens in London. The party will also include facepainting and a small vendors' market with grab-and-go snacks from popcorn and candy to mini-pies and tacos.
Advertisement - content continues below
Tweet this quote
The community watch party is being organized by the Peterborough Downtown Business Improvement Area (DBIA) in partnership with the Peterborough Petes and the City of Peterborough, which is providing financial support to the DBIA to host the party.
"As the DBIA looks for fun and unique ways to animate the new Quaker Foods City Square in the downtown, we are excited to explore what public screening events can look like," says DBIA executive director Terry Guiel in a media release.
"Thanks to our wonderful partnership with the City of Peterborough and the Peterborough Petes, we are able to bring our community together as we collectively celebrate this special moment in Peterborough sports history. We can't wait to bring fans into the heart of our downtown to cheer on our hometown team for the final leg of the playoffs! Go Petes Go!"
Friday night's community watch party will begin at 6:30 p.m., rain or shine, with the puck dropping at 7:30 p.m. Fans are asked to bring their own chairs and to dress for the weather (and wear their team colours).
"Peterborough and the Kawarthas have been showing their maroon and white pride as the Petes make another historic playoff run," says Burton Lee, executive director of business operations for the Petes.
"Our organization is very excited that Quaker Foods City Square will be a home for the many passionate community members that want to gather to cheer on their Petes."
Advertisement - content continues below
If the series continues until game seven, which would be played in London on Monday (May 22), there will be a second community watch party at Quaker Foods City Square on Monday night.
"Let's cheer on our hometown Peterborough Petes in the OHL championship series," says Peterborough city councillor Lesley Parnell, who is chair of the arenas, parks and recreation Portfolio. "They've already given their fans and our community an incredible run in the playoffs and there's more edge-of-your seat excitement to come in these finals. The city is thrilled to partner with the DBIA to host a community viewing party in Quaker Foods City Square so that we can cheer on our Petes together."
kawarthaNOW is proud to be a media sponsor of the community watch party.