You can browse and buy the works of more than 50 local artists and makers at the Made in Kawartha Lakes show and sale this Saturday and Sunday (May 27 and 28) at Kawartha Settlers' Village in Bobcaygeon.
Presented by the Kawartha Lakes Arts Council and the Kawartha Art Gallery, the fifth annual event runs rain or shine from 10 a.m. to 4 p.m. each day and features artwork and fine crafts including paintings, photographs, fabric arts, furniture, wood carvings, clothing, jewellery, pottery, and more.
Along with the vendors, there will be food and beverages available including charcuterie boxes from Muster Point, ice cream from Kawartha Dairy Ice Cream, snacks from Snack Shack 2 Go, butter tarts from Kawartha Butter Tart Factory, beer from Lindsay Brewing Company, and smoked meat sandwiches from Back 40. North Country Express will be providing live music throughout the weekend.
Advertisement - content continues below
"The setting at the village is perfect for a juried show and sale, as it offers indoor and outdoor spaces that can accommodate a wide variety of artistic mediums, while creating a pleasant backdrop for visitors of the show to explore at their leisure," says Lesley Drummond, Kawartha Lakes Arts Council board member and the show's artistic coordinator, in a media release. "With food vendors and music, it's an enjoyable setting for local artists and artisans to connect with existing and new consumers of their work."
The artists and makers at the event include:
Ann Shier
Anne Garron
Beke Design Jewellery
Brad Haley
Brushstrokes
Carolyn Showler-Lee
Cedar Dance Designs
Conrad Stewart
Deborah Read
Elizabeth Popham
Ella Oliver
Emma Couette
Esther Van Halteren
Haliburton Clothing Co.
Jacqueline Hope Raynor
Janet Reeds
Jennifer Churchill
Jill Artibello
Julie Wilkin
Kawartha Arts Network Inc.
Kay Gregg
Kelly Denneny
Kelly Whyte
Kyla Vitek
Lesley Hamilton
Lynn Cragg
Margaret Seaton
Marilyn Clayton
Mary Ellen Gerster
On Point Pottery
Paul and Beverley Williams
Rachelle Richard Photography
Rosalee Griffiths
Sarah Weisflock
SKK Fine Art
Stefan Ellery
Suzanne Brown
Thurston Honey Bee Co.
Walpeg Studios
Wendy Cho
Wise Roots Wood Turning
Your Dreams in Wood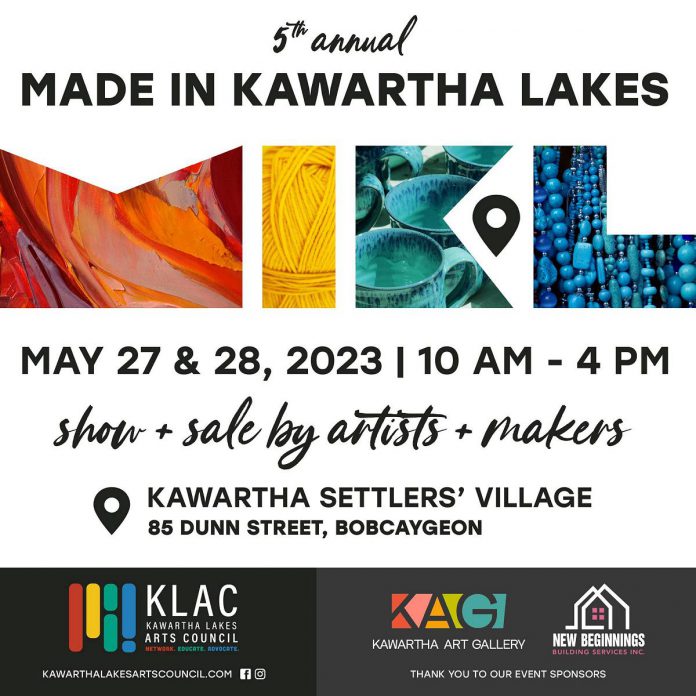 The weekend will also feature two workshops for children and youth.
On Saturday from 10 a.m. to noon, "Kids Making Music in Kawarthas" will help children ages four to nine explore percussion and rhythm, with instruments provided by Maryboro Lodge. Participants will recreate a simple song using a colour system during this two-hour workshop and perform for parents at the end.
On Sunday from 10 a.m. to noon, "The Stage is Yours" will teach children and youth ages 10 to 17 how to use a stage, how to perform with and without a microphone, how sound equipment works, and ways to manage stage fright. Fenelon Live will demonstrate setting up a performance and then the participants will have a chance to try it themselves.
Advertisement - content continues below
"The Stage is Yours" will include an open mic segment where each participant will have the opportunity to perform for an audience. They can dance, sing, play an instrument, read a poem or story, or help with sound for a performance.
Kawartha Settlers' Village is located at 85 Dunn Street, just off of Highway 36. Visitor parking is directly opposite of the main gate and there will be overflow parking just beyond the main gate if public parking is full. Admission to the event is by donation. While some vendors can accept debit and credit cards, cash is preferred.
For profiles of the artists and makers participating in Made in Kawartha Lakes, visit the Kawartha Lakes Arts Council on Facebook at facebook.com/KawarthaLakesArtsCouncil/.