After a long Canadian winter and a rainy spring season, it can be difficult for individuals to get back outside, let alone start biking to work. Local businesses and organizations are setting the bar for sustainability by taking part in the Shifting Gears May Challenge and doing business by bike in all sorts of weather.
During the Shifting Gears May Challenge, residents of the city and county of Peterborough are encouraged to walk, cycle, take transit, carpool, or telecommute for essential trips instead of driving in a personal vehicle. Participants who track these active and sustainable trips online are eligible to win prizes. Participants also receive access to bike equipment, bike audits, educational workshops, and advice that makes active travel easier until the end of May.
Shifting Gears would like to highlight three businesses and organizations that have not only accepted the challenge, but have gone above and beyond to make the choice to do business by bike, making the case for Shifting Gears far beyond the month of May.
Advertisement - content continues below
Three Sisters Natural Landscapes
Carlotta James, cofounder of Three Sisters Natural Landscapes, speaks eloquently about everything she experiences from her bicycle when she rides to work.
"I can see which flowers are blooming in people's gardens," she says. "I can meet friends along the way and have an uplifting exchange. I can use the power of my legs to get me places. I can arrive to work feeling happy to be alive and ready for the day."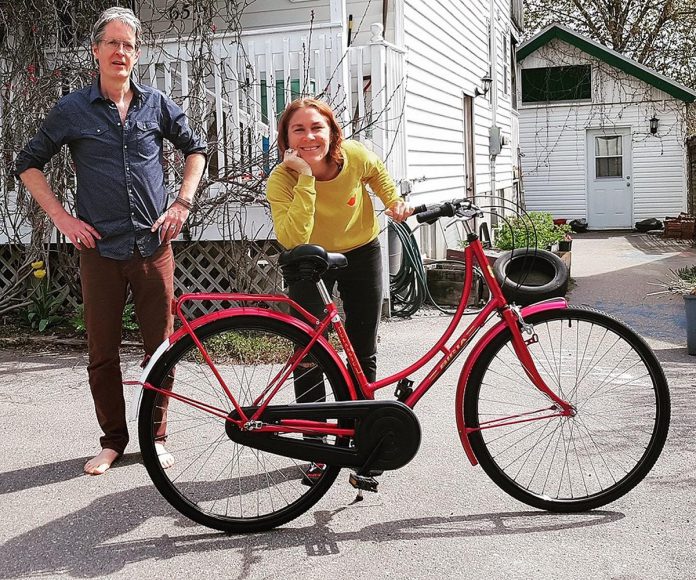 Three Sisters is an eco-landscaping social enterprise that is dedicated to creating pollinator-friendly gardens and re-wilding urban spaces. Three Sisters uses bike power to arrive at consultations and for fall clean-up services, thereby lowering the emissions of their enterprise.
"Small changes like cycling to work make a big environmental impact if more and more people get involved," James explains. "Shifting Gears amplifies the message to get outside and to use different modes of active transportation."
Advertisement - content continues below
Peterborough Public Library
Lower barriers and fewer emissions go together for the Peterborough Public Library's Book Bike, a full-service little library on wheels that takes books to communities outside the downtown core.
"This summer, the Book Bike will be making regular visits to Peterborough parks every week," says library services manager Mark Stewart. "It'll also be showing up at Story Times in the Park and other events around the city."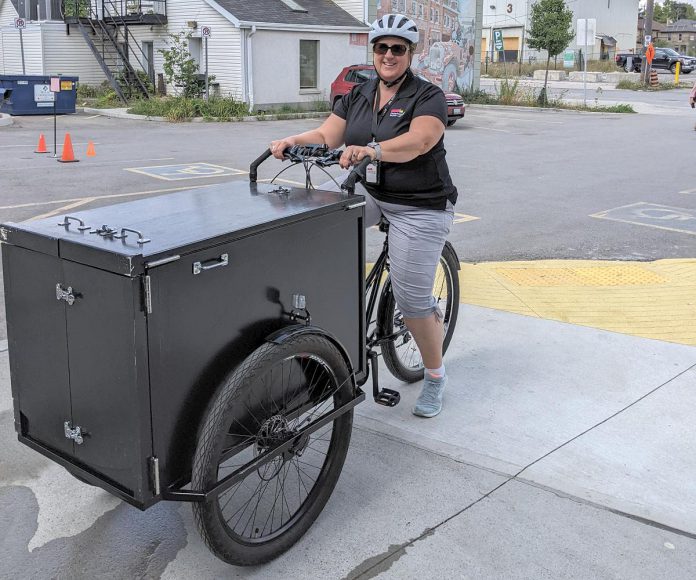 At the Book Bike, patrons can sign up to get a library card and then check out books to take home. Stewart says the library wanted to provide a bookmobile service, and using the book bike was a way to achieve this without the use of fossil fuels.
The Peterborough Public Library is working towards weaving sustainability into everything they do, and this project is just one example.
Advertisement - content continues below
Very Important Pet (VIP) Peterborough
For Hailey Finlay, owner and operator of Very Important Pet (VIP) Peterborough that offers dog-walking and pet-sitting services, doing business by bike is a choice she is happy to make.
After an ankle injury left her unable to use a longboard, Finlay found herself at B!KE: The Peterborough Community Bike Shop, learning about maintenance, four-season riding, and route planning — all of which helped to build her confidence as a cyclist for her business.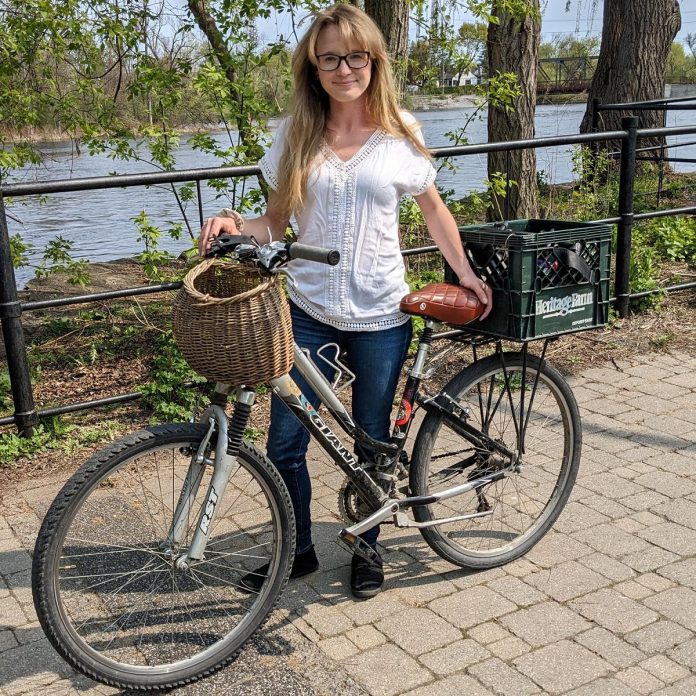 One of the main benefits of offering services by bike can be the low overhead which enables an entrepreneur like Finlay to increase their service area without increasing fuel costs. According to Finlay, biking also allows her a moment of mindfulness so she can arrive to work with her clients with less stress and anxiety.
Apart from dressing for the weather and carrying an extra set of clothing, Finlay encourages cyclists to also scout routes in advance using city cycling maps or apps like Strava or Google Maps. She says preparing in this way can help ease nerves and allows new cyclists to get to know road conditions along the way. Importantly, Hailey encourages new cyclists to stay within their physical limits and get to know local amenities when choosing to ride to their workplace.
Advertisement - content continues below
For many years, the Shifting Gears May Challenge has been helping Peterborough residents and businesses get outside and take fewer daily trips by car. The challenge's goal is to benefit personal wellness, the environment, and the community.
Whether this is your first season on a bike or you are looking for some accountability to keep you riding this season, the Shifting Gears May Challenge is for you.
It's not too late to register and become part of the movement. Sign up to register for the program or visit greenup.on.ca/shifting-gears for more information.