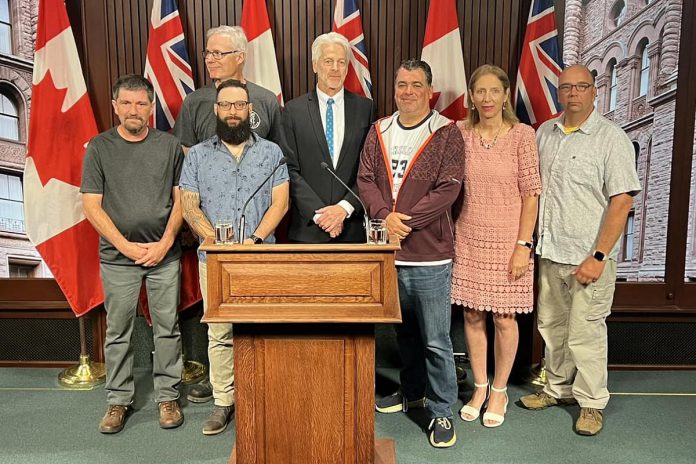 Business owners from Minden spoke to the media on Tuesday (May 30) at Queen's Park in Toronto alongside NDP MPP Chris Glover (Spadina-Fort York) and NDP health critic France Gélinas (Nickel Belt) to once again call on the Ford government to step in and stop the closure of Minden's emergency department set for Thursday (June 1).
During question period on Monday, NDP Leader Marit Stiles introduced petitions containing over 24,000 signatures opposing the closure of the emergency department. Stiles asked health minister Sylvia Jones, "How many communities will see emergency rooms close this summer because of this government's failure to act?"
"While the NDP are satisfied with the status quo, I can tell you this government is not," Jones responded before discussing investments the government has made in incentives to get health care workers to work in remote and rural communities.
Advertisement - content continues below
"We are investing, we are ensuring the people who want to practise in the province of Ontario have that right through many different programs," Jones added.
Opening question period on Tuesday, Stiles again pushed for accountability from Jones noting the presence of dozens of local business owners in the gallery and that the closure was transpiring right when the seasonal population of the area soars, meaning that "thousands of Ontarians will have to travel farther and farther away just to access emergency service."
In response, Jones stated she could "only imagine how challenging this decision was for the Haliburton Highlands Health Services leadership and board," adding "I am confident that this decision was not taken lightly" before repeating her previous comments about government investments.
VIDEO: NDP Marit Stiles during Question Period – May 30, 2023

But these answers, coupled with Jones' reluctance to take action and listen to the people of Minden — a point she has repeatedly characterized as a local decision for the Haliburton Highlands Health Service (HHHS) board the government would not interfere in — is not playing well for the local business owners, some of whom identify as Progressive Conservative voters and supporters of Doug Ford.
Mathew Renda of Boshkung Brewing Company, who moved to Minden from Oshawa with his wife in 2020 and is currently a caregiver to his mother-in-law who is living with a heart condition, told reporters that he feels Jones is "oblivious to the whole situation."
"Her answers to the Opposition's questions were, at best, uninformed," Renda continued. "I was very surprised. Clearly they have no indication of the impact this is going to have on the area."
Advertisement - content continues below
Tweet this quote
The impacts include an increase of at least 20 minutes travel time for permanent and seasonal residents of Minden to get to the nearest emergency department in Haliburton once the Minden emergency department closes. This fact is exacerbated for surrounding communities such as Dorset that rely on the services of Minden's emergency department.
Fears from Minden business owners regarding the potential economic impact of the closure reflect the fact that Minden and surrounding areas are heavily dependent upon summer tourism.
"(In) the winter it turns into a sleepy town and then the summer it becomes lively," Renda said. "With multiple summer camps and multiple outdoor activities like fishing, surrounded by hundreds of lakes, what are those people do when they have an issue on the lake?"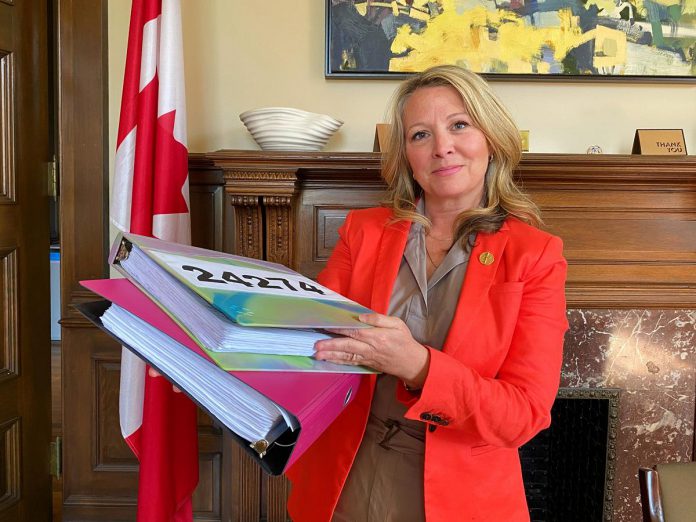 Dennis Pennie, who operates Minden Auto Centre with his wife, noted he stands to lose approximately 40 per cent of his business in the next five years due to reduced tourism to the area and fewer people choosing to move to or retire in the area. He also expressed concern about the optics for families who would traditionally send their children to camps in communities surrounding Minden.
"Would you send your child to a place that has no hospital and has had the hype we've had in the last six weeks?" he asked. "A lot of parents aren't going to send their kids to our camps and our camps are going to suffer from that."
Pennie said he was deeply disappointed in Haliburton-Kawartha Lakes MPP Laurie Scott, noting he thought she would be there for her constituents.
Advertisement - content continues below
Tweet this quote
"I've heard from many other people who have been down here and she has not lifted her head once, never invited us in, and today not even a glance back at us," Pennie said, referring to the Minden delegation in the public gallery at the Legislature.
Ian Myers, who owns the chimney company Myers Chimney, stated plainly he has withdrawn his support from the PC party, Jones, and Scott over their decision to not intervene.
According to the NDP, accountability agreements signed with every hospital in the province mean Ontario's health minister approves the closure of hospitals and emergency departments becuase of financial trouble or understaffing. In previous statements, Gélinas expressed skepticism about the Haliburton Highlands Health Services board's reasoning for permanently closing the Minden emergency department given it hasn't closed a single time due to understaffing in the past year.
"None of this makes any sense, to say that closing Minden is a decision made by the board and has nothing to do with the minister of health," Gélinas told the media on Tuesday. "It's because we have a minister of health that does not understand her responsibility or refuses to take her responsibility. It is on her shoulders. Nobody else."
Advertisement - content continues below
Mark Dracup, who owns Rockcliffe Restaurant, Bar & Hotel in Minden, called Jones' repeated lack of action an instance of "passing the buck."
"She's taking no accountability," he said.
As for the Haliburton Highlands Health Services board, he called the lack of consultation about the closure and the extremely condensed timeline of six weeks since the closure announcement "at best, maybe incompetent, at worst, maybe corrupt."
According to Dracup, neither he nor anybody else in the community knows how the decision was made and the lack of consultation by the board negates its legitimacy.
Tweet this quote
NDP MPP Chris Glover said that over the past two and a half decades, Ontarians have been losing democratic control over their hospital boards. He went on to suggest that many hospital boards across the province lack accountability to the communities they serve, casting further doubt on the health minister's assertion that this was a "local" decision.
"Minden is a warning shot for communities across the province, because we're already starting to see temporary closures in emergency rooms in many other communities across this province," Glover added. "The communities have no say because they don't have control of their hospital boards. So all rural communities in Ontario should be paying attention to what's happening in Minden, because they could be next."
While the closure of the Minden emergency department on June 1st appears all but certain, the community members present at the media conference made it clear this was not the end and they would be heeding Glover's advice.
"We're not going to stop fighting," Pennie noted. "You're going to hear a lot more from us about this."
This story has been updated to correct Mathew Renda's name. kawarthaNOW apologizes for the error.