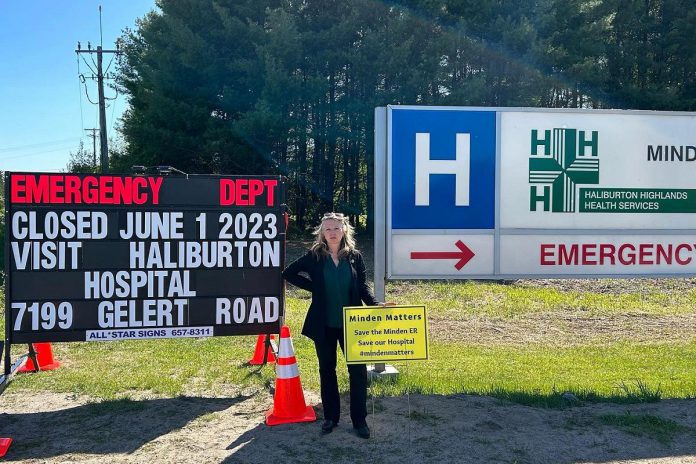 With less than a week before the Minden emergency department is set to close for good, NDP health critic and Nickel Belt MPP France Gélinas and Ontario Health Coalition executive director Natalie Mehra held a media conference on Thursday morning (May 25) to again urge accountability from Ontario health minister Sylvia Jones regarding the closure decision by Haliburton Highlands Health Services (HHHS).
On April 20, HHHS initially announced its intention to close the Minden emergency department and consolidate emergency services at the Haliburton hospital, located 25 kilometres northeast of Minden. On April 27, Minden residents travelled to Queens' Park to deliver a petition that at the time had been signed by over 3,300 individuals living in the Minden area asked Jones to intervene and implement a one-year moratorium on the decision to close the emergency department.
That petition now has nearly 25,000 signatures, according to the Save Minden Ontario Emergency Room Facebook group.
Advertisement - content continues below
When the petition was brought forward to the legislature by Gélinas, who has served as NDP health critic for 16 years, Jones responded by stating that this was a local decision that had been made "thoughtfully" by HHHS and that the provincial government had no intentions of intervening as to "let them do their work."
HHHS currently operates two emergency departments that are open 24/7, one at 4575 Deep Bay Road in Minden and the other at 7199 Gelert Road in Haliburton, both with on-site heliports. Unlike the Haliburton location, which has 15 in-patient beds, the Minden location does not offer in-patient acute care services.
HHHS has stated the decision to close the Minden emergency department on June 1 was made because of ongoing staffing shortages that would result in multiple and unpredictable closures of one or both of the emergency departments over the summer.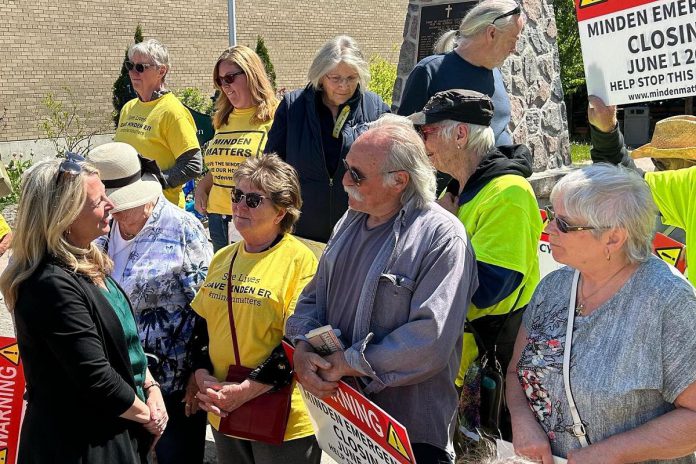 Much of the criticism of the closure decision from both Minden residents and local politicans relates to a lack of prior consultation and the timing of the closure at the beginning of summer, when Minden's population triples due to seasonal residents and tourists, as well as the ability of residents to travel to Haliburton — a minimum 20-minute drive from Minden.
At a meeting of Haliburton County council last Tuesday (May 16), Minden Hills Township mayor Bob Carter asked members of the HHHS board to resign following a presentation of their plan to consolidate emergency services at the Haliburton hospital. At that meeting, HHHS CEO Carolyn Plummer said having two emergency departments in the county was no longer sustainable.
"We've fought long and hard to keep both sites open, but we've reached a point where we're just not able to do that on a consistent basis anymore," she said. "I do feel confident that this is the right decision."
Advertisement - content continues below
Tweet this quote
As the date for the closure of Minden's emergency department, which last year treated over 13,000 patients, looms right at the beginning of the busiest tourism time of year for the region, Minden residents have taken to raising funds to launch a legal challenge to the HHHS decision based on the lack of consultation with both the public, employees, and unions — a point to which both Gélinas and Mehra spoke emphatically.
"There are timelines that have to be respected," Gélinas said at Thursday's media conference. "First, they have to post and let people give people at least 60 days notice that they intend to look at a service change. They never did that. They have obligations toward their union. SEIU (Service Employees International Union) has it in their contract that, if they're going to change any department, they have to give them a five-month notice. None of that happened. All of that rests on the shoulders of the Minister of Health and the Ford government to make sure that the steps are followed."
To date, the legal fund has yet to raise half of its $100,000 goal. However, attendees of a recent rally in Minden remained confident they would be able to stop the June 1st closure and, should the closure proceed, they would not give up the fight.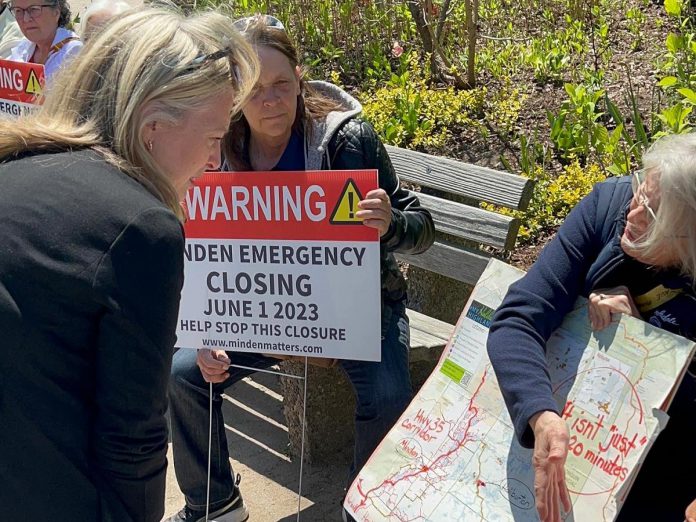 For her part, Gélinas said Jones was ultimately accountable for the closure decision.
"Hospitals are the highest priority of a minister of health," Gélinas said. "No hospital can close an emergency department or close all together without [Jones'] approval. She has to take responsibility, grant [residents and staff] the minimum of one year that they've been asking for, and really do the right thing and make sure that this emergency department stays open for years to come."
Also on Thursday, HHHS acting chief of staff Dr. Norm Bottum released a "community message" reiterating the reasons for the closure.
"Our goal is to ensure our community has a stable and safe emergency care system that you can all count on," Dr. Bottom wrote. "This means having an emergency department that is open and able to provide quality services — each and every time someone shows up in an emergency department. The safety of our community has been impacted by the multiple, unpredictable, last-minute closures faced by HHHS over the past number of years."
Advertisement - content continues below
Tweet this quote
When asked about the statement by reporters, Gélinas said she didn't buy the argument and pushed back against the idea that there had been closures at the Minden location.
"The argument is pretty shallow," she said. "To prevent something that has not happened yet, we will take away the service altogether? [A service] that provided 13,000 people with the emergency care they needed in a high quality way in the last 12 months."
To this point, Mehra added the whole situation looks like "a decision in search of a rationale."
"Physicians dispute the claims that HHHS is making regarding staffing the emergency department," she said.
In response to further questions concerning the lack of consultation, specifically with unions and employees, Gélinas again pointed out these workers had not been granted the requisite five months of notice regarding transfers, but found out about the closure through the media at the same time everyone else in the public did back in April.
"This disconnect between what we hear from the good people at the board and what we hear from the good people of Minden, this has to be cleared up," Gélinas said. "And this is the job of the Minister of Health. She has all the tools. What we need is the political will and that's sort of lacking right now."
For her part, Mehra stated her concerns this closure is merely a sign of more to come. Across Ontario, smaller municipalities are seeing their amalgamated hospital boards work to shut down services in smaller rural centres.
Advertisement - content continues below
Tweet this quote
"If they get away with closing Minden and the minister says 'Oh, it's a local decision,' then Welland is next, right?" Mehra said. "Welland is on cue for having its core services closed, almost all of its acute care services and so on. Chesley is at risk. Wingham is at risk. So is Almonte and Alexandria. There's a whole array of small rural hospitals at the most serious risk."
According to the NDP, the recemt passage of the Ford government's Bill 60 (Your Health Act) — which allows for the creation of "integrated community health centres" or private clinics that are able to conduct OHIP-covered surgeries — creates the possibility that investors will set up clinics in communities that have lost publicly funded health services.
"I see the eagerness of the investor to make a pile of money off the back of sick people," Gélinas warned.
Ontario NDP leader Marit Stiles echoed that warning when she visited and met with Minden residents on Thursday afternoon.
"What happens in Minden is what's going to happen across this province if we're not careful," Stiles said, calling for the provincial government to reverse the closure decision.