Alpacas, axe-throwing, inflatable jousting, classic picnic games, food, treats, and fun. These aren't the elements to a new treatment program, but rather key ingredients for our second annual Backyard Summer Social gala on Saturday, June 24th.
Our signature fundraising event lets adult attendees be kids again as they swap out tux, gown, and heels for T-shirts, shorts, and sandals to celebrate summer. The Backyard Summer Social supports our Building Abilities For Life Campaign that funds high-demand services like speech and occupational therapies to reduce wait times for these essential services.
Our Backyard Summer Social takes place in the backyard space located at the rear of our Peterborough location. Used for outdoor treatment and therapy for kids and clients, the backyard is transformed for the fundraiser — reflecting the recent evolution of the space.
Advertisement - content continues below
Many years ago, a daycare and classroom operated at Five Counties and the backyard was home to swings, slide, climber, a paved path for bikes, and other play equipment. The daycare eventually closed and the playground equipment was removed. While the backyard has always been used for recreation therapy and other programs, the outdoor space may not have been used to its full potential.
That started to change three years ago at a time when our staff were advocating for the backyard to be better used for treatment and therapy services. With the support of individual donors, local service clubs, businesses, and — most critically — the forging of a partnership with Peterborough GreenUP, the backyard space began its transformation.
Working closely with GreenUP, a therapy garden featuring native plant species (and a sensory area allowing for hands-on exploration by kids) was added in the backyard. Different 'play' zones were also introduced, providing opportunities for sensory engagement, therapeutic programming, and unstructured play.
There are many instances of this, including:
A paved track allows kids who are working on walking skills or developing balance, testing out new mobility equipment, or riding a bicycle for the first time to do those in the backyard area.
Built-in musical features allow for engagement opportunities, especially for kids who communicate in different ways. For instance, the mushrooms are metal and can double as drums, while the large tubes act as a large metal xylophone.
A covered awning and the shaded areas under trees allow for a natural group gathering space to carry out different therapies and activities.
An artificially built hill in the backyard is a natural play space allowing kids to improve gross motor skills and prepare to try out plastic play structures in their local park.
A stage area is used for music therapy programs, kids' performances and outdoor camps.
Advertisement - content continues below
For our kids, clients, families and even staff, the fully accessible outdoor green space is a wonderful addition to our Peterborough site. It provides therapy and treatment options in a low-stress, sensory-sensitive natural environment in which people feel safe.
While at first glance the backyard space may look simple, there are thoughtful complexities weaved throughout. At the core is a return to nature, which our Recreation Therapist Colleen (who frequently uses the backyard space with clients) describes this way.
"Nature isn't plastic … it's not contrived," Colleen notes. "Nature is real and tangible with the trees, flowers, grass, and sun. The opportunities to explore, engage, learn, and discover can be magnified in an outdoor environment. Learning is deeper, memories are better, and the treatment and therapy outcomes can be more substantial."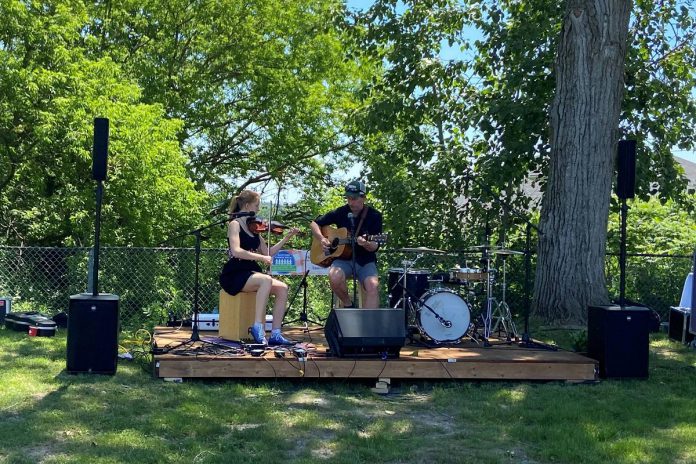 Advertisement - content continues below
Attendees at the Backyard Summer Social on Saturday, June 24th will be able to attest to this for themselves, as the activities offered at the event mirror what our clients experience during treatment.
For example, guests aren't just mini putting — they are using gross and fine motor skills. This aligns with the experience of the kids we see, as many don't remember their time here as treatment but more as playtime.
Join us in learning how Five Counties is transforming lives every day — and revitalizing spaces along the way.