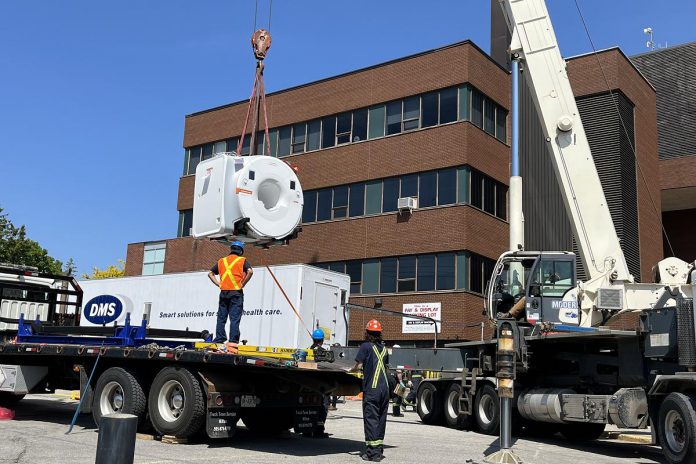 The new MRI machine funded by community donors has arrived at Ross Memorial Hospital in Lindsay.
The five-tonne machine was delivered by truck on Monday (May 29) and hoisted to the ground with a crane. A precision moving team then directed the MRI through the Kent Street entrance and down the main hall, where it was inserted through an open wall into the renovated MRI room.
Magnetic resonance imaging, or MRI, is a noninvasive medical imaging test that produces detailed images of almost every internal structure in the human body, including the organs, bones, muscles, and blood vessels. MRI scanners create images of the body using a large magnet and radio waves.
Advertisement - content continues below
The new MRI replaces the 12-year-old MRI that was also completely funded by the community through the Imagine the Future campaign. From 2011 to 2023, around 70,000 patient exams were scanned using that MRI. More than 500 patient exams are scanned at Ross Memorial Hospital every month.
"With the support of our donors, Ross Memorial is building our health care infrastructure to keep pace and meet the needs of a rapidly growing population," says Ross Memorial Hospital Foundation CEO Erin Coons in a media release. "This transformation involves significant investments in technologically advanced medical equipment, including the MRI, that is not covered by government funding. Donors' support for the We Are The Ross appeal plays an important part of these essential investments."
The new MRI machine features cutting-edge technology that provides the sharpest image resolution faster than ever before. It can adjust to each patient, which means they are in position sooner, and new tiltable imaging coils are more comfortable for patients with mobility challenges without compromising the resolution quality. High-tech sensors monitor the patient's breathing and adjust for patients who have difficulty holding their breath for certain tests, such as liver and abdomen imaging.
Advertisement - content continues below
Tweet this quote
By delivering the most high-resolution images possible as quickly as possible, the new MRI reduces the amount of time patients must remain still, which is especially important for those with pain, claustrophobia, or limited mobility.
Sharper imaging and image reconstruction technology also help physicians confidently diagnose disease and injury in the brain, spine, joints, breasts, and organs. This includes herniated or bulging disks, arthritic changes, tumours and other lesions. It also enables precision biopsy procedures including breast and future prostate exams.
"MRI provides critically important information necessary for the best, safest patient care," says Ross Memorial Hospital's chief of staff Dr. Bharat Chawla. "The more detailed the image, the better and faster our team can diagnose and treat our patients' concerns. The new MRI also connects to the hospital's clinical information system, which means every image is automatically attached to the patient's digital medical record and available to all care providers, including specialists in other regions.