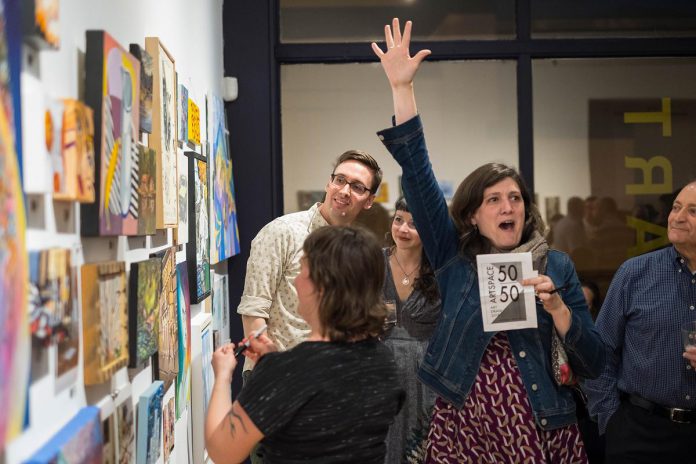 It's an Artspace renaissance. That's how Peterborough's artist-run centre is describing the return of its annual 50/50 fundraiser to its traditional in-person format on Saturday (June 3) after a three-year absence due to the pandemic.
The event provides a unique opportunity to take home original artwork by local and regional artists at affordable prices while also supporting Artspace, one of Canada's oldest artist-run centres. More than 40 artists have contributed artworks, each valued at $100, to Artspace for the fundraiser.
"Renaissance is an apt theme for us all as we emerge anew from the past years of pandemic disruption," says Artspace member and artist Anne Pasek, in a media release.
Advertisement - content continues below
The available artworks have been installed at Artspace at 3-378 Aylmer Street in downtown Peterborough where the public can preview them from noon to 4 p.m. on Wednesday, Thursday, and Saturday, and from noon to 6:30 p.m. on Friday.
A $100 ticket gets you entry to the 50/50 party at Artspace on Saturday night at 7 p.m. where you will receive a paper ticket with your draw number. When your number is drawn, you select your desired piece of art from the gallery wall which will be wrapped up then and there for you to take home.
For each piece of artwork selected by a ticket holder, the artist receives $50 and Artspace receives $50. Artworks that are not selected by ticket holders during the draw will then made available in a post-draw "fire sale", for $80 in the first round or $60 in the second round, with proceeds split equally between the artist and Artspace.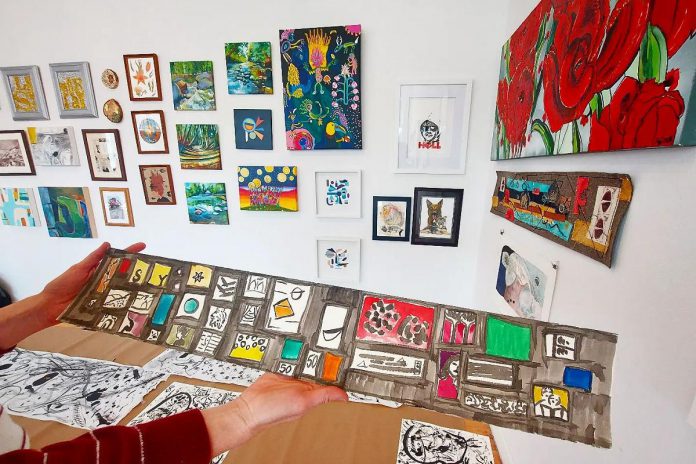 In addition to the draw, the event includes sponsored door and raffle prizes, food and drink, and renaissance-themed costumes and fun. Peterborough-based musician Karol Orzechowski (aka garbageface) will DJ the evening.
While a $100 ticket guarantees you will go home with a selected piece of art, you can also purchase a party-only ticket for $25 that will give you the opportunity to watch the fun and participate in the post-draw fire sale. Both types of tickets include one complimentary drink.
"It's so good to have an occasion to share the art we made while apart, and to celebrate the opportunity to come together as a community once more," says Pasek, who is also contributing artist.
Advertisement - content continues below
Along with Pasek, local and regional artists participating in the Artspace 50/50 fundraiser include Ainsley Boyd, Sandra Brown, Samantha Chiusolo, Beth Davis, Charlotte Di Carlo, Jane Dukes, Kathryn Durst, Holly Edwards, Em Farquhar-Barrie, Melissa Fice, Gwyneth Fisher, Angela Hennessey, Janet Howse, Collin Jacob, Ann Jaeger, M-A Johnston, Beata Kruszynski, Terry Lamont, Dianne Latchford, Timothy Lauren, Cassandra Lee, Eryn Lidster, Jo Mann, Karin McLean, Jeff Macklin, Joh Marris, Rob Niezen, Tu Nguyen, Cameron Noble, Cathy Ogrodnik, Mickey Renders, Mark Reutter, Jackie Scott, Lisa Soch, Sheldon Storey, Shannon Taylor, Ashley Tuck, David Van Drunen, Josie Van Ryn, Dr. Anne Watson, and more.
For more information and to purchase draw or party tickets, visit artspaceptbo.ca.