Cyclists and environmental educators Glen Caradus and Nick Ormond are once again in training to embark on a day-long ride this fall to raise awareness about climate change and funds for local climate change action.
On Saturday, September 30th, the duo will cycle 280 kilometres to highlight the amount of C02 that was in the atmosphere — 280 parts per million — when the planet had a stable climate prior to the industrial revolution. As of May 2023, that level has risen to a new record of 424 parts per million according to the National Oceanic and Atmospheric Administration (NOAA).
All funds raised leading up to Caradus and Ormond's ride — called Ride 4 The Grandchildren — will go towards For Our Grandchildren, a not-for-profit environmental organization that acts against climate change.
Advertisement - content continues below
Tweet this quote
On the day of the event, Caradus and Ormond will gear up at the crack of dawn, to depart from Peterborough at 3 a.m. From there, the duo will ride through Haliburton, across to Coe Hill and and Stoney Lake, before heading back to the city to complete the ride at the Camp Kawartha Environment Centre at 3 p.m.
This year will be third in a row Caradus is completing the fundraiser, which previously raised money for other local environmental organizations and initiatives committed to climate action. The rides began when the experienced and passionate cyclist missed participating in marathons and races during the pandemic.
"I was thinking, 'Well, with no races, wouldn't it be fun to do something where I can raise some money and some awareness?'," Caradus recalls. "In this case, about climate change."
Through his work as a musician and puppeteer as one half of the Paddling Puppeteers alongside Phil Stephenson, Caradus already brings messages of natural appreciation and climate emergency to children, seniors, and everyone else while entertaining across the country. Through his cycling fundraisers, he's also supporting local organizations that take action against climate change.
Two years ago, Caradus rode 350 kilometres, representing the dangerous atmospheric carbon levels that scientists had previously said would be a wake-up call to prevent catastrophic climate change — a number Caradus says we hit back in 1988. That ride also raised funds for climate-related programming offered by Peterborough GreenUP.
Last year, the magic number for the ride was 421 kilometres, representing the CO2 levels at the time of the ride (421 parts per million) — though Caradus points out we've gone up at least a couple parts per million in the year since. Ormond joined Caradus for that ride, which raised funds for climate education, tree planting, and biodiversity programs at Camp Kawartha and Rowan Tree Children's School.
Advertisement - content continues below
Tweet this quote
"If you look at the first 170 years of industrialization, we added 70 parts per million (of CO2)," Caradus explains. "Then, in the last 35 years, we've added another 70. So you can see how it soared exponentially. We just want to bring attention to that 280."
At approximately 3 p.m., when the cyclists are expected to arrive at their destination at the Camp Kawartha Environment Centre, they will be met with a family-friendly celebration from the public. If he's not too exhausted from the journey, Caradus will join his Paddling Puppeteer partner to put on a musical puppet show.
Before the end of the event, the cyclists will leave behind 280 potted trees, arranging them on the grounds to form the number 280. They will be free for the public to take and plant locally.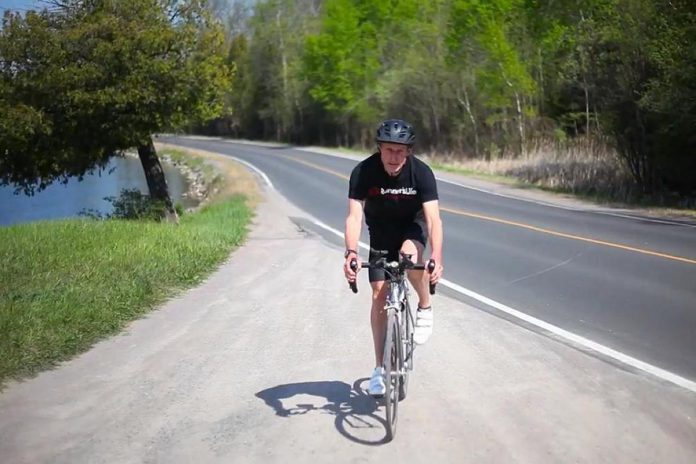 "We'll just leave the trees there and then people can take them that day or just anytime through October," Caradus says. "Because they draw in carbon dioxide, trees are a great way to add some beauty but also to fight climate change."
Funds raised from the event will be used by For Our Grandchildren to support local action in Peterborough City and County. The ride is further backed by Captain Climate and sponsored by Runner's Life.
Though the aim of the ride is to educate and raise awareness, Caradus explains that it's important to make the event fun and celebratory, rather than negative.
Advertisement - content continues below
Tweet this quote
"It's important to acknowledge what we're seeing, but it's also important that we find ways that are celebratory and fun and positive," Caradus says. "I don't want to point fingers at anybody. We just go out and have some fun, bring the community together, plant trees, and raise some money for For Our Grandchildren. They're a great organization, so we're keeping it on the positive."
For Our Grandchildren was founded in 2006 in Toronto by a group of grandparents who were deeply concerned that the world was taking inadequate action to prevent the worst effects of the changing climate, and that these changes would have serious negative consequences on their grandchildren. The group incorporated as a non-profit organization in 2010 and moved its head office to Peterborough in 2018. Originally formed to raise awareness of climate change, the organization now focuses on engaging people to take local climate change action.
Caradus and Ormond hope to raise $5,000 to support the work of the organization. To donate to Ride 4 The Grandchildren, visit forourgrandchildren.ca/event/ride-4-the-grandchildren/.