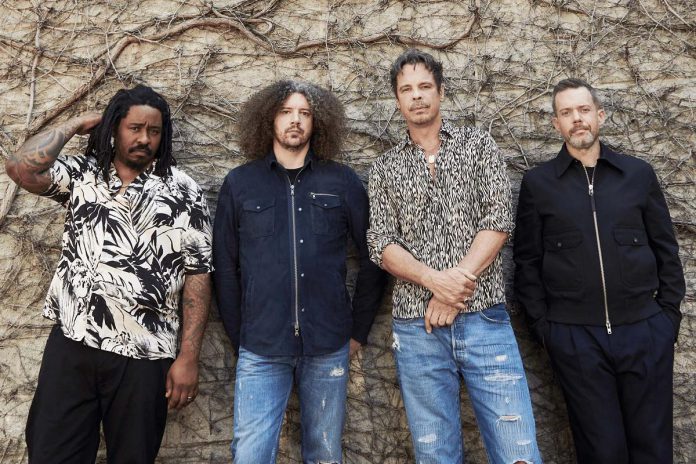 When two countries share a border, it's inevitable that there will be spillover, the result being that the fruits of each country will be shared with the other.
Had Torontonian Ian Thornley not met Long Island, New York native Brian Doherty while attending Boston's Berklee College of Music in the early 1990s, he may very well have followed the jazz music path he was studying for.
But Thornley did indeed befriend Doherty — the two jammed in their dorm room — and, with Americans and Berklee classmates Dave Henning and Forest Williams in their circle, the seeds of Canadian-American rock band Big Wreck were planted.
Advertisement - content continues below
Initially known as Still Waters, the quartet played gigs in Boston but Thornley eventually brought his school friends to Canada for shows in his hometown where, as Big Wreck come 1994 (the name coined after Doherty called a problematic rehearsal session a "big wreck"), a record deal with Atlantic Records set the course for very good things to come.
Seven albums on, Big Wreck has proven to be a bigger success on this side of the border. Doherty succumbed to cancer in 2019, and Henning and Williams have long departed the band, but Thornley has kept Big Wreck relevant and still very popular, the release of new music just this past March having done much to further that continued momentum.
On Wednesday (August 16) at Del Crary Park, Big Wreck will headline Peterborough Musicfest as one stop of an ongoing North American tour that is winning new fans and nourishing longtime ones as well. As always, admission to the 8 p.m. concert is free.
Big Wreck's concert is the first of three Musicfest concerts in four nights as season 36 comes to an end, with pop-rock band Glass Tiger performing a rescheduled concert the following night and country band Tim & The Glory Boys hitting the stage with opener Robyn Ottolini on Saturday night to close out the season.
VIDEO: "The Oaf (My Luck Is Wasted)" – Big Wreck

In 1997, collective feet firmly planted on Canadian soil, Big Wreck released its debut album In Loving Memory Of…, its lead single "The Oaf (My Luck Is Wasted)" becoming what has proven to be the band's highest-charting single south of the border.
Follow-up single "That Song" charted high in both countries, with "Blown Wide Open" and "Lighthouse" also cracking the top 40 in Canada.
It was four years before new music came forth in the form of Big Wreck's second album, The Pleasure And The Greed. While its lead single "Inhale" received notable airplay, the follow-up album didn't create the excitement of its predecessor, its three singles failing to chart either in Canada or the United States.
Advertisement - content continues below
In 2003, Big Wreck broke up, with Thornley going on to front a Toronto-based that carried his name and would remain an entity until 2011. Doherty moved to Camlachie, a small community outside Sarnia, Ontario, where he taught guitar and went on to form the indie rock band Death of 8.
After Doherty reunited with his college pal in 2010 for a Thornley tour, Big Wreck was reformed, that reunion resulting in a string of four new studio albums in seven years: Albatross, Ghosts, Grace Street, and …But For The Sun. Released as a single, the title track from Ghosts did much to earn the album a 2015 Juno Award nomination as Rock Album of the Year, a distinction also shared by the other three albums.
Following Doherty's death in 2019 from lung cancer at the age of 51, Big Wreck carried on as a trio but thereafter, with Chris Caddell on board as the new rhythm guitarist and former Thornley drummer Sekou Lumumba in the fold alongside longtime bassist Dave McMillan, the band released 7 — a full-length album comprised of new music from three previously released EPs.
VIDEO: "Ghosts" – Big Wreck

Now on the road with his bandmates to promote Big Wreck's newest album while reconnecting with fans, Doherty reflects in a release on how the pandemic years, which put a stop to touring, sparked his creativity.
"It was a crazy and uncertain time but I kind of fell right into my rhythm," he recalls. "I'd come into my basement writing room and just lock it all away and start following leads — riffs from sound checks or old phone recordings. There are sounds we've never gone for before that I've secretly always wanted to try, so the attitude was kind of 'If not now, when?'"
Following that lengthy time of experimentation, Big Wreck hit the studio with producer Eric Ratz (Billy Talent, Arkells) back at the helm. The result is a wealth of riches for Big Wreck faithful and new fans alike — 15 tracks divided into three EPs that capture the essence of every entry in their back catalogue while pushing into some unexplored territory.
Advertisement - content continues below
"Everybody's got their own fingerprints on this and it felt as natural as anything," says Thornley of the sessions, which included recording the new single "Bomb Away."
"It was a lot of fun playing with this rhythm section," says Thornley.
"Things ended up going in a direction they weren't going to go when we first came into the studio but, as a musician, I love being thrown curveballs."
VIDEO: "Bombs Away" – Big Wreck

Overseen by general manager Tracey Randall and staff, a board of directors, and numerous volunteers, Peterborough Musicfest's stated mission remains "to provide diverse, affordable live music to enrich cultural and economic prosperity in our community."
For more information on this concert and the entire 2023 season, visit www.ptbomusicfest.ca or phone the Peterborough Musicfest office at 705-755-1111.
kawarthaNOW is proud to be a headline sponsor of Peterborough Musicfest's 2023 season.