Things are heating up for Flame Spitter Hot Sauce this summer with the help of Community Futures Peterborough.
Flame Spitter Hot Sauce hasn't been around long but, with the increasing demand for hot sauce across the continent, the business is growing fast. Its products are sold in almost 110 stores across Ontario and is expanding to offer products beyond hot sauce.
For founder Mitchell Lowes, owning his own business hasn't just been the achievement of a professional dream he's always harboured — he actually credits it with turning his whole life around, motivating him to quit drinking and get sober. And none of it would have been possible, he explains, without his family and the support he received from the community.
Tweet this quote
Though Lowes spent years working in the restaurant industry as a chef, he always had plans to start up his own business. He took business courses in high school before going to Fleming College to further his studies.
When a fellow chef approached Lowes in the spring of 2021 with the suggestion they create their own hot sauce, he ran with the idea. By July last year, when his friend had decided to pursue other goals, Lowes took over the company all on his own.
In turns out that taking over the business was exactly what Lowes needed, especially when he decided to quit drinking and become sober.
"I've changed my life around and have a community behind me which has supported me through my whole journey," Lowes says.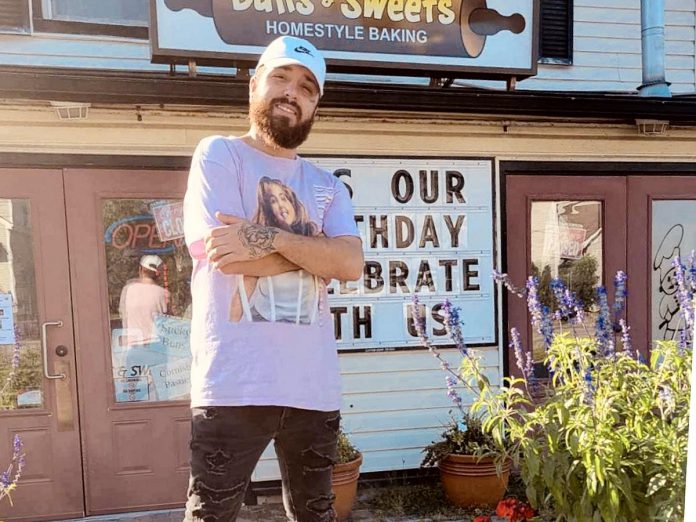 Tweet this quote
Flame Spitter Hot Sauce began as an online retailer but, after profiting initially, Lowes saw sales decline and realized he had to get his product into stores. Rather than dealing with the time-consuming and costly process of getting on the shelves at major grocery chains, he honed his sales skills and relied on cold calling to get his products into stores.
After he perfected his pitch, Lowes found that local businesses in the Peterborough area were willing to give his products a chance.
"Locally, people want to support us," Lowes says, adding that the now-closed Creative Lounge retaurant in Peterborough was the first local business to stock his hot sauce.
"They said they'd take us on and see how it sells," he recalls. "It sold, and then we got into more and more stores, and then eventually we were overpopulated in the area."
Though Lowes knows hot sauce is in demand, he also recognizes it's not an essential food item. That's something he hears time and time again from store managers, he explains, and yet they continue to purchase anyway to support his company, admiring his story and how fast the company has grown.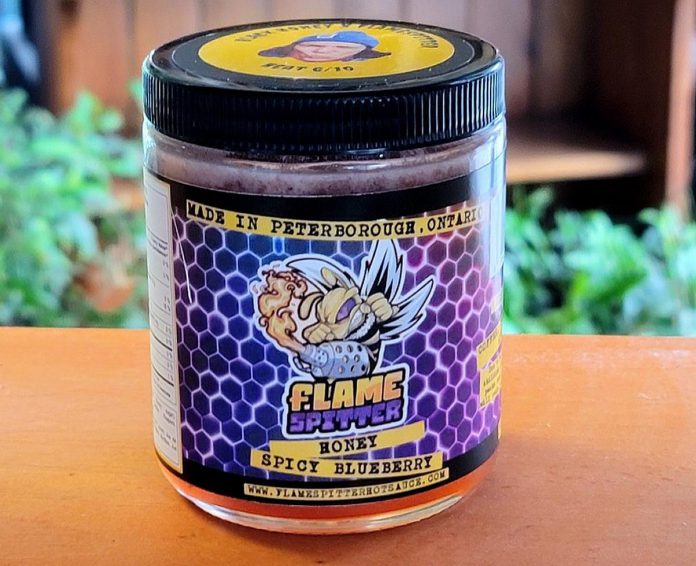 Lowes' first major location outside butcher shops and gift stores was Millbrook Foodland. From there, he was able to easily expand into other Foodland locations.
Now Flame Spitter Hot Sauce can be found in stores as far north as Iroquois Falls and south to Windsor. Flame Spitter Hot Sauce has also been invited to be a vendor for the YOW! Awards, one of North America's biggest hot sauce events, the Taste of Manilla in Toronto, SIP Niagara, and Crooks Rapid Country Festival.
Additionally, Flame Spitter can be found on local restaurant menus, including at the Holiday Inn where Lowes rents the kitchen to make his hot sauce. Other businesses are seeking collaborations with Flame Spitter including Haliburton's Til Death BBQ & Catering, which gave their name to Flame Spitter's hottest sauce (a tangy sauce featuring the Carolina Reaper pepper).
Tweet this quote
"We do a lot of really great collaborations now which I get excited about," says Lowes, adding that it's a benefit to everyone. "Collaboration helps their sales and helps my sales."
Another Flame Spitter product called N.O.I.R. (a spicy blueberry honey) was created in collaboration with Peterborough's Black Honey Bakery.
But one of the largest support systems Lowes had while building his business came from Community Futures Peterborough, a not-for-profit organization that provides financial and advisory support to small businesses and entrepreneurs in Peterborough County.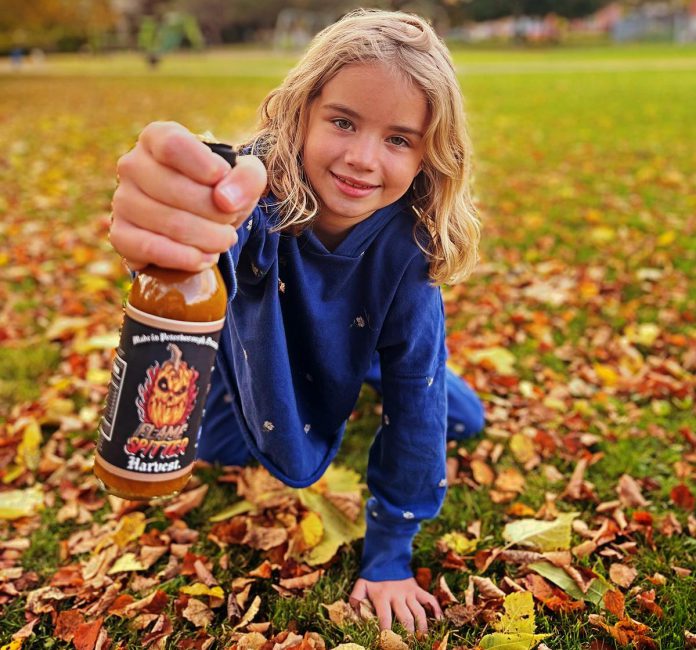 Tweet this quote
When Lowes first approached Community Futures Peterborough, he was given a small loan to help build his business. With this, Lowes says he grew from having Flame Spitter in 12 stores to over 80 stores. Since then, Community Futures Peterborough provided him with further financial support when Lowes needed capital while waiting on payments from his retailers.
"Without Community Futures Peterborough, I feel my company would not be where it is," says Lowes, adding that the organization has helped him beyond financing, even recently helping him get set up with an accountant.
Community Futures Peterborough has also helped Lowes connect with other entrepreneurs through the online business networking community. One of the most important networking connections he has made is with a handful of other hot sauce businesses in the region, where have supported him even though he is the competition.
"It feels really good and it keeps me driven to have a community of people that are pushing me," explains Lowes. "These business owners are going to help you figure stuff out. They're going to help you get places and they actually intentionally want good for you."
Tweet this quote
Along with providing financial support and helping him connect with like-minded entrepreneurs, Lowes has also benefited from Community Futures Peterborough's participation in 'Team Ptbo' — a group of local economic development organizations that also includes Peterborough & the Kawarthas Economic Development, Innovation Cluster Peterborough and the Kawarthas, the Peterborough Downtown Business Improvement Area, and the Peterborough and the Kawarthas Chamber of Commerce.
One example of how Team Ptbo is supporting the local entrepreneurial ecosystem is the recent partnership between Community Futures Peterborough and the Peterborough and the Kawarthas Chamber of Commerce that allows new loan clients like Lowes to receive a free six-month Chamber membership, so they can benefit from both the networking and promotional opportunities the Chamber provides for its members.
"Mitchell's story represents that of several clients we serve," says Ron Black, Chair of the Loans Committee and Board Director for Community Futures Peterborough. "They come to us for their initial start-up funding and we continue to support them as they grow and expand their business. We hope that by showcasing Mitchell's story to the community, others can be inspired by his resilience, commitment to entrepreneurship, and are motivated to pursue their own business."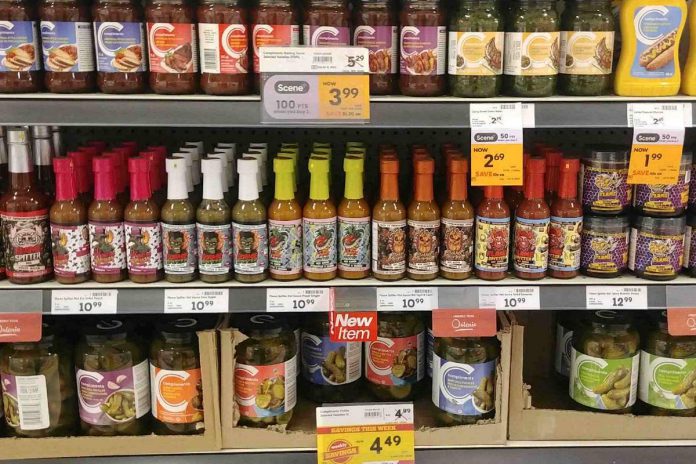 For Lowes, that resilience and commitment to entrepreneurship largely comes from his own personal stake in the business. He sees its success as directly related to his own sobriety.
"When you start associating with business people and business friends, that's what keeps you going," he explains. "You're in this whole new realm of society."
With support from his family, including his wife (who now owns a piece of the business) and their young daughter, Lowes already has his sight set on his future plans.
Tweet this quote
"My end goal is to have the Flame Spitter Kitchen — I want a restaurant that is Creole and Cajun because I love that type of food," says Lowes, joking that he wants to be more than the 'hot sauce guy'.
"I want Flame Spitter to be a whole brand, not just sauce," he says.
For now though, Lowes is continuing to bask in the success of Flame Spitter Hot Sauce and appreciating all the support he has received as a new entrepreneur.
For more information about Flame Spitter Hot Sauce, visit flamespitterhotsauce.com. You can also follow them on Facebook and Instagram.
Community Futures Peterborough has a mission to support small businesses with flexible financing in the City and County of Peterborough. It has invested more than $40 million in over 1,100 small businesses since 1985, creating or maintaining more than 4,100 jobs in the City and the County. Community Futures Peterborough is a not-for-profit organization funded by the Government of Canada, through the Federal Economic Development Agency for Southern Ontario (FedDev Ontario).
This branded editorial was created in partnership with Community Futures Peterborough. If your organization or business is interested in a branded editorial, contact us.