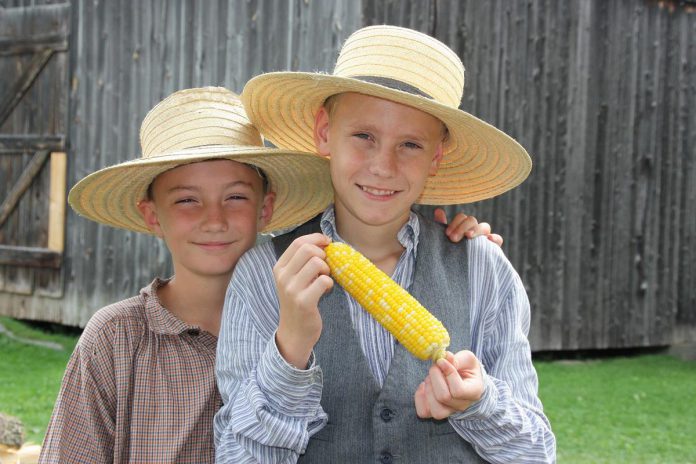 Lang Pioneer Village Museum in Keene is celebrating the beginning of the harvest season with a Corn Roast from 10 a.m. to 4 p.m. on Sunday (August 27), featuring a day of old-fashioned family fun including historic demonstrations, live music, and plenty of fire-cooked corn.
Discover the many ways 19th-century settlers used corn, including corn bread, popcorn, dried corn, corn soups, and corn relish in the Fitzpatrick House. In the Milburn House, you can sample some Johnnycake with maple syrup — a cornmeal flatbread that originated with Indigenous people of North America, who are credited with teaching European settlers how to make the food.
There will be a variety of harvest-related demonstrations including threshing, bagging, fanning mill, and corn grinding, and historic demonstrations including broom making, natural dyeing using corn and corn flowers, flop mattress repairing and stuffing, rug hooking with the Northumberland Rug Hookers Guild, stitching with the Northumberland Hills Stitchery Guild, and weaving on the Jacquard loom.
Advertisement - content continues below
At the Menie General Store, discover the history of candy corn and how it got its shape — hint: it was invented in Philadelphia in the late 19th century to celebrate farmers and was originally called "chicken feed" — and learn about the history of whisky in the Hotel Bar Room.
You can hop aboard a free horse-drawn wagon ride to tour the historic village and listen to traditional music performed by Lotus and Luke from the Weaver Shop porch. Visit the Peterborough Agricultural Society's Homecraft Show at the Peterborough County Agricultural Heritage Building (which also runs on August 25 and 26), and see the Kawartha Truth and Reconciliation quilt on display.
At the Ayotte Cabin, make a corn craft to take home with you and try your hand at some cornhole (so named because the bean bags used in the game were originally filled with corn). In the Town Hall, experience what it was like for children going back to school in the 19th century and learn some "corny" jokes.
Enjoy fire-cooked corn smothered in butter at the fire pit and, if you're feeling adventurous, enter the corn-on-the-cob eating contest taking place on the Village Green. There will also be sweet treats and refreshments available for purchase in the Keene Hotel for an additional fee, fresh kettle corn for sale by Ben's Kettle Corn, and Empire Cheese curd and bread for purchase in the Cheese Factory.
Admission costs $15 for adults, $10 for students and seniors 60 and older, and $7 for children and youth ages five to 14, with free admission for children under five. Family admission is also available for $40 and includes two adults and up to four children and youth.
Last admission is 3 p.m., but Lang Pioneer Village Museum recommends you give yourself a minimum of two hours for your visit to experience everything.
Advertisement - content continues below
Visitors may purchase admission at the gates or in advance online. To purchase advance admission or for more information, visit langpioneervillage.ca.
This is the final special event for the summer at Lang Pioneer Village Museum. Special events for the fall include Applefest on Sunday, October 1st and Historic All Hallows' Eve on Friday and Saturday, October 27th and 28th.
Lang Pioneer Village Museum's summer hours of operation of 10 a.m. to 4 p.m. Wednesdays to Sundays continue until September 3. From September 4 to November 18, outside of the special events mentioned above, the museum will be open from 10 a.m. to 3 p.m. Wednesdays to Fridays.