For more than a century, the story of early 20th-century Canadian landscape artist Tom Thomson — both his artistic endeavours in life and mystery in death — has been an alluring one.
That story will be told again in an innovative way when Georgian Bay's Shipyard Kitchen Party presents the folk musical Tom Thomson's Wake at Showplace Performance Centre on Saturday, September 23rd and again at the Concert Hall at Victoria Hall in Cobourg on Saturday, September 30th.
Uniquely presented through both narrative and music, Tom Thomson's Wake pieces together the final years of Thomson's short life — he died mysteriously in July 1917 while canoeing in his beloved Algonquin Park — with a completely original script and folk musical score by Shipyard Kitchen Party's John Eaton and Jason Murphy. Taking place two years after Thomson's death, the story is told from the varying perspectives of three people who were close to the artist.
Advertisement - content continues below
Tweet this quote
Canadian Opera Company veteran Craig Ashton plays artist A.Y. Jackson, Thomson's mentor and Group of Seven member, who speaks to Thomson's artistic influences. Dean Hollin, who hosts Radio Limelite and co-hosts The Garden Show on Toronto's Zoomer Radio, plays Algonquin Park guide Lowery "Larry" Dickson, Thomson's friend who attests to the artist's love for the park. Actress and improv comedian Julie LeBlanc portrays Thomson's lover Winnie Trainer, who shares an intimate perspective as one of few people who had a deeply personal connection with the painter.
"Each character has a different view of who Tom was and what inspired him," says Shipyard Kitchen Party's Jason Murphy in a press release. "The characters don't always agree on who Tom was or what his work meant, but their diverging views help the audience construct their own portrait of who he was, which is a big part of the show's appeal."
Shipyard Kitchen Party is made up of Murphy on bodhran and vocals, Eaton on guitar, bass, mandolin, and vocals, and Sasha Law on bass and vocals. Joining the band for Tom Thomson's Wake is Victoria Yeh, a Peterborough-based fusion electric violinist who previously lent her talents to the band for their production 100 Years From Now, and singer-songwriter and multi-instrumentalist Jason Redman on keys, mandolin, and bass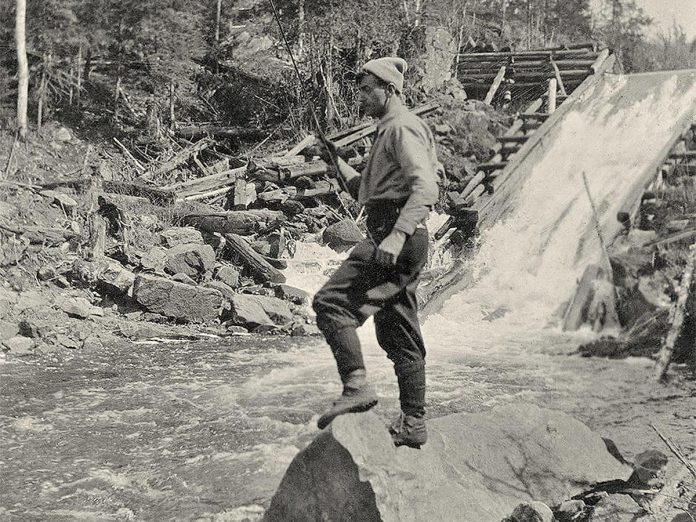 "Tom Thomson died at the very young age of 39 during a time where people corresponded to each other by letter over great distances and long periods of time," explains Yeh. "There are so many gaps and unknowns about that period of time and about Tom himself, so there's a real sense of wonder around who he really was, and what more he could have contributed as an artist."
The engaging production, which set off on an Ontario tour in August, includes high-definition imagery of paintings by Thomson and the Group of Seven from the Art Gallery of Ontario.
"I can't say enough about how entertaining, thought provoking and touching this show is," explains Yeh. "Even after performing with this crew for almost three years now, I still actually cry during some scenes."
Advertisement - content continues below
Tweet this quote
For Yeh, it'll be "a treat" to bring the production to Peterborough's Showplace Performance Centre on September 23, not only since it will be a quick commute considering her own studio is just across the street from the venue.
"Peterborough has really welcomed me as an artist and entrepreneur and allowed me to flourish," she explains, adding that when she moved to the city last year, she was "daunted" at the prospect of landing somewhere with no professional connections.
"It brings me such joy to be able to perform this amazing show for locals and visitors of this wonderful city," she says.
VIDEO: "Tom Thomson's Wake" Trailer (2020)

Yeh isn't the only member who will be returning to a familiar place during the Peterborough performance. Prior to his move to Collingwood where he co-hosts 95.1 The Peak's morning show Talk of the Town, Shipyard Kitchen Party band member and co-writer John Eaton started his broadcasting career with Corus Entertainment in Peterborough. He worked for The Wolf 101.5 FM as a special events reporter beginning in 1992, not long after the station first launched.
Eaton's wife Julie LeBlanc, who plays Winnie Trainer in Tom Thomson's Wake, is a Peterborough native who discovered her love for theatre in 1983 after a Peterborough Theatre Guild production. In 1996, LeBlanc co-founded the successful Peterborough Improv Group, providing entertainment throughout Ontario.
Both the Peterborough and Cobourg performances of Tom Thomson's Wake are part of Victoria Yeh's Travel by Sound concert series, which turns live music into a complete experience by offering concert-goers discounts and dinner specials at local businesses.
Advertisement - content continues below
For the Peterborough performance, ticketholders can get an exclusive three-course fine dining experience at Amandala's Restaurant in downtown Peterborough for $75 per person (not including alcohol and gratuity). For the Cobourg performance, ticketholders can get a discounted hotel room rate at Best Western Plus Cobourg Inn & Convention Centre and a free dessert at Arthur's Pub when ordering an entrée and showing their ticket.
Tickets for the show cost $45 for adults and $40 for students and are available at shipyardkitchenparty.com.
For more information about discounts avialable through Victoria Yeh's Travel By Sound series, visit travelbysound.com/tom-thomsons-wake/.