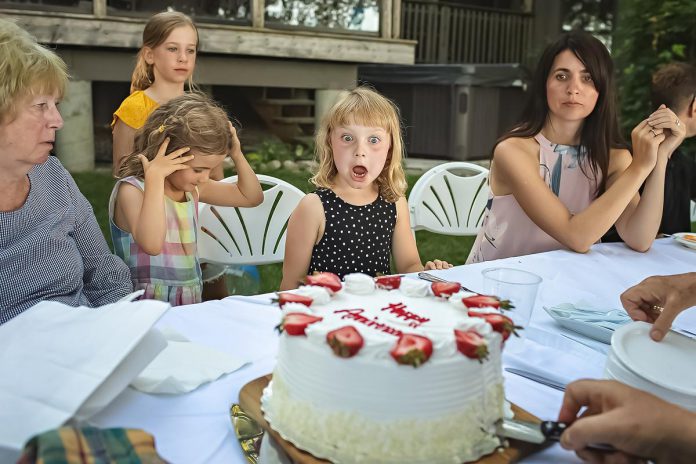 For Peterborough-based photographer Jordan Lyall, taking photos has always been about anticipating and capturing the feeling of a moment in time.
Lyall practises what is called documentary-style photography. She snaps photos of families as they live their lives — no posing, no directing, no carefully curated outfits, no altered lighting, and no "Say cheese!".
The photographer, who says she's always been drawn to capturing relationships, waits for those mundane and unique moments that celebrate life, and those are the moments she documents.
Advertisement - content continues below
Tweet this quote
"I get super excited every time I get to see how a family lives their lives, how they love each other, the things they do, and the little quirky, weird things that are unique to them," explains Lyall, assuring that she says "weird" and "quirky" in the best possible ways. "I love that every family is just so awesomely different."
After holding a camera her whole life, a friend's wedding first kicked off the self-taught photographer's professional career 20 years ago. Though she always did documentary-style photography for weddings, Lyall says it was "creatively invigorating" when she discovered she could also bring that authenticity and rawness to family photography.
"I always kept the posing to a minimum [at the weddings] and focused on capturing the day as it happens. I always told the couples, 'I want you to remember how the day felt, not just how it looked.' Realizing I could have this same approach with my family work was just this great revelation. I haven't looked back since."
Now, Lyall's documentary-style photography is what makes her brand and drives her passion. It also wins awards, including her recent Fearless Family Awards, and a This is Reportage: Family Award. Her work has also been featured in select exhibits, chosen as "Kodak Moments," and shortlisted for Made for Documentary's Documenting 2022.
More important to Lyall that her awards is that her photography captures family memories — even the ones you don't think you want to remember, like the everyday moments of your daily routine.
"It's about bringing you back to how that time with your kids felt in that moment and the relationships you had with them at that age, because it'll never be the same," says Lyall. As the mother of a 10 and 13 year old, she knows first-hand just how fleeting these moments are.
Advertisement - content continues below
Tweet this quote
"Your kids will grow and there's more wonderful stuff to come, but you'll miss those little things that you did with them and those rituals and boring, mundane moments," Lyall adds. "It's not about the boring stuff. It's about what's behind those actions, and what it says about your relationships with your kids."
During her "Day in the Life" family photography sessions, Lyall spends either a half or full day with a family, joining them on their chosen daily activities and adventures. She explains that this is where her style "really shines" because the family can just go about their ordinary day while Lyall documents it.
Alternatively, twice per year Lyall offers limited "Slice of Life" sessions where she spends just one hour with the family, usually documenting a specific activity. She only offers 25 "Slice of Life" sessions in the summer and fall and 25 sessions in the winter/spring.
Lyall also continues to do wedding and event photography.
No matter the event you book her for, Lyall does not do any directing or stage-setting. Instead, she acts like the "family friend who happens to have a camera," tagging along for the day. Since she does practice such an intimate type of photography, Lyall explains it's very important to get families and children feeling comfortable around her.
"I always encourage parents to tell their kids that they don't have to say 'cheese' and they don't have to do the things they might associate with being around a camera, like making eye contact or being performative," says the photographer. "They can just do their thing and I'm just there to hang out, have fun, and take pictures."
Advertisement - content continues below
Tweet this quote
While Lyall points out she's always respectful of a family's wishes and limitations to what they want photographed, she encourages them to allow her to capture the messy moments along with the good.
"If your kid has a meltdown, that's part of life, and that's okay," she says, adding that she's not there to judge your family or messy house. "Capturing how you help your kids through that is a huge part of your family and your life and your relationships. And that's the stuff you're going to want to remember. The things that people think they don't want to have in their family photos is exactly what they should be capturing."
She notes those meltdown moments are a rare occurrence because she aims to provide a comfortable and stress-free environment, where children are willing participants because they aren't being forced to look and act in a certain way.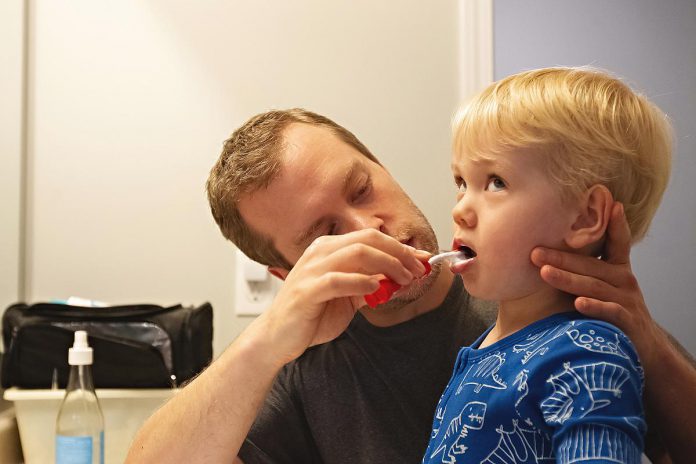 Lyall recalls a time when, as a young mother, she took photos of her newborn in a tutu and put the images on Facebook. Though she was bombarded with comments of how cute her child was, now when she looks at those photos, all she sees is the reality behind it: it took 30 minutes to take the photo because the outfit was scratching her toddler's skin and they kept pulling it off.
"Social media teaches us that we must only show the best parts of ourselves," says Lyall, adding that she believes it stems from the age of film when there were limited chances to snap those perfect shots. "I don't think it helps anybody. I think it creates a situation where we all feel alone, disconnected, and less than [other people]. I think we should be sharing more of our real selves and be talking more about the real things that we deal with day-to-day, especially as a parent."
To fight against this social construct, Lyall explains her photography is instead a reminder to young children that they're worthy of having their picture taken even when they don't have their hair styled, aren't wearing matching clothing, and aren't smiling.
Advertisement - content continues below
Tweet this quote
"I want a kid to feel like they have a record of themselves doing all the things and being gloriously themselves, no matter what that is — weird, wonderful, crazy, chaotic," Lyall says. "All of it is amazing, so we want to remember you exactly as you are. That's the energy I want to bring to all my sessions, because you are worthy of being captured no matter what's going on and no matter what you're doing."
To help people capture their everyday moments, Lyall has started a how-to series on improving cell phone photos, which can be found in her Instagram story highlights. All the tips and pointers are "quick and easy" and require no extra equipment, technical knowledge, or directing.
"I wanted to encourage people to capture the real moments of their day-to-day lives with their family more often, and one of the easiest ways to do that is to feel more confident taking images with your own cell phone," she explains, adding that in the fall, she will continue the series with advice on seeing and using light to improve cell phone photo quality, and on editing photos.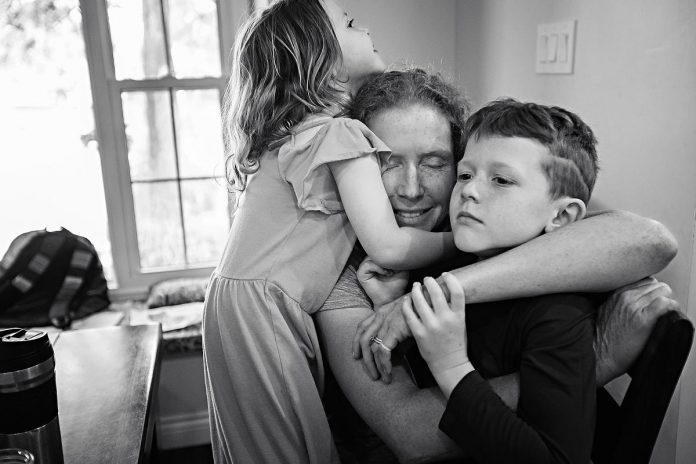 She says she hopes these tips will help parents capture photos of their children exactly as they are — something she has learned to do while watching her own children grow up.
"As I've gotten older and realized how fleeting these moments are, it only increased my drive to catch the real stuff over stylized stuff," she explains. "I really wanted to preserve who they were as people as they grew and capture that over anything else."
"It pushed me that much more to offer this style of photography to people as an alternative, because I think it's so incredibly important to celebrate who you are, and not what you think people should be."
Visit linktr.ee/jordanlyall to schedule a Day in the Life or Slice of Life photo session, and follow Jordan Lyall Photography on Instagram and Facebook for the how-to series on using your own cell phone for photos.