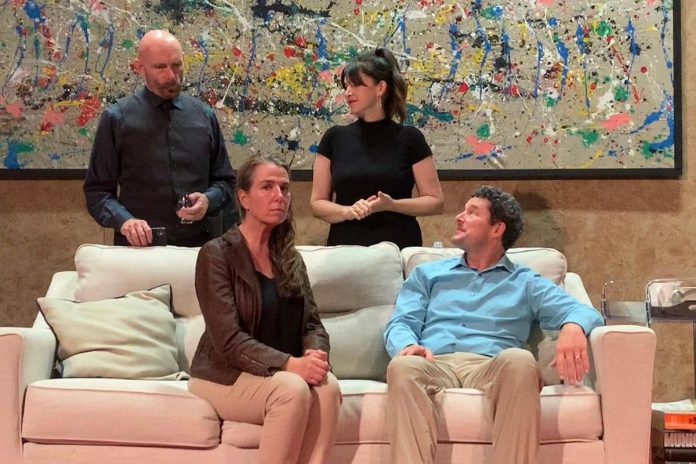 The Peterborough Theatre Guild is kicking off its 2023-24 season in September with a production of God of Carnage, a "comedy of manners without the manners" by French playwright Yasmina Reza, which runs for 10 performances from September 19 to October 14.
Set in present-day New York City, the play tells the story of two sets of parents who meet for the first time after their two 11-year-old sons have a nasty altercation in the schoolyard.
Attempting to settle the matter, both couples observe diplomatic niceties at first. However, as the meeting progresses and the alcohol flows, tensions emerge and the gloves come off, leaving the two couples with more than just their liberal principles in tatters.
Advertisement - content continues below
Directed by Bea Quarrie with Ina Stenner as production manager, the Peterborough Theatre Guild production stars Michael Valiant Saunders as Alan Raleigh, Gayle Fraser as Annette Raleigh, Kevin O'Neill as Michael Novak, and Tristina Haines as Veronica Novak.
God of Carnage was originally written in French by Yasmina Reza, who also directed the French premiere in January 2008 in Paris. Christopher Hampton translated the play into English, with the English version premiering in the U.K. at the Gielgud Theatre in London's West End in March 2008, starring Ralph Fiennes, Tamsin Greig, Janet McTeer, and Ken Stott. The London production received the Olivier Award for Best New Play of the year.
After some changes to the original English script to accommodate American audiences, a Broadway production opened in February 2009 with the original cast comprising Jeff Daniels, Hope Davis, James Gandolfini, and Marcia Gay Harden. All four actors were nominated for Tony Awards for their performances, with Harden winning the Tony for Best Leading Actress in a Play.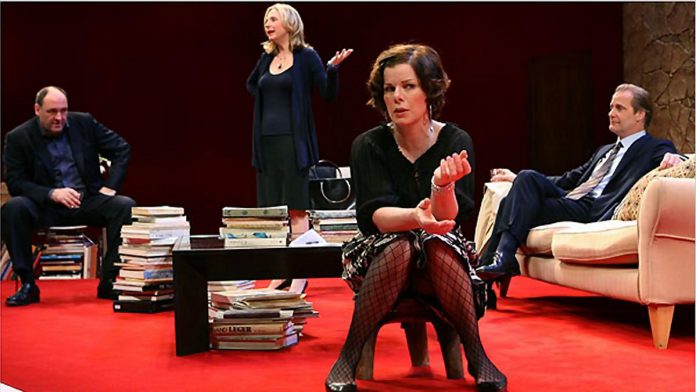 "Never underestimate the pleasure of watching really good actors behaving terribly," wrote Ben Brantley of the New York Times in a March 2009 review of the Broadway production, adding their performances "incite the kind of laughter that comes from the gut, as involuntary as hiccups or belching" and calling the play "satisfyingly primitive entertainment with an intellectual veneer."
The Broadway production closed in 2010 after 24 previews and 452 regular performances, with various replacements to the original cast, including Annie Potts and Lucy Liu in their Broadway debuts. The production was remounted in 2011 for Center Theatre Group at the Ahmanson Theatre in Los Angeles, with the original Broadway cast reprising their original roles.
In 2011, Roman Polanski directed a film adaptation called Carnage starring Jodie Foster, John C. Reilly, Christoph Waltz, and Kate Winslet, with both Foster and Winslet receiving Golden Globe nominations for best actress.
Advertisement - content continues below
God of Carnage runs at the Guild Hall (364 Rogers St., Peterborough) from September 29 to October 14, with evening performances at 7:30 p.m. on September 29 and 30, October 5 to 7, and October 12 to 14, and 2 p.m. matinee performances on October 1 and 8.
Tickets are $30 for adults, $27 for seniors, and $22 for students, and are available now online at peterboroughtheatreguild.com or by calling 705-745-4211.
kawarthaNOW is proud to be a media sponsor of the Peterborough Theatre Guild's 2023-24 season.