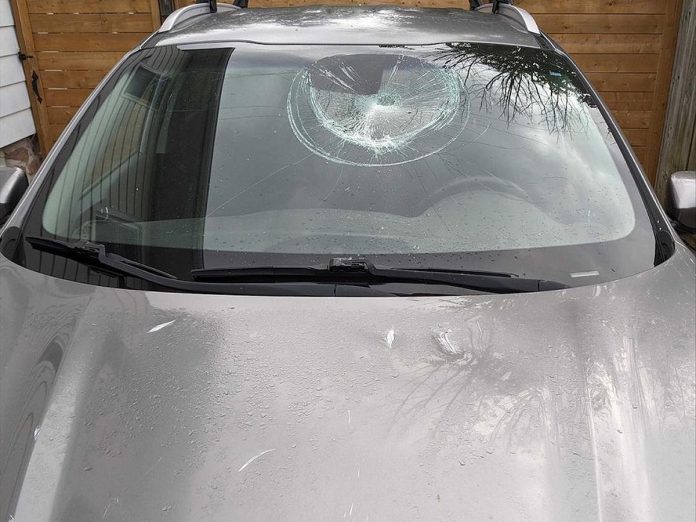 At 3 a.m. last Thursday morning (September 7), the Personal Care Bank located at 14 Alexander Avenue was taken off its post and thrown at the windshield of the car parked in the driveway.
The Personal Care Bank is a community-run initiative that places cabinets (called "banks") around cities, with the primary mission of providing personal care items to those who need them for free. There are Personal Care Banks in Toronto, Peterborough, and Vancouver.
Coralee Leroux and Blake Sproule, who host the Alexander Avenue bank, woke with a start by the sound of the damage. By the time the husband-and-wife couple looked around inside their house and realized the noise had come from outside, the vandal was long gone. The couple has since filed a police report, though they were told it would be unlikely to find the culprit without hard evidence.
Advertisement - content continues below
Tweet this quote
Looking at the damage caused on Thursday morning, Leroux says she and her husband were in "disbelief" and confused by what had happened.
"You feel a lot of things," Leroux explains. "You feel confused about why someone would do that, and you feel hurt that someone decided to do that with something that's meant for the community. And there's a part that feels a little angry, too, because someone's done that to your property."
The couple has seen a lot of use and support of the Personal Care Bank since they first built it and put it on their property last November. It was the second to be erected in Peterborough following the first at 509 Gilchrist Street, which has now been standing more than a year.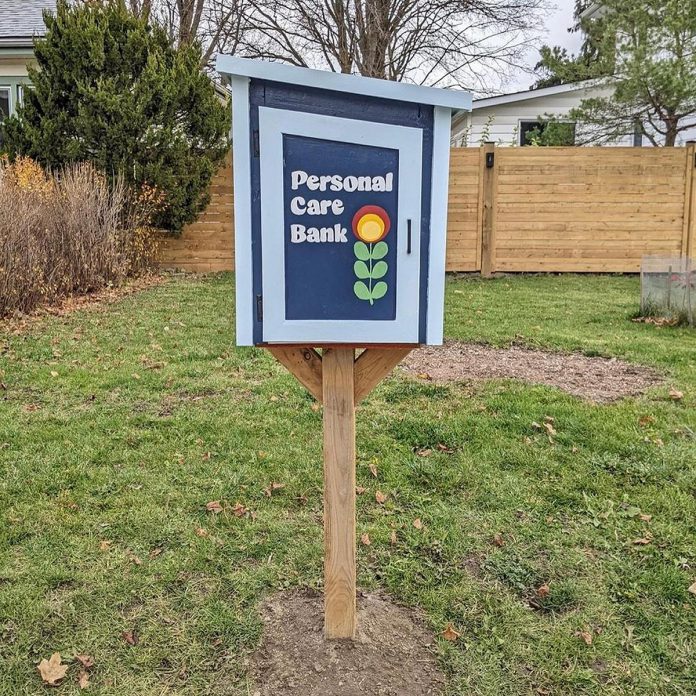 With donations from community members, the banks provide access to personal care and hygiene supplies — like toothpaste, menstrual products, deodorant, tissues, sunscreen, and more — to those who may otherwise face barriers in getting them.
"It just felt like the manageable thing that our family could do to help contribute to the community," recalls Leroux, adding that the bank is emptied nearly every day and she and her husband have to replace it daily with products donated by businesses and individuals.
Leroux explains that the bank itself is "banged up" following the vandalism, with one piece of wood completely split, but is salvageable. The couple are working to put it back on the post, though they first want to add metal pieces of support on the bottom to make it more difficult to pull off the stand again.
Advertisement - content continues below
Tweet this quote
The reinforcement is necessary, unfortunately, since it's not the first time the couple has had their box vandalized. This past June, the couple woke up to find the box had been ripped from the post, and prior to that, the plywood panel in the door had been kicked in one night.
"We had a sense (when we built it) that we should be prepared for some vandalism," Leroux says. "We thought someone might write on it or something like that. But throwing it into our car windshield was beyond what we had ever imagined could happen."
The damage to the Alexander bank location does not stand alone, as over the weekend, the Gilchrist Street bank was also vandalized. At some point in the night, all of its contents were pulled out and completely stomped on, including the flowers that typically sit in a box at the front of the bank.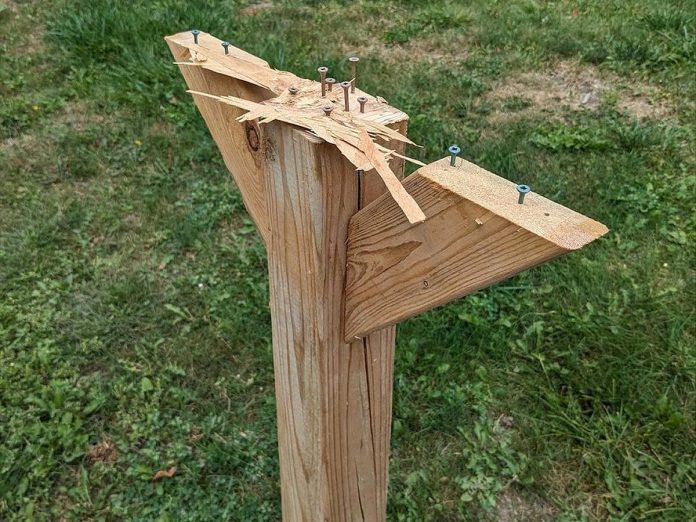 "It's not anything that we can't clean up and put back in, but it's just disappointing," says Leroux of the damage to their bank.
While she says she has no idea whether the events are related and deliberate or completely coincidental, she can't think of anyone who would want to protest against the banks.
"We can only speculate," she explains. "We have no idea, because we haven't had anyone express to us that they're angry. If there are any people in our neighbourhoods that don't like (the banks_, they've never come to talk to us or indicated that in any way. So when this happens, all those thoughts go through your mind — is it someone local who just doesn't want this here?"
Advertisement - content continues below
Tweet this quote
As Leroux and Sproule work to put their bank back on its stand, the couple just wish they knew more about who had done the vandalism and why.
"We just don't know and that's the hardest part," she explains. "If you knew why someone did it, at least you would understand. But because we don't know what the circumstances were of what was going through their mind at the time, it just leaves you guessing."
Written in chalk on the sidewalk in front of the vandalized bank are the phrases "Love is better than hate" and "Hope is better than fear."
"Love is better than hate"

On Aleaxander Avenue (near #PRHC) the street's toiletries/sanitary donation box was damaged/ripped off.

I'm hoping to see more local media coverage of this story.@GermainMa1 @TrentArthur @kawarthaNOW pic.twitter.com/akFHrYJzCd

— Lyle Saunders (he/him) (@Saunders4M) September 11, 2023
To support the Personal Care Bank initiative, donations can be made at www.tpcb.ca, with all donations made from Peterborough going directly to the banks in the community.
To keep up to date on when the banks need filling, follow the Peterborough Personal Care Banks @tpcb_ptbo on Instagram.
You can also donate needed items by visiting the Peterborough Personal Care Bank's wish list on Amazon.