If you were to spend even a few minutes listening to local ceramicist Kirsti Smith speak about her artwork, you probably wouldn't believe she called her mother crying the first time she had to take a ceramics class.
The emerging sculptural and functional ceramicist — who now has thousands of followers on social media, has been featured in local galleries, and has found success selling her work through her online gallery — discovered her passion purely by accident after being put into the wrong class in 2013 while studying business and art at the University of Waterloo.
Smith says she knew she wanted to explore art more after painting and sculpting through high school, but she was trying to "be logical," figuring business would help her achieve the ultimate goal of becoming a full-time artist. But since she wasn't very passionate about the programs she was studying, she didn't pick her courses on time and was forced into a ceramics class she had no desire to take. Now she can't imagine her life without it.
Advertisement - content continues below
Tweet this quote
"I'm so grateful I accidentally got put into that class, because it changed my whole life," explains Smith. "It captured my entire heart. It's unreal. I think the idea being able to make your canvas and then also paint on top of it — that really drew me in. And the functional aspect and intimacy really drew me in too, because everybody has a favourite mug."
Smith then transferred to Sheridan College to study craft and design before again moving to NSCAD University in Halifax where she completed her Bachelor of Fine Arts in ceramics.
In 2020, when she was out of school and back in her hometown of Peterborough, she began focusing on developing her online gallery, Gallery K, while keeping a steady job as a barista at Cork & Bean. She has since participated in artist residencies which allowed her to dedicate all her time to her craft while working on promoting herself through social media.
With some viral Instagram reels and TikToks that have led to international sales, Smith now has more than 13,800 followers on Instagram and more than 26,200 likes on her TikToks.
"It's actually funny when I see it correlate," she says. "I'll post a TikTok and it'll get some likes and then an hour later I'll get a sale in California and I know that was from my TikTok. Sometimes it's just dead and it feels like you're talking to nobody but then, when it does actually work, I realize that there are people out there. There's a reason for this."
Smith, who has always worked out of her home studio, is preparing to move into a rented studio space in the back of Watson & Lou in downtown Peterborough, which she'll be sharing with tattoo artist Beth Davis. Together, the artists will be opening up their studio for public visits during the monthly First Friday Art Crawl beginning on October 6.
Advertisement - content continues below
Tweet this quote
The new studio location makes sense, since Smith's mugs and sculptures have been sold out of Watson & Lou for over a year and a half. In Peterborough, her work has also been sold out of Modern Makers Shop, and in Toronto at the Gardiner Museum. Previously, she has also been exhibited at local galleries including the Art School of Peterborough's Launch gallery and for the Peterborough Arts Collective.
Additionally, earlier this summer, Smith attended the Toronto Outdoor Art Fair, where last year she received the Ceramics Excellence Award — something she says she is still "overwhelmed" by considering that show included a lot of well-established artists.
Though she's continuing to grow as an artist, she's grateful that she'll be starting to work out of Watson & Lou, one of the first local spaces to show her support as she builds her career.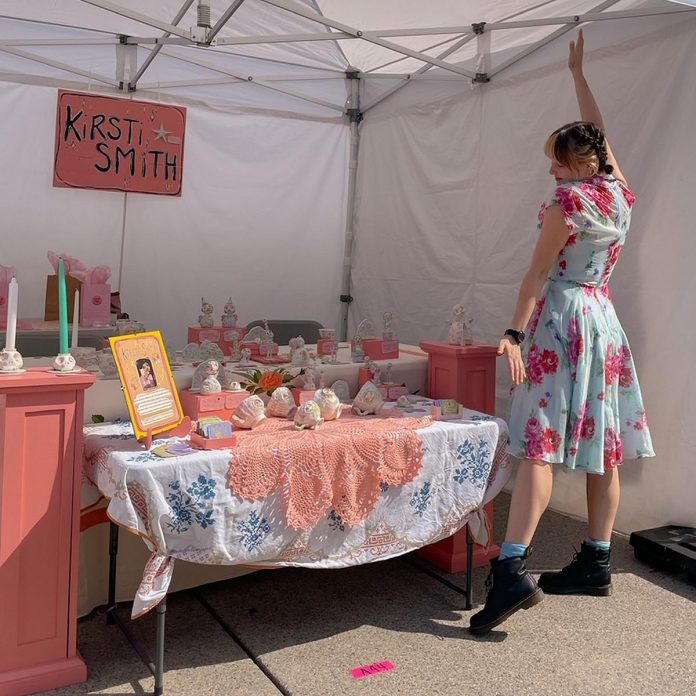 "They were actually the first ones who really believed in me, and encouraged me to raise my prices," Smith recalls. "They made me feel so validated as a craftsperson. Watson & Lou already has such a soft spot in my heart, and now getting the studio space there, I get to represent Watson & Lou forever."
Smith also plans to use the new studio space to offer one-on-one wheel throwing lessons and group workshops.
"Ceramics can be very elitist or expensive, so if it's a hobby it's hard to get into," she explains. "Making it more available to the community is my ultimate goal and dream. Hopefully one day I'll be applying to grants to get ceramics more available to whoever wants to try it, because it's such an amazing outlet."
Advertisement - content continues below
Tweet this quote
Using her chosen medium as her emotional outlet is exactly how Smith develops her ideas, designs, and inspirations for most of the pieces that she creates. She explains that her process involves "flooding" her emotions into her drawings, before "bringing the drawings to life" using porcelain.
"[Porcelain] is very hard to sculpt with but I make them very small, so my sculptures survive through the kiln," she notes, adding that as she's creating, she's always considering how people can physically interact with her pieces.
"That's a very important part of fine art for me — the intimacy created with touch that is so taboo in the fine art world," explains the ceramicist. "And it's common with functional work. You're not afraid to touch it. But as soon as it's labelled as fine art, it's off limits."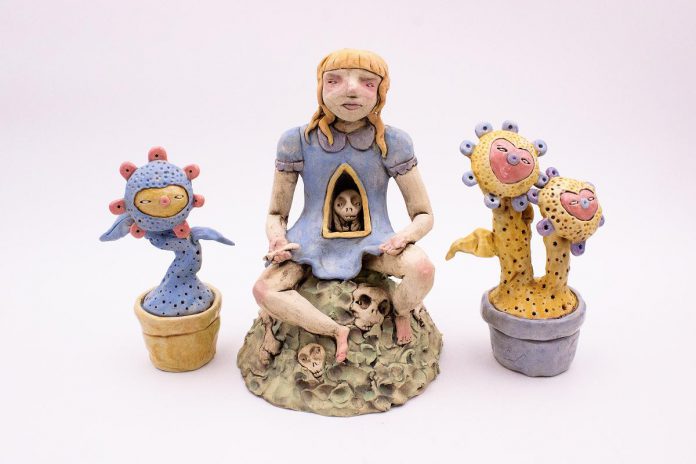 Smith says she wants to make people feel comfortable touching her work, which is why her October 6th open studio show is going to be "fully interactive."
No matter how complimentary it may seem, Smith points out she would never encourage someone to keep her art locked away in a China cabinet for safe keeping.
"You lose that real connection with the object and that, more than anything, is what I want to build — the connection and the intimacy of the moment," she explains, adding she was recently at a show where two of her pieces broke, but she was unbothered because that meant people were interacting with her art.
Advertisement - content continues below
Tweet this quote
As Smith moves into her new studio and begins to plan shows and workshops, all while balancing the upcoming influx of business during the holiday season, she is preparing for a busy few months. But she wants nothing less.
"It feels like my dreams are coming true, which is really, really amazing," she says. "I just hope it keeps going. My truest dream was always to have a real studio, so just having that happen now is incredible and I'm so excited to hopefully be making more of an income off it. Things are coming along and it's amazing."
To browse and purchase functional and sculptural ceramics from Smith, visit www.galleryk.ca or follow her on Instagram and TikTok.